Is Miso Soup Keto Vegan Friendly? (2 Easy Recipes Included)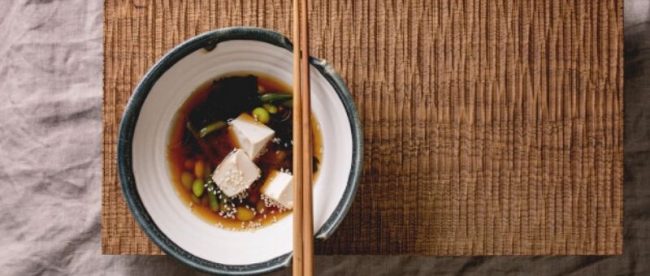 Miso soup is one of the staple foods of Japanese people and a big hit amongst anyone who's into Japanese cuisine. The recipe might vary, so depending on the used ingredients, you may end up with a bowl of soup that is relatively high in carbs and far from being vegan. 
But for those wondering, "Is miso soup keto vegan friendly?" while craving some of it, I have all the answers and solutions in this post. 
Are you interested in a particular topic about keto, vegan and miso soup? Then use the table of contents below to jump to the most relevant section. And you can always go back by clicking on the arrow in the right bottom corner of the page. Also, please note that some of the links in this article may be affiliate links. For more details, check the Disclosure section at the bottom of the page. 
Is miso soup OK for vegans? 
OK, first and foremost, let's put keto aside and talk about the vegan part. 
Miso soup, for the most part, is made of two ingredients. 

Miso paste, made from salt, soybeans, and fermented barley, rice, or soybeans called "koji." That seems vegan-friendly.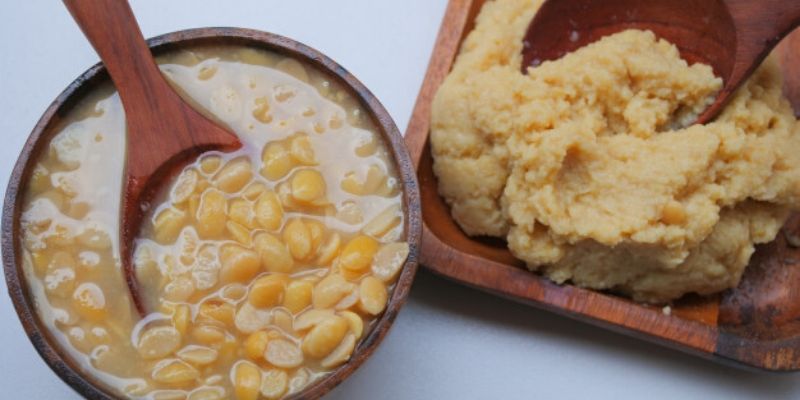 However, the second typical ingredient is dashi. And that's where things might get tricky. Dashi is a soup stock, and it can be made from various ingredients.

E.g., Kombu is made of dried kelp, Katsuobushi – of dried, fermented bonito fish, Hoshi-shiitake – is made of dried shiitake mushrooms, and so on. So while fish-based miso soup recipes are the most common ones when you go out for that miso to a restaurant, vegans still have options. 
On top of it, miso might include some additional ingredients, basically anything you might find in the fridge: potatoes, tofu, seaweed, kelp, eggs, etc.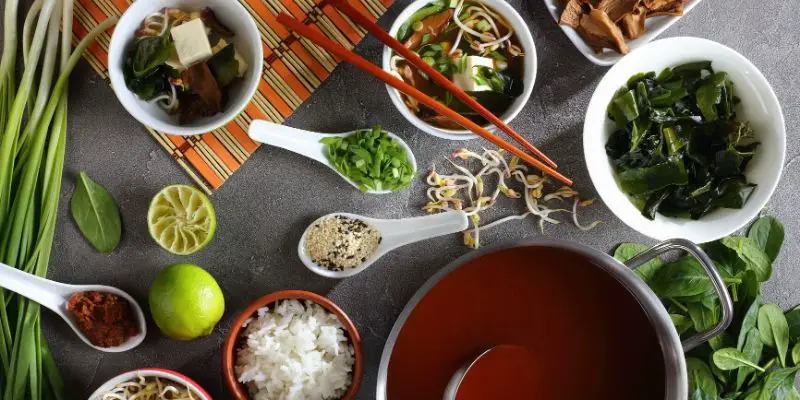 So long story short, we should deprive ourselves of a bowl of miso soup if we are following a vegan (and keto) diet. But the best option to make sure that your miso is safe to eat is to cook it yourself.
And maybe even experiment a little, to come up with a super special recipe that might make all non-vegans rave about it too. I'll share some ideas. Just bear with me. 

Can you have miso paste on keto?
Yes, depending on the final recipe you are going to use the paste for. But first, let me tell you, it truly is a fantastic ingredient. Like other fermented soybean products, miso is nutritionally dense.

It contains dietary fiber, protein, essential amino acids, antioxidants, and essential trace minerals. It also contains very high concentrations of isoflavones. Those are believed to contribute to bone health and may help to prevent osteoporosis.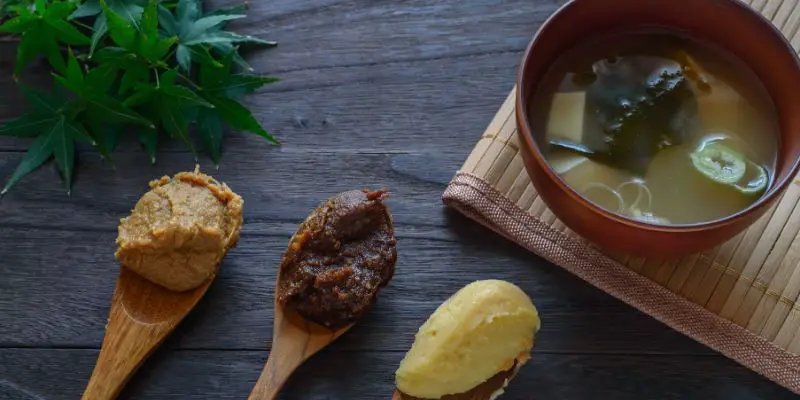 Although it's quite high in Sodium and let's face it – it's not zero carbs. 
For instance, one tablespoon of this Miso paste by Miko contains 4g of carbs (along with 860mg of Sodium). But if you take into consideration that you only need one tablespoon of miso paste for a bowl of miso – it's not that bad at all. 

Is miso soup keto approved?
It definitely can be! As we've established, miso soup recipes may vary from cook to cook. Anyone can add extra ingredients depending on personal preferences.
You can make your dish more nutritious and still keto-friendly. For instance, by serving it with mushrooms and tofu (both are excellent sources of vegetable protein with almost zero carbs, depending on the brand/kind). 

Keto vegan miso soup recipes
I've got two miso soup ideas for you today, with all the macros calculated. Both are vegan and keto-friendly and delicious too! 
Keto miso soup with tofu
Vegan and keto-friendly miso soup
Notes
1 cup of this soup has 7.3g of carbs, but 3g is from the fiber. So you end up with 4.3g of net carbs per serving. Not too shabby for such a yummy dish.

Ingredients
1 quart of water
4 Tbsp. of Miso paste
8 ounces of firm tofu
1/2 cup thinly sliced white mushrooms
1 Tbsp of dried Wakame
Instructions
1. Dry your tofu block with paper towels and cut it into 1/4 inch cubes.
2. Put the Wakame in a bowl of water to soak for minutes. Then rinse it thoroughly if you are not a fan of a strong sea smell.
3. Meanwhile, boil the water and when it starts simmering, put one cup of it in a separate bowl and whisk in the miso paste.
4. Stir it in well till it's fully dissolved. Let it simmer a bit more and then add all of the ingredients, including the dissolved miso.
5. Cook it for a few more minutes and then serve immediately.
Nutrition Facts
Keto miso soup with tofu | Recipe card
Serves: 4 persons
Amount Per Serving:

1 cup

Calories

85

% Daily Value*
Total Fat

3.4g

4.6%
Saturated Fat

0.7g

0%
Trans Fat

0mg

Cholesterol

0mg

0
Sodium

903mg

37.6%
Total Carbohydrate

7.3g

2.3%
Dietary Fiber

3g

12%
Sugars

1.6g

Protein

7.7g
Vitamin A
Vitamin C
Calcium

161mg

Iron

2mg
* Percent Daily Values are based on a 2,000 calorie diet. Your daily values may be higher or lower depending on your calorie needs.

Dried kelp miso soup
Cuisine Japanese / Fusion
Keto vegan miso soup variation bursting with flavors
Notes
This variation is slightly higher on carbs (veggies!) netting in 7g of net carbs per bowl. But it's so rich in flavors, and if you plan your day well, you can definitely afford to enjoy this dish.

Ingredients
8 cups of water
5 Tbsp light yellow miso
4 cloves garlic, sliced
1/4 cup green onions, chopped
1/3 cup of cherry tomatoes, chopped
40g of dried kelp
Pinch of red pepper
Instructions
1. Bring water to a simmer.
2. Combine miso with warm water in a separate bowl and whisk until it is a smooth consistency.
3. Add miso mixture to saucepan, and stir.
4. Then put all the rest of the ingredients and cook for 5 more minutes.
Nutrition Facts
Dried kelp miso soup | Recipe card
Serves: 4 persons
Amount Per Serving:

1 cup

Calories
50
% Daily Value*
Total Fat 0.2g
0%
Saturated Fat 0g
0
Trans Fat 0g
Cholesterol 0mg
0
Sodium 951mg
39.6%
Total Carbohydrate 7.9g
2.3%
Dietary Fiber 0.9g
0%
Sugars 4.8g
Protein 3.6g
| | |
| --- | --- |
| Vitamin A 0mg | Vitamin C 0mg |
| Calcium 45mg | Iron 1mg |
* Percent Daily Values are based on a 2,000 calorie diet. Your daily values may be higher or lower depending on your calorie needs.
Vegan Keto Diet Recipes and Tips

How long to keep miso soup in the fridge?
 If your soup is chilled correctly, it will last 2-3 days before going bad. So you can include this soup into a short term meal prepping routine. But a thing to remember: reheating miso soup brings out a sourness in it, ruining the balance of flavors.
Also, some ingredients – like wakame or kelp – better be served right before you are going to eat it as its color and texture will change if stored in the soup too long.
So I personally would prefer to set prepped ingredients aside and keep refrigerated miso base separately from anything else. And then I'll be just adding extra toppings when I am reheating my meal. 
Thanks for the photos: Freepik.com and Canva.com
Disclosure: At vegketodiet.com I only mention the products that I researched and considered worthy. But it's important to note that we are a participant of several affiliate programs, including but not limited to VigLink and Amazon Services LLC Associates Program. As an Amazon Associate, this website earns from qualifying purchases. Also please note that I am not a doctor. As such readers are strongly recommended to make decisions that might affect their health by doing their own research. At vegketodiet.com I only document and describe thoughts, researches and ideas that proved to be working for me.