Best Coconut Oil for Keto: Refined or Unrefined? Pros & Cons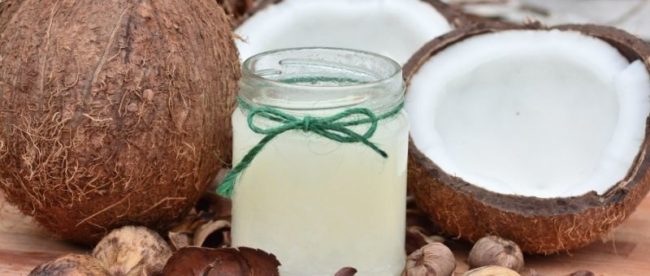 Coconut oil is an excellent addition to the keto diet. I know how boring it can get, mainly because you have to cut out sugar and carbs. It's even more challenging for me because I am both vegan and keto. But here's the thing about being keto – you have to explore and experiment with ingredients and recipes from different cuisines. 
Coconut oil is mainly used in Asian cuisine as a plant fat for frying and sauteing. These countries have a lot of coconut trees growing because of the humid tropical climate. That means coconut oil has been used for centuries by people from Asia. In fact, it's not only used in cooking – coconut oil is an excellent moisturizer for skin and hair. 
So, if you are keto and haven't tried out coconut oil, you should seriously consider buying a jar or two. It has a great taste, and I actually prefer its taste to regular vegetable oil. It feels cleaner, somehow. 
This article shall tackle all the commonly asked questions about coconut oil and the keto diet. 
Do you have a particular question about finding the best coconut oil for keto diet? Then use the table of contents below to jump to the most relevant section. And you can always go back by clicking on the arrow in the right bottom corner of the page. Also, please note that some of the links in this article may be affiliate links. For more details, check the Disclosure section at the bottom of the page. 
Coconut oil and ketosis

Coconut oil is one of the best oils to use in the ketogenic diet. It has a high-fat, low-carb content which is excellent for getting into the state of ketosis. It can be used as oil or butter to help you make your food taste great.
However, that is not the only reason why people on the keto diet rush to buy it. Coconut oil has a certain compound called MCT's that is a secret ingredient to make you get into ketosis faster. Let's find out more below. 

Does coconut oil speed up ketosis?
Coconut oil contains MCT, or medium-chain triglycerides, that are beneficial in the keto diet. MCT's are the primary source of fats in coconut oil. MCT's are transported to the liver, where they are used to make ketones. Ketones then provide a quick boost of energy. 
When ketones are detected in the blood, you have entered ketosis. Ketosis is a state where all the energy you need is now extracted from your body fat, which helps in weight loss. You can test for ketosis using urine strips or a keto blood test. 

How to incorporate coconut oil into the keto diet
Coconut oil can be incorporated into various keto dishes. Here are some culinary uses for coconut oil in the ketogenic diet:
Add to fat bombs
Add to morning coffee
Splash in salads
Use MCT oils as supplements that boost ketosis

What kind of coconut oil is best?
You may have heard of two different kinds of coconut oil – refined and unrefined coconut oil. Unrefined coconut oil is an excellent source of free fatty acids. And we all know that you need to eat fat on the keto diet. 
If you are doing keto, look for unrefined coconut oil when you go grocery shopping. This will give you the complete coconut oil experience – we are talking nutty smells and tastes that will surely be a great addition to the keto diet. 

Refined vs unrefined coconut oil keto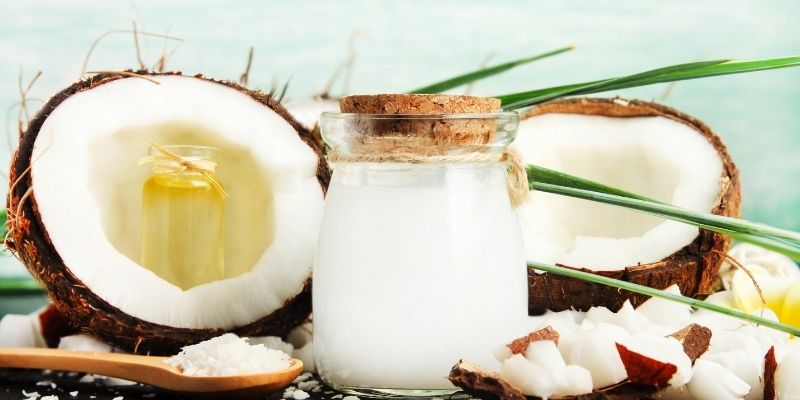 Unrefined coconut oil, also known as virgin coconut oil, is the oil extracted from the fleshy white part found inside coconuts. There are two ways to make unrefined coconut oil – dry and wet methods. For the dry process, the coconut flesh is dried then a machine is used to press the oil out. In the wet method, fresh coconuts are pressed to make coconut milk boiled and pressed to get the oil. 
When making refined coconut oil, machines are employed for specific chemical processes. Some might include:
Degumming: In this process, a degumming agent is added to the oil to make the oil smoother and thinner. 
Neutralizing: To neutralize the coconut oil, lye is added to it, and this forms soapy foam due to reacting with the fatty acids in the oil. The foam is then removed from the oil. 
Bleaching: Coconut oil is passed through an activated clay filter to bleach. 
Deodorizing: The final step in refining coconut oil is to use heat to remove the oil's coconut smell. 

What difference does refined vs. unrefined oil make in the keto diet?
For one, the smoke point is different in both these oils. Refined coconut oil has a higher smoking point, which means it is a better option for high-temperature cooking. Refined coconut oil is flavorless and odorless. 
Interestingly, both unrefined and refined coconut oil provide the same nutritional content in calories and MCT oils. (1 tablespoon of coconut oil has 117 calories.)
The difference between these two types of oil is that refined oil starts as unrefined coconut oil. This oil is then passed through different machines where it becomes unrefined. You could say that unrefined coconut oil is fresh and natural, while refined has some chemical treatment. 
The best coconut oil to use for keto is unrefined coconut oil. 

Best coconut oil for keto  
I came up with this list of coconut oils that will be perfect for beginners and seasoned keto dieters. 
Nature's Way Organic Extra Virgin Coconut Oil
This unrefined coconut oil comes in a huge plastic tub which is very convenient. It's pure and cold-pressed and free from bleaching. This product markets itself as a dietary supplement, and it is a great source of MCT oils. You can also use this oil for skin and hair as a moisturizer. This coconut oil can be used for frying, quick sauteing, and baking. 
Island Fresh Superior Organic Virgin Coconut Oil
The coconut oil from Island Fresh markets itself is a pure metabolism booster. It provides energy and helps with weight management. You can also have it as a supplement to increase mental clarity. Add this oil to your smoothies, soups, and stews to reach your daily fat quota for the keto diet. 
Viva Naturals Organic Extra Virgin Coconut Oil
Viva Naturals coconut oil is made from cold-pressed fresh organic coconuts. It delivers a nutrient-dense and aromatic dash of fat. It has a naturally high smoke point of 177 C, making it great for baking, frying, and sauteing. You can also use it as an alternative to butter – for example, you can add this oil to your coffee as many ketonauts do. Other people even eat it with crackers or melt it into soup. It provides a nutty and warm taste. 
Earth Circle Organics Premium Organic Extra Virgin Coconut Oil
Earth Circle Organics presents 100% premium coconut goodness. It is extracted through cold-pressing high-quality organic coconuts and is certified kosher and gluten-free. This brand makes sure that their coconuts are grown and harvested sustainably, which I think is a pretty good cause. One of the things I love about this 1-gallon tub is that it clearly states that it is keto. As you know, shopping while on the keto diet can be a nightmare, especially when you have to google if a product is keto or not. 
Nutiva Organic Coconut Manna
Nutiva coconut manna is a naturally extracted and nutrient-dense coconut puree extracted from fresh coconuts. They don't use any harmful chemicals or heat to cold-press their coconut oil. It is also rich in lauric acid and Medium Chain Triglycerides. This brand also states that it is compatible with different diets such as vegan, paleo, and keto. It is a non-hydrogenated substitute for butter and can be used as a spread in case you miss things like toasts with butter (although toast has to be made of keto-friendly bread, of course).
Thanks for the graphics: Canva.com

Disclosure: At vegketodiet.com I only mention the products that I researched and considered worthy. But it's important to note that we are a participant of several affiliate programs, including but not limited to VigLink and Amazon Services LLC Associates Program. As an Amazon Associate, this website earns from qualifying purchases. Also please note that I am not a doctor. As such readers are strongly recommended to make decisions that might affect their health by doing their own research. At vegketodiet.com I only document and describe thoughts, researches and ideas that proved to be working for me.