Is Corn Keto? (Cob, Canned, and More)
Keto dieters consume 70% of their calories from high-fat meals. And, sure, you can eat cheese and bacon while still losing weight. But that leaves little room for carbs such as corn.
Here is where I have a lot of queries regarding our favorite carb item; corn. I have constantly found myself asking questions like, "Is corn keto? "Not to mention, is it okay to consume corn on the keto diet? What about corn-based items like canned corn? My question list goes on and on.
Do you have a particular question about eating corn on keto? Then use the table of contents below to jump to the most relevant section. And you can always go back by clicking on the arrow in the right bottom corner of the page. Also, please note that some of the links in this article may be affiliate links. For more details, check the Disclosure section at the bottom of the page. 
Does corn have carbs?
Yes, corn has carbs. But the question remains is corn high in carbs, or is corn low in carbs?
While corn is a vegetable, it is a starchy vegetable, meaning it is heavy in carbs and not keto-friendly fat. An ear of corn has about 41 grams of carbs. A cup of corn has roughly 30 grams of carbohydrates.

According to the United States Department of Agriculture (USDA), one cup of fresh, raw yellow sweet corn has 27 grams of carbs and 24 grams of net carbohydrates.
If you ask me, that's a lot of carbohydrates for someone on a keto diet. I advise you to use net carbohydrates to stay on top of your carb levels while on a keto diet.
Net carbs are the carbohydrates absorbed and can directly impact blood sugar levels. You can calculate net carbohydrates by subtracting total carbs from fiber and sugar alcohols.
Net carbohydrates aren't recognized macronutrients (like carbs, fat, and protein). Yet people on the keto diet frequently use it as a reference to help them remain within their carb range with 2 g of corn fat and corn has 5 g of protein.
Aside from carbs in corn, you also get other nutrients like B vitamins, magnesium, zinc, and iron. Moreover, corn has 3 g of fiber, making it a useful nutrient source that aids digestion.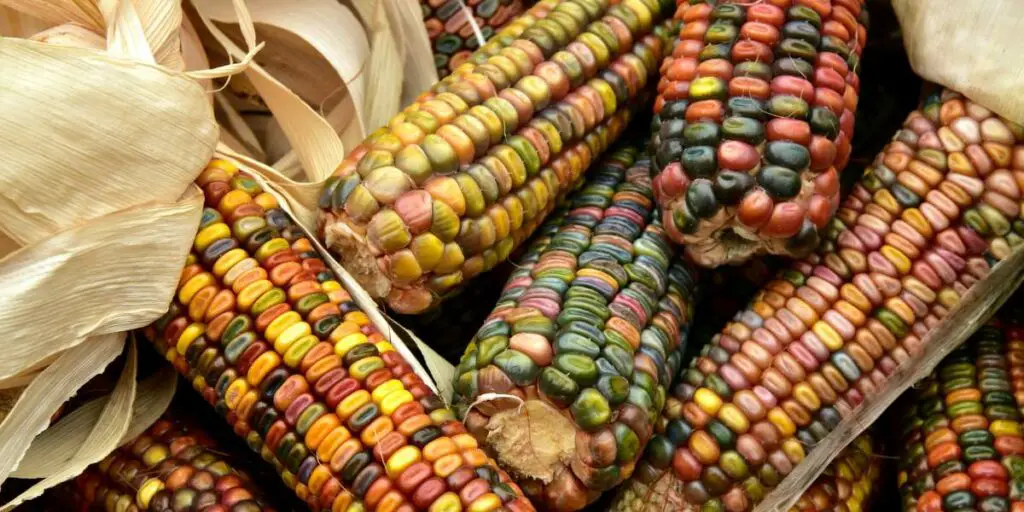 Is corn a bad carb?
In theory, corn is healthful, especially because it is high in plant and fiber components that are great for vision and digestion. However, corn on keto is not typically acceptable, given its high carbohydrate level. In addition, it can quickly blow your daily carbohydrate limit if you're not cautious.
Corn is heavy in starch, can cause blood sugar spikes, and may hinder weight reduction if ingested in excess. In addition, concerns have been raised about the safety of genetically modified corn.
I ate corn on keto once and added weight that I had constantly been trying to cut. So, I recommend you take the corn in moderation. By doing so, you can easily make it a nutritious component of your diet. I have done it several times and stayed on top of my carb levels.
Is corn on the cob keto-friendly?
Nothing beats a great summer family gets together than the keto-grilled corn on the cob with lime. It has been a summer classic in my family. Yet, staying low carb while enjoying this delicious veggie may be difficult.
I have developed a few tricks over the years that you can use to maintain your macros in check. Grilling the corn on the cob brings its sweetness and enriches its taste. But corn is high in carbs, so you can mix it with protein and vegetables to keep your macros balanced.
Whether you're on the keto diet or not, this low-carb grilled corn on the cob is a tasty and simple way to enjoy the richness of summer. 
Serve your grilled corn on the comb with lovely salted butter and lime for a low-carb summer get-together. I assure you your whole family will enjoy it!
But, if you ask me, you might still be increasing your carb levels slowly. So, keep this in mind while enjoying your grilled corn on the comb.
Is canned corn keto-friendly?
Corn, in general, is not keto-friendly. Corn is a complex carbohydrate and a starchy grain with more digestible carbohydrates than fiber. It should be limited or avoided if you're trying to lose weight. So why is corn not keto?
A cup of canned corn has 30 grams of carbohydrates. Therefore, corn, whether canned or fresh, maybe a keto-friendly meal if consumed in moderation.
A reasonable quantity of corn in a meal, like a chowder or Southwestern chilli, for example, may be okay. But eating a whole cup of corn on its own may cause you to surpass your daily carb requirement.
Depending on how adaptable your low-carb diet is, you should limit your consumption of corn. Instead, I advise you have a modest quantity of corn while remaining in ketosis. You can acquire nutrients like magnesium and potassium while watching your carbs.
Can you eat corn on keto?
That has brought me to the question is sweet corn keto? The answer to this lies in answer to corn on keto. 
I don't advocate for you eat corn on a ketogenic diet. However, with the high carb levels in corn, there are better options than this one if you are on a low-carb diet. Otherwise, you need to do something to stay on course.
Suppose I try arguing that you can eat a tablespoon or two of corn and maintain a low carb level. In that case, it might make sense since you are removing a lot of potential carbs. But, even at that level, it's still not worth it.
So, if you are wondering what the answer to the question is corn keto-friendly? Then my answer is simply no. Even if you still manage to control your intake, you are still potentially increasing your carb levels slowly.
Thanks for the graphics: Canva.com

Disclosure: At vegketodiet.com I only mention the products that I researched and considered worthy. But it's important to note that we are a participant of several affiliate programs, including but not limited to VigLink and Amazon Services LLC Associates Program. As an Amazon Associate, this website earns from qualifying purchases. Also please note that I am not a doctor. As such readers are strongly recommended to make decisions that might affect their health by doing their own research. At vegketodiet.com I only document and describe thoughts, researches and ideas that proved to be working for me.