Best Keto Thai Food: 10 Lip Smacking Dishes to Try Right Now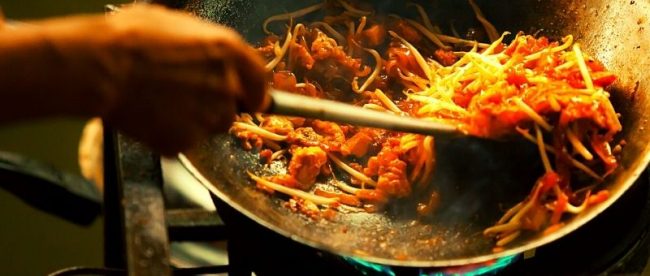 People on the keto diet are always googling if this food or that one is keto. Today's question is: Is Thai food keto? 
I was flabbergasted to know that some of my favorite Thai dishes are actually ok for the keto vegan regime. However, sometimes you should be extra careful when eating out. There's always a rick to swallow something that kicks you out of ketosis.
That is why it's better to make your own food. In this article, I have compiled a list of low carb Thai food dishes that will sweep you off your feet. Since I'm both vegan and keto, I looked very hard for recipes that would align with my dietary preferences. The best part about making your own food is that you can easily replace a non-keto or non-vegan food with something else. For example, replace chicken with tofu or pasta with zoodles! 
But before we get into the compilation of keto-friendly Thai food recipes, I wanted to explore a bit about the health benefits of eating (keto-approved) Thai food.
Do you have a particular question about the best keto Thai food recipes? Then use the table of contents below to jump to the most relevant section. And you can always go back by clicking on the arrow in the right bottom corner of the page. Also, please note that some of the links in this article may be affiliate links. For more details, check the Disclosure section at the bottom of the page. 
Benefits of eating Thai food
While most people indulge in a pad Thai or coconut curry for the taste, Thai cuisine packs a healthy punch. This rich cuisine uses a lot of herbs and spices that are very beneficial for your health. Let's take a look at a few of these herbs and spices:
Turmeric
Many of the dishes in this post will feature a vibrant yellow color, and that's because of the turmeric used generously throughout Thai cuisine. Turmeric is a root similar in appearance to ginger. It contains an active ingredient called curcumin that has great anti-inflammatory properties. So, if you are having symptoms like fever, chills, or flu, you just might want to try out Thai food. 
Galangal
Galangal is another root that looks just like ginger. It is commonly used in Thai dishes to provide a sharp and peppery flavor. It is known to have anti-inflammatory properties that can fight inflammation in the body. It is also rich in antioxidants, which are plant compounds that fight disease. In addition to that, galangal is even believed to be able to fight cancer cells.
Lemongrass
Lemongrass is another strong flavor in Thai recipes. It is used either fresh or dried for that fragrant lemon-ginger aroma it adds to dishes. Lemongrass is really helpful in battling flu, colds, headaches, and fevers. 
Coriander
Coriander is an herb that I love to use in salads. It makes a prominent appearance in Thai cuisine. This aromatic herb is also called "cilantro" or "Chinese parsley." It has great benefits for digestive issues like gas or bloating. 
Chilies
When it comes to Asian cuisines, you should expect a lot of heat in the form of chilies or peppers. Thai cuisine is no different – chilies are used in all sorts of curries to provide a kick of flavor. Chilies are good for heart health, and they help to maintain insulin levels. That's a bonus for keto-dieters!
Coconut milk
Coconut milk is used in almost every Thai curry. It contributes to the richness and creaminess of the curry. In addition to thickening soups and providing flavor, coconuts lower bad cholesterol, boost immunity, and fight aging. 
Now that I've convinced you of the health benefits you got from eating Thai food, let's get into the list of keto Thai recipes. 

10 Vegan Keto Low Carb Thai Dishes to Try Right Now
Explore these 10 Thai keto recipes for some cooking inspiration. 
Thai Curry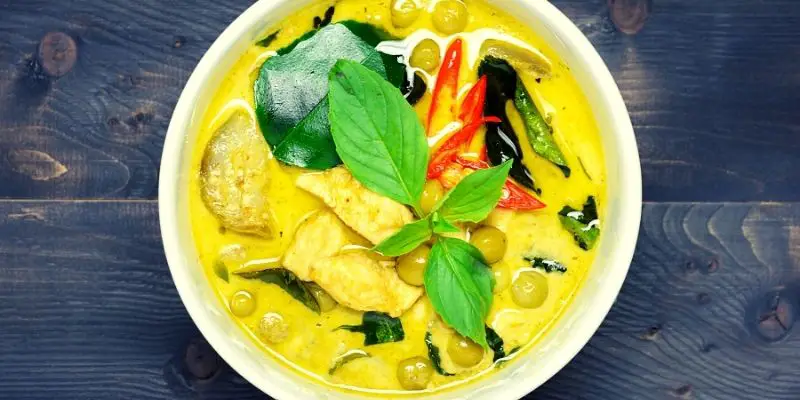 The first low carb Thai food dish in my recipe round-up for today is an authentic Thai curry. Thai curries are an extremely popular dish, and you will find quite a few recipes in this article alone. This creamy Thai curry is the perfect blend of Thai flavors – coconut, chili, ginger, and peppers. You can have it with cauliflower rice or just enjoy it on its own.
Net Carbs: 7g | Fat: 27g | Protein: 12g | Calories: 318 kcal
View the full recipe here. 
Vegan Pad Thai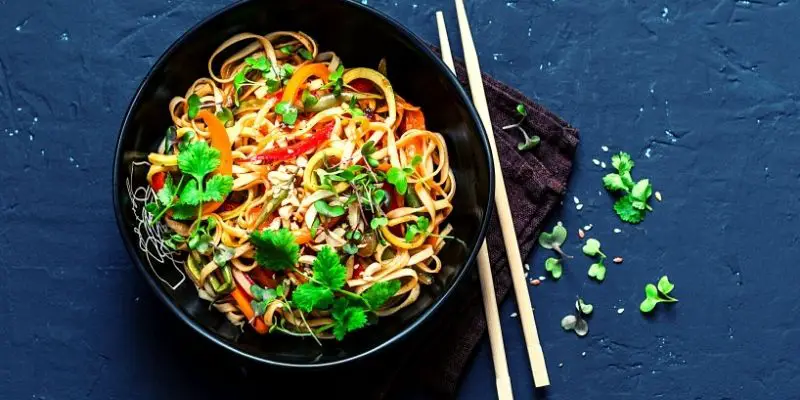 Pad Thai is easily the most popular Thai dish all over the world. Did you know that "pad" means fried? Personally, I thought it meant "served on a lily pad", but we learn new things every day! Indulge in this vegan and keto alternative to the real thing, which stars shirataki noodles, soy sauce and tofu. The Thai flavors of spicy, sour, sweet, salty, and bitter come to play in the official national dish of Thailand. 
Net carbs: 33.7g | Fat: 4.9g | Protein: 10.4g | Calories: 199
View the full recipe here. 
Thai Green Curry Tempeh 
This perfectly keto-approved Thai-food dish will give you all the plant-based protein you need by incorporating tempeh into the mix. It uses a green chili base that gives it a beautiful pastel green color. Add a few sliced mushrooms to give you a chewy feel. Inhale the aromatic seasonings of this dish and melt from the creamy coconut goodness.  
Net carbs: 10g | Fat: 36g | Protein: 16g | Calories: 423 
View the full recipe here. 
Thai Coconut Curry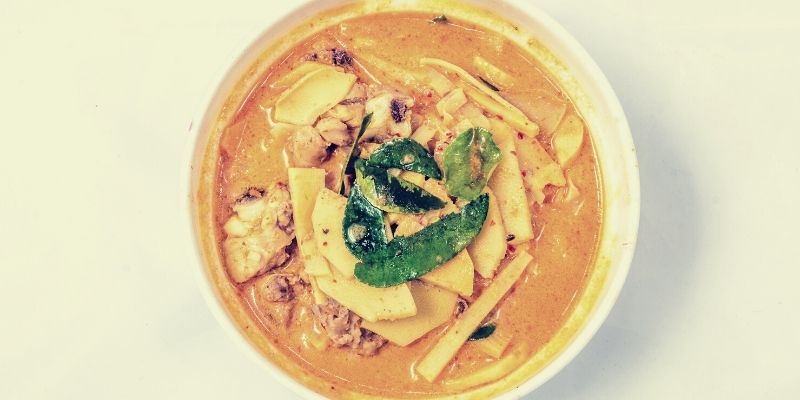 Who says vegans can't go keto? In this recipe, feast on a rich and creamy coconut curry and enjoy its vibrant yellow color. Be sure to stock up on some tofu to get a punch of vegan protein in this low carb Thai dish. This coconut curry is ideal for those chilly nights when you need something warm and spicy to chase away the chills. But if we're being honest, I would still have this for lunch on a warm Sunday!
Net carbs: 10g | Fat: 36g | Protein: 18g | Calories: 425 | Sugars: 2g
View the full recipe here. 
Thai Yellow Curry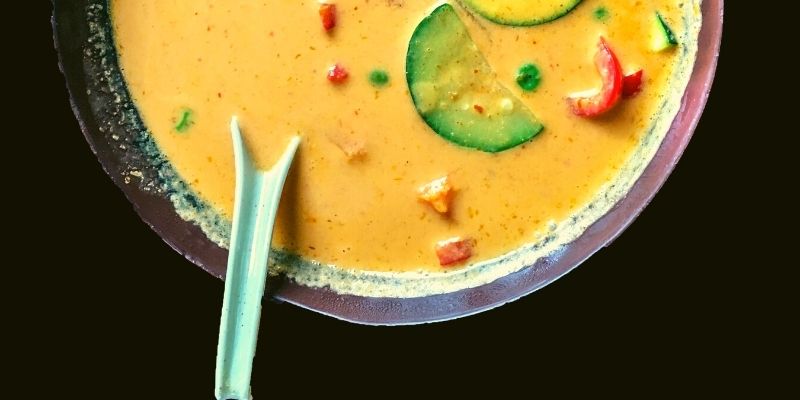 This recipe uses MCT oil which is a really cool keto oil I love to talk about. That's why I'm excited about this recipe. Get those traditional Thai flavors – sweet, salty, and umami in this authentic Thai yellow curry. This dish gets its vibrancy from Thai yellow curry paste that you can pick up in Asian stores. It will tinge everything in a yellow turmeric color, and provide a beautiful, mouth-watering aroma. 
Net carbs: 82.2g | Fat: 41.9g | Protein: 16.5g | Calories: 723
View the full recipe here. 
Korma Curry
A korma curry is bound to tingle your tongue with its rich creaminess and the explosion of spices in your palate. This vibrant yellow dish features tofu cubes, stir-fried peppers and a generous smattering of coriander leaves (my favorite herb). Pair this with a coconut naan, and you can enjoy a savory warm meal on a cold night. 
Net carbs: 5g | Fat: 3g | Protein: 1g | Calories: 82
View the full recipe here. 
Coconut Naan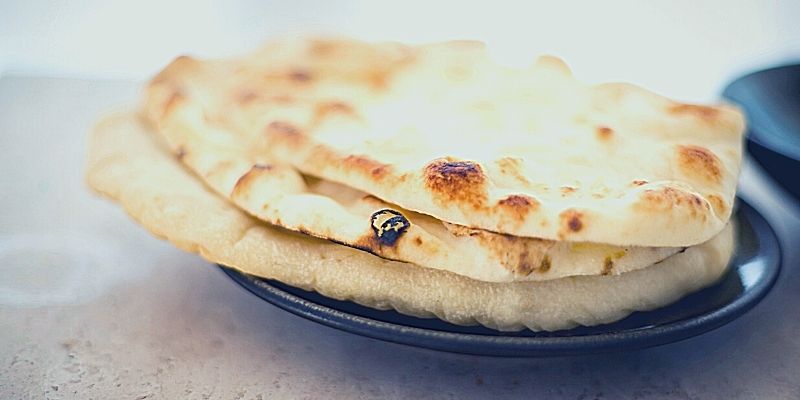 If you're looking for keto Thai food, then this coconut naan recipe is the perfect replacement for wheat-based pita bread. Coconut naan can be enjoyed with a Thai curry for a perfect Asian-fusion dinner. 
Use the naan to dip, scoop or just pop into your mouth as bread. Be sure to savor the taste and texture of coconut flour used in this dish. 
Net carbs: 4.6g | Fat: 1.2g | Protein: 1.3g | Calories: 35
View the full recipe here. 
Thai inspired zoodles
Converting meals into their keto-friendly versions takes a bit of trial and testing. Regular wheat noodles do not fit in with the ketogenic diet and that calls for an alternative. Enter zoodles. Zoodles are made from spiralized zucchinis. (Spiralized is just a fancy word for using a vegetable spiralizer for the noodle appearance.) Incorporate zoodles into your keto Thai food by cooking up a Pad Thai dish. 
Net carbs: 3g | Fat: 6g | Protein: 1g | Calories: 20
View the full recipe here. 
Stir-fry Cabbage Noodles
Stir-fry cabbage noodles are another great alternative for regular wheat or rice noodles. Add a bit of chopped ginger and garlic to your oil before tossing in the cabbage for an amazing taste. Stir-fry cabbage noodles are a great side dish for a thick and rich Thai coconut gravy. Assault your senses (in a good way) with these savory Thai flavors. 
Net carbs: 4.8g | Fat: 7.0g | Protein: 1.3g | Calories: 81.9
View the full recipe here. 
Thai Tofu Satay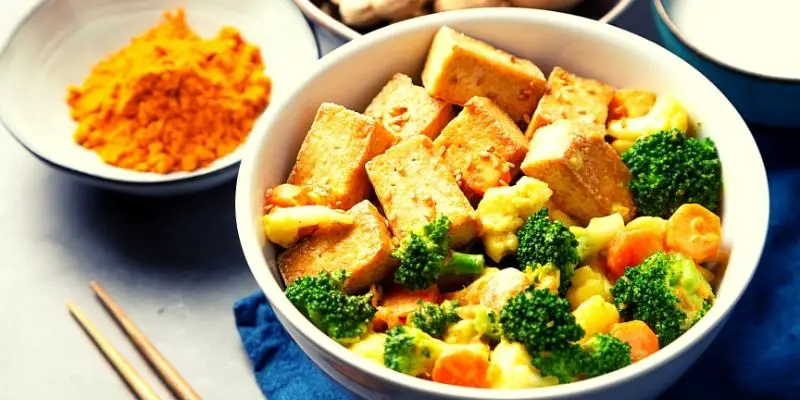 A satay is simply meat on skewers. It's awesome for the keto diet. However, the vegan keto people are going to have to replace meat with vegan protein like tofu, seitan, or tempeh. Be sure to marinate your tofu in authentic Thai spices to bring out that flavor. Next, fire up your grills to give your satay that charred smokey taste. There is something about smokey tofu that makes it tastes amazing. 
Net carbs: 48g | Fat: 19g | Protein: 16g | Calories: 403
View the full recipe here. 
Thanks for the graphics: Canva.com
Disclosure: At vegketodiet.com I only mention the products that I researched and considered worthy. But it's important to note that we are a participant of several affiliate programs, including but not limited to VigLink and Amazon Services LLC Associates Program. As an Amazon Associate, this website earns from qualifying purchases. Also please note that I am not a doctor. As such readers are strongly recommended to make decisions that might affect their health by doing their own research. At vegketodiet.com I only document and describe thoughts, researches and ideas that proved to be working for me.