Is Almond Butter Keto? 2 Best Options for Keto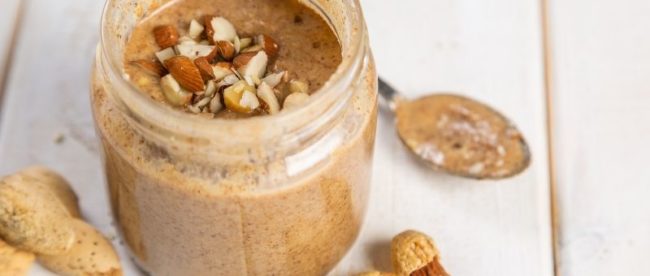 Almond butter is one of the most delicious nut kinds of butter out there. It is made by roasting and grinding whole almonds to form a thick, goopy delight. It tastes like a cleaner and is a less heavy version of peanut butter. It is also sweeter than peanut butter. Almond butter can be used as a spread for toast and a topping for smoothie bowls. 
In this article, we shall take a look at whether you can have almond butter on keto. 
Do you have a particular question about whether or not you can eat almond butter on keto? Then use the table of contents below to jump to the most relevant section. And you can always go back by clicking on the arrow in the right bottom corner of the page. Also, please note that some of the links in this article may be affiliate links. For more details, check the Disclosure section at the bottom of the page. 
Is almond butter keto-friendly?
Almonds are high in fat and contain little or no carbs, depending on the ingredients list. You may know that fats are highly encouraged on the keto diet. After all, keto is a low-carb, high-fat diet. Nuts are a source of healthy fats and proteins. They also contain essential nutrients like Vitamin E, calcium, iron, and zinc.
It's always best to do your research when it comes to different foods on the keto diet. One may think that since peanut butter is okay on keto, then almond butter on keto is also okay? The truth is that it's not that easy to tell. One almond butter jar may be keto, and yet the other one isn't! So how do you tell? 

Pure almond butter is keto-friendly. If you are a fan of making your own almond butter at home, you know that pure almond butter is made using only almonds. This type of almond butter has zero carbs. However, if you buy almond butter, you will need to check for added sugars. Almond butter is delicious without any sugar, but some brands add it. 
So, if you need to know if your store-bought almond butter is keto, check the ingredient profile for any mention of added sugars. If it has no sugars, then you can have the almond butter on keto. 

How many carbs are in almond butter?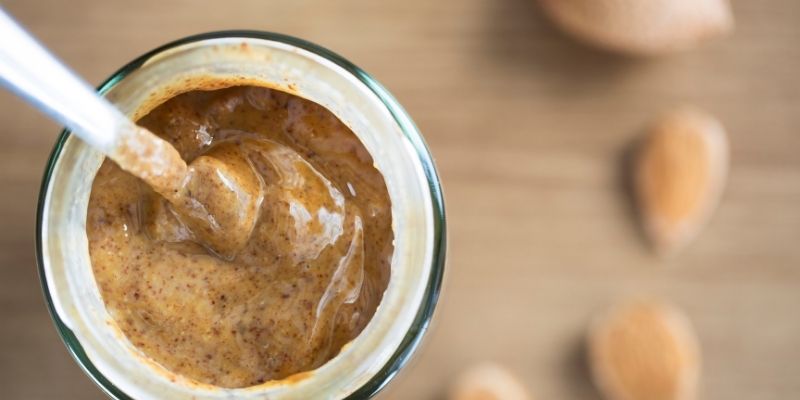 As discussed above, homemade, pure almond butter is made without any additional carbs. There are zero net carbs in pure almond butter. You can make almond butter at home by roasting and grinding almonds into a buttery paste. 
Does almond butter have carbs? Store-bought almond butter may contain up to 3g of carbs in 1 tablespoon. 3 grams of carbs in almond butter are not a lot to kick you out of ketosis, but eating sugars may release insulin in the body and stop ketosis. 

Best almond butter for keto
What is the best keto almond butter? Most people don't have the time to oven roast and grind almonds to get keto almond butter. Well, good thing that there are so many options for store-bought low-carb almond butter. Here are my top picks:
Artisana Organics Raw Almond Butter
The best thing about this amazing almond butter is that it is made with only one ingredient! Always lookout for this kind of almond butter. Arguably the best almond butter is the one made only with almonds. This product is made with raw and organic almonds. They are not roasted, toasted, or cooked. In addition, this is a good chance to support family-owned farms like Artisana. 
This almond butter is made in small batches using a temperature-controlled process to protect fatty acids, proteins, vitamins, and enzymes. Artisan Organics almond butter is organic, vegan, non-GMO, kosher, gluten-free, dairy-free, peanut-free, and certified R.A.W., perfect for vegan, keto, and paleo diets.
Keto Almond Butter with MCT Oil and Macadamia Nuts
The best way to know if a food is a keto or not is if it has the word "keto" printed in large letters on the packaging! Staying on the keto diet means eating a high-fat and low-carb diet. You should avoid sugar at all costs, including sugars from most fruits like apples or oranges. When a product is keto, it means they don't add carbs and sugars to the ingredients. 
This keto almond butter is made even more nutritious by the addition of MCT oil and macadamia nuts. These are two great foods to eat while on the keto diet. Macadamia nuts offer a source of fat and protein. MCT oil helps to increase ketone production in the body. 
When you get your jar, expect the butter inside to be separated from all the natural oils. All you have to do is get a fork and swirl it around to combine all the ingredients together again. 

Can you eat almond butter on keto?
Yes, you can eat almond butter on a keto diet if it has no carbs. Watch out for the brands that add sugar to their almond butter. Carefully read the ingredient profile before buying a new jar. Low carb almond butter is also an excellent option to buy from the store. 
You can eat almond butter as a dip for celery stalks, just like a substitute for peanut butter. Almond butter also works well as a dip. You can also use almond butter as an ingredient for fat bombs – a popular snack for keto diet. Bliss balls are a perfect source of fats because you need fats to give you energy and mental clarity. 
Thanks for the graphics: Canva.com

Disclosure: At vegketodiet.com I only mention the products that I researched and considered worthy. But it's important to note that we are a participant of several affiliate programs, including but not limited to VigLink and Amazon Services LLC Associates Program. As an Amazon Associate, this website earns from qualifying purchases. Also please note that I am not a doctor. As such readers are strongly recommended to make decisions that might affect their health by doing their own research. At vegketodiet.com I only document and describe thoughts, researches and ideas that proved to be working for me.