5 Things You Have to Know about Hemp Yogurt (+2 Easy Recipes)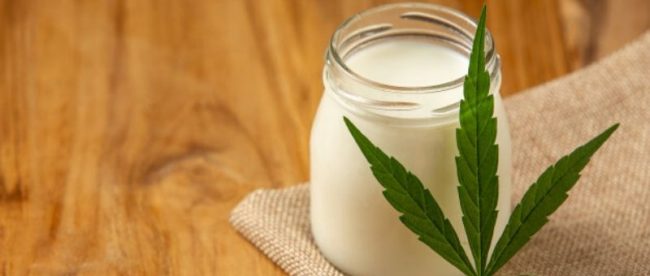 Besides the benefits to your body, you're also helping the planet when you use hemp. The material is carbon-negative. This means it takes carbon out of the atmosphere even as a manufactured product.
And hemp seeds can be consumed or used to produce a variety of food products including milk, oil, cheese, protein powder and, of course, hemp yogurt. 
Are you interested in a particular question about hemp yogurts? Then use the table of contents below to jump to the most relevant section. And you can always go back by clicking on the arrow in the right bottom corner of the page. Also, please note that some of the links in this article may be affiliate links. For more details, check the Disclosure section at the bottom of the page. 
What is hemp yogurt?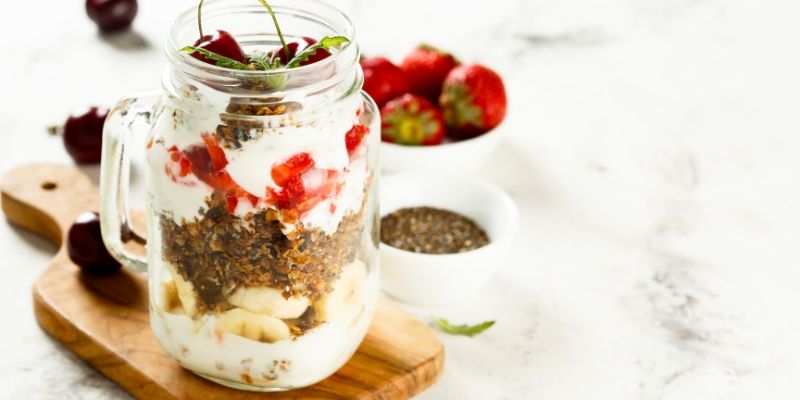 Hemp yogurt is a gluten-free, nutrient-rich yogurt. It can be produced using hemp milk or hemp seeds.
Hemp milk yogurt provides heart-healthy omega-3 fats, about 8 grams of protein, and many of the essential amino acids. It lacks calcium, is pricey and is harder to find in stores, but makes for a healthy snack.  

Hemp seeds as well filled with protein, healthy fatty acids, fiber, vitamin E, minerals such as iron and calcium. So it's not surprising that they call it a superfood. 
With a slightly' nutty taste', hemp yogurt provides a lovely flavor and texture when made correctly. You can find it at farmer's markets, fancy vegan stores, and healthy food sections in expensive supermarkets.
However, this product is far from being mainstream, so it can be challenging to find and cost a lot too. So you might want to consider making it at home. Especially if you are looking out for ideas on how to bring more variety into a keto / vegan diet. 

Hemp yogurt nutrition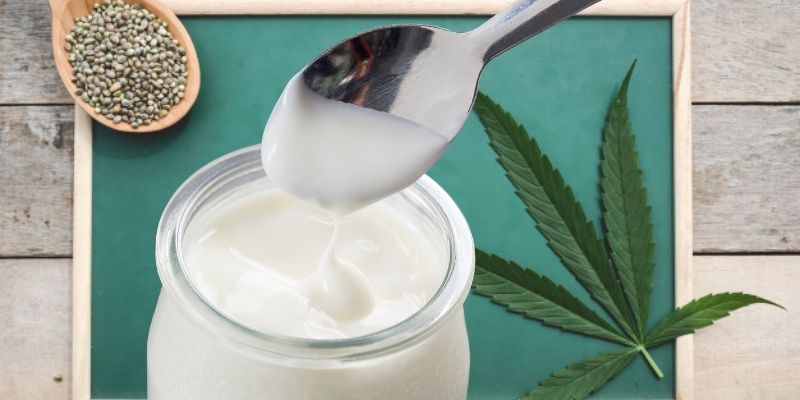 Hemp seeds are a known superfood and provide many benefits. These include anti-inflammatory properties and support for your brain & heart function. 
And again, if we are talking about keto vegan diet, hemp seeds are especially satiating due to their high fiber content.
Therefore hemp yogurt offers a fantastic opportunity to actively promote good health. This yogurt provides anti-inflammation properties and promoting organs' health too. 

Hemp protein in yogurt
Hemp contains all 10 essential amino acids. And it does not contain phytates, which are found in many vegetarian protein sources. Those antinutrients are known to interfere with the absorption of essential minerals.  
Compared to flax and chia, for instance, hemp seeds have twice as much protein and are lower in carbohydrates. Perfect. 
So you may not only benefit from minerals and vitamins from hemp seeds in your yogurt. It actually makes sense to supercharge your yogurt (or any other snack, if it makes sense) with the scoop of hemp protein powder here and there (I love the one by Navitas). 
It has a very smooth texture which makes it perfect for blending into your favorite smoothie or shake. 

Hemp yogurt recipes (keto-friendly, vegan and vegetarian options) 
With hemp yogurt still considered somewhat hipsterish, you may be able to find a tub at your local health food store. But it's super easy to buy all the ingredients and make hemp yogurt yourself. And it will be way less complicated than you might have ever imagined. Here are my two favorite recipes. Give it a go!
Hemp milk yogurt
Delightful vegan hemp milk yogurt
Total Time
34 hours, 20 minutes
Notes
Super easy recipe totaling in 2.9g of net carbs per serving. Yum!
Ingredients
4 cups unsweetened hemp milk (here's a good option by Living Harvest)
2 tsp. pectin powder (Pomona works wonders)
1 packet of vegan yogurt starter (here's a non-dairy one)
Instructions
1. Mix pectin with 1 cup milk in a blender until smooth.
2. Heat remaining milk in a saucepan to 140ºF.
3. Pour in milk and pectin mixture and wait till it reaches 140ºF again.
4. Remove your pot from the heat and wait until the milk cools to 110ºF.
5. Stir in yogurt starter.
6. Pour it into a clean, glass jar, and place it in a yogurt maker at 105-112ºF for 8-10 hours.
7. When the wait is over, shake the contents of the jar well and put it to the fridge for further thickening that might take up to 24 hours.
Nutrition Facts
Hemp milk yogurt | Recipe card
Serves: 4 persons
Amount Per Serving:

1 cup

Calories

88

% Daily Value*
Total Fat

8g

12.3%
Saturated Fat

0.5g

0%
Trans Fat

0mg

Cholesterol

0mg

0
Sodium

130mg

5.4%
Total Carbohydrate

3.1g

1%
Dietary Fiber

0.2g

0%
Sugars

0.3g

Protein

2g
Vitamin A

0mg

Vitamin C

0mg

Calcium

300mg

Iron

1mg
* Percent Daily Values are based on a 2,000 calorie diet. Your daily values may be higher or lower depending on your calorie needs.

Vegan hemp yogurt
Cuisine American
Low carb ease hemp seeds vegan yogurt
Total Time
5 hours, 15 minutes
Notes
This recipe only has 1.7g of net carbs per serving. And you can actually adjust it to your liking substituting lemon juice with a few drops of vanilla extract and monk fruit, for instance. There's a lot of things to try!
Ingredients
Instructions
1. Boil the water.
2. Process the hemp seeds with 1 cup of hot of water in a high powered blender until smooth.
3. Blend in the glucomannan powder and the remaining hot water. Process for another 20-30 seconds until the mixture started to thicken.
4. Add in the lemon juice and blend for a few seconds until mixed thoroughly.
5. Pour the mixture into a clean container, seal it, and leave in the fridge for a few hours until your yogurt sets.
Nutrition Facts
Vegan hemp yogurt | Recipe card
Serves: 4 persons
Amount Per Serving:

1 cup

Calories
144
% Daily Value*
Total Fat 9.1g
13.8%
Saturated Fat 1.6g
5%
Trans Fat 0mg
Cholesterol 0mg
0
Sodium 8mg
0.3%
Total Carbohydrate 6.8g
2%
Dietary Fiber 5.1g
20%
Sugars 0.3g
Protein 7.6g
| | |
| --- | --- |
| Vitamin A 0mg | Vitamin C 0mg |
| Calcium 6mg | Iron 2mg |
* Percent Daily Values are based on a 2,000 calorie diet. Your daily values may be higher or lower depending on your calorie needs.
Vegan Keto Diet Recipes and Tips
Thanks for the photos: Freepik.com and Canva.com
Disclosure: At vegketodiet.com I only mention the products that I researched and considered worthy. But it's important to note that we are a participant of several affiliate programs, including but not limited to VigLink and Amazon Services LLC Associates Program. As an Amazon Associate, this website earns from qualifying purchases. Also please note that I am not a doctor. As such readers are strongly recommended to make decisions that might affect their health by doing their own research. At vegketodiet.com I only document and describe thoughts, researches and ideas that proved to be working for me.