7 Amazing Keto Chinese Food Options: Can You Have It On Keto?
Chinese foods feature noodles and dumplings that contain more carbs than needed for keto per serving. Chinese dishes also contain rice, starchy sauces, sugar, and battered meats packed with carbs. Ordering Chinese takeout while on the keto diet is not realistic. Because you can easily get kicked out of ketosis, or the state in which your body produces ketones. There are too many carbs in Chinese food to risk a single takeout.
The good news is that some Chinese dishes can be keto. No hidden sugars and carbs. In addition to that, you can easily make some of these low-carb Chinese meals right at home. If you are a seasoned keto dieter, then you know by now what ingredients can easily be substituted with others to make your meal completely carb-proof.
In this post, I have collected my own tried and tested recipes for vegan keto Chinese recipes from all over the web. Be careful with most recipes, and be sure to leave out sugar from these recipes. 
Are you interested in a specific vegan keto Chinese dish? Then use the table of contents below to jump to the most relevant section. And you can always go back by clicking on the arrow in the right bottom corner of the page. Also, please note that some of the links in this article may be affiliate links. For more details, check the Disclosure section at the bottom of the page. 
Vegan Keto Low Mein
Low mein is a play on chow mein, and it is used to denote "low-carb" chow mein noodles. If you see this option in a Chinese restaurant, it has a high chance of being keto-friendly. Chow mein is a rich dish made using noodles and lots of vegetables. But since wheat noodles using in Chinese recipes is not keto-friendly, this vegan keto recipe calls for kelp noodles. 

What are kelp noodles? These are noodles that are made using kelp, which is an edible brown seaweed. This kelp is steamed and what is left behind is a clear, jelly-like substance. Kelp noodles will appear transparent, unlike wheat noodles. Enjoy this delicious keto Chinese food for any time of the day!
Net Carbs: 4.4g | Fat: 13.9g | Protein: 5.1g | Calories: 195
View the full recipe here. 

Chinese Mushroom Stir-fry
Mushrooms are easy to cook, and paired with these Chinese-style fresh herbs and spices, this mushroom stir-fry is ideal for any side dish if you are craving Chinese food! This recipe is easy and uses oil, garlic, ginger, and asparagus to give it a fresh and herby taste. You can also sprinkle some sesame seeds for added flavor and protein. 
This is a simple meal that can transform your day. It is easy to make and requires a few well-known ingredients, so you don't have to look too hard to get a warm Chinese meal in front of you. Keep mushrooms in stock so that you can eat this meal weekly with your lunch or dinner. 
Net Carbs: 6g | Fat: 7g | Protein: 4g | Calories: 111
View the full recipe here. 

Vegan Keto Kung Pao Tofu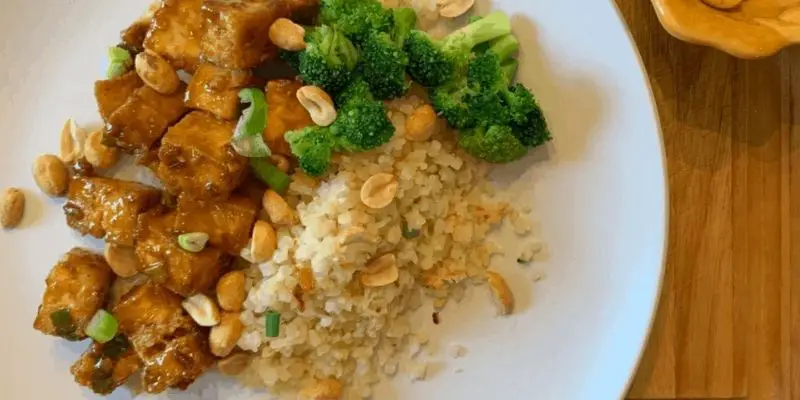 Kung Pao is a trendy Chinese dish made using chicken, stir-fried vegetables, and peanuts on top. Since I follow a vegan and keto diet, I need to avoid animal products and carbs. That is when this Kung Pao tofu recipe came to the rescue. It combines Chinese spices and crunchy vegetables with the protein of tofu to provide a flavorful main dish. 
This keto Asian food recipe uses fresh ginger, soy sauce, and rice vinegar to bring refreshing Chinese-style flavoring to the palate. If you are craving Chinese, then you will have to use up the fresh ginger in your fridge to create this mouth-watering dish that will fill you up in no time.
Net Carbs: 8g | Fat: 23.5g | Protein: 25.4g | Calories: 350
View the full recipe here. 

Kelp Salad
This kelp salad actually calls for sugar and scallions, but it is still a lip-smacking dish if you remove them from the recipe. Many Chinese dishes out there require you to cut out one or two ingredients that are not keto. There are not many keto Chinese food options. It is pretty hard to find a Chinese recipe that is truly keto, so you need to work a little to remove the non-keto ingredients.
Despite that, I have added this kelp salad to the list. It is made using kelp, which is a type of seaweed and keto-friendly. It is seasoned using garlic, soy sauce, and Thai peppers. If you don't have Thai peppers, you can use regular peppers. This combination of fresh herbs and soy sauce offers an authentic Chinese-style dish to enjoy as a side dish. 
Net Carbs: 17g | Fat: 22g | Protein: 4g | Calories: 278
View the full recipe here. 

Zucchini Noodle Chow Mein
I already added a chow mein keto and vegan recipe to this list, but I used kelp noodles. So this chow mein variation tastes very different. I know many of us have never heard of kelp noodles, nor do we get them where we live. But, this particular recipe only needs zucchini noodles, also known as zoodles. These are made by grating zucchinis with the appropriate grater to create noodle-like shapes. 
After that preparation, it's time to spice things up for different and flavorful keto Chinese food recipes! Use sesame oil, coriander, ginger, soy sauce, and red chili paste to bring out the Asian-inspired tastes. Please avoid the carrots and scallions or green onion in this recipe to stay within keto. Hoisin sauce is also needed in the recipe but has a lot of sugar, so forget it as well. Sugar will spike your insulin and encourage the body to extract energy from sugars and not fat. 
Net Carbs: 24.9g | Fat: 3.5g | Protein: 13.3g | Calories: 191
View the full recipe here. 

Chinese Cauliflower Fried Rice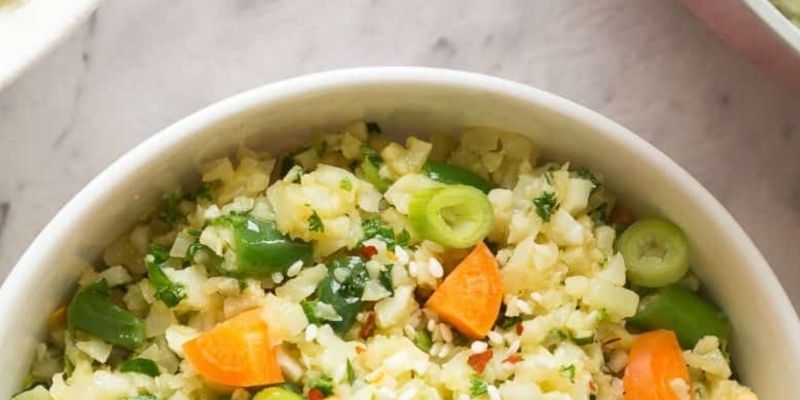 This list could not have been complete without the famous cauliflower rice! As all keto dieters know, rice is a big no-no due to the high amount of carbs. Instead, we choose to grate a whole cauliflower and use it as a rice substitute. As you know, fried rice is one of the best Chinese dishes out there. Now, combine keto rice and the amazing Chinese dish for a hybrid that everyone can enjoy. 
A combination of garlic, soy sauce, and cayenne pepper will transport you across the world. Be sure to avoid the carrots and green onions in this recipe, and you will still be in ketosis while enjoying Chinese food. 
Net Carbs: 3g | Fat: 7g | Protein: 8g | Calories: 137
View the full recipe here. 

Tofu Stir fry
In place of a Chinese-style chicken stir-fry, I chose tofu to be my plant protein of the day. Tofu substitutes chicken perfectly for any dish. The recipe calls for sugar in this stir-fry, but you can easily leave it out or just use a keto sweetener. As a vegan keto eater, I have to look out for adding sugar to my dishes. After all, most recipes do not cater to the low-carb eaters! Without sugar, this keto-friendly Chinese food stands at roughly 13g of net carbs. This should be alright if you are eating this meal once a day. It is a perfect low-carb Chinese food. 
Net Carbs: 13g | Fat: 3g | Protein: 11g | Calories: 173
View the full recipe here.

Can I eat Chinese food on keto?
Chinese food is a popular cuisine all throughout the world. The combination of fresh and dry spices is beloved by many people who order Chinese takeout for a movie night or a family lunch. However, if you are on the keto diet, you may have decided to forgo most of your takeout, including Chinese food. 
One of the most popular Chinese dishes is chow mein noodles which use wheat noodles as one of the ingredients, automatically disqualifying it for the keto diet. Another popular dish called momos also uses wheat and cannot be eaten on the keto diet. So, is Chinese food keto?
If you are going to a Chinese restaurant, chances are that most of the dishes have carbs. But that doesn't mean that you can't enjoy those sweet and spicy Chinese flavors on the keto diet! You can specifically lookout for restaurants with low-carb meals, or you can just make your own Chinese meals!
But what Chinese food is keto?
If you want to stay on the safe side, order only vegetables and seaweed only dishes because they are most likely to be keto. Don't be afraid to ask for keto-friendly options at your favorite restaurant. 
Thanks for the graphics: Canva.com, Meatfreeketo.com, twosleevers.com, veggl.com, chinasichuanfood.com, runningonrealfood.com, thebigmansworld.com, and lifemadesweeter.com.

Disclosure: At vegketodiet.com I only mention the products that I researched and considered worthy. But it's important to note that we are a participant of several affiliate programs, including but not limited to VigLink and Amazon Services LLC Associates Program. As an Amazon Associate, this website earns from qualifying purchases. Also please note that I am not a doctor. As such readers are strongly recommended to make decisions that might affect their health by doing their own research. At vegketodiet.com I only document and describe thoughts, researches and ideas that proved to be working for me.