Best Keto Fried Green Tomatoes Recipe (+Dish's History & Curious Facts)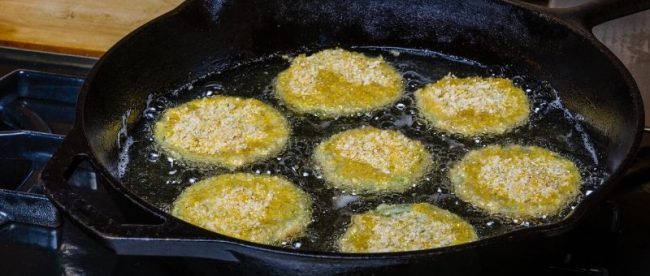 When we mention fried green tomatoes, we might speak of two things. It can be your ordinary unripe tomatoes or an actually green variety, also known as Green Zebras. 
Unripe tomatoes are firm and acidic, but all of these things mellow out when they're cooked.
And frying is the most popular way to cook them since they hold up well to being sliced, dredged, and seared in a crunchy coating. And Green Zebras are just awesome in any way. (And actually way more healthy). 
But how about keto fried green tomatoes? Is it even a thing? 
Do you have a particular question about keto fried green tomatoes? Then use the table of contents below to jump to the most relevant section. And you can always go back by clicking on the arrow in the right bottom corner of the page. Also, please note that some of the links in this article may be affiliate links. For more details, check the Disclosure section at the bottom of the page. 
Are green tomatoes keto?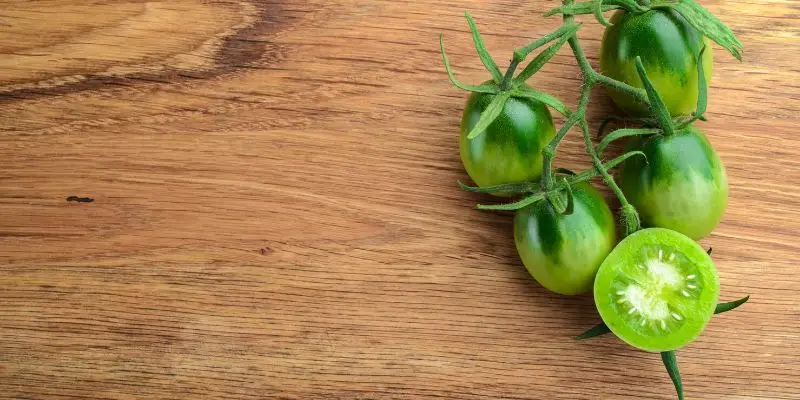 Ripe green tomatoes are an excellent source of vitamins A, C, and potassium. One cup of ripe green tomatoes is 41 calories and 7g of net carbs (9g of total carbs and 2g of fiber).  
 Unripe (traditionally red) tomatoes will not be as nutrient-dense since they are not fully ripe. And for those sensitive to acidic foods, I'd suggest avoiding it altogether.
But overall, even though relatively high in carbs, green tomatoes can be definitely integrated into a keto diet when planned strategically. 

. 
Fried green tomatoes nutrition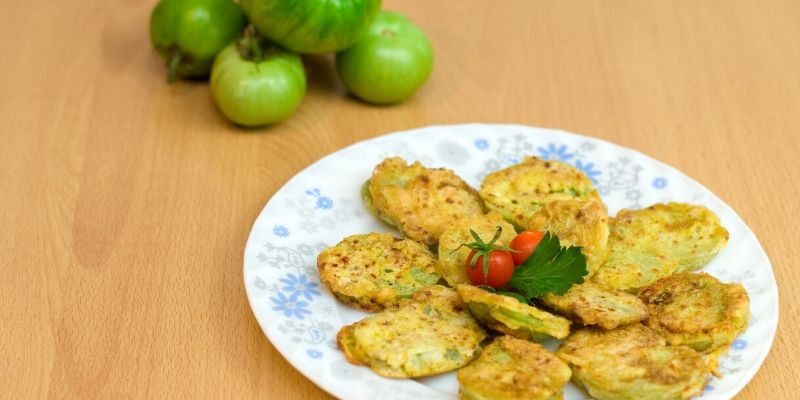 The total number of calories in fried green tomatoes depends on the recipe. It can vary. But let's take a popular one from the cooking website allrecipes.com.
It uses cornmeal, milk, eggs, and bread crumbs as the main ingredients, and it ends up in quite a hefty 510 calories per serving. There are also 56.3 g carbs in fried green tomatoes, along with 95.4 mg cholesterol and 1136 mg sodium. 
I'd say it's not a healthy dish by all means. 

Can you eat fried green tomatoes on keto? 
If we are talking about conventional recipes, the answer is no. Those are super fatty, very carby, and high in cholesterol tomatoes. And they are usually served with some sort of dipping sauce that might potentially double high enough calorie count.
However, we can try to make those green tomatoes keto, leave the breading and think of a decent sauce to go with it. (For instance, keto mayo, I've raved about few posts earlier). 

Recipe for keto fried green tomatoes
These low-carb fried green tomatoes might not be carbless, but these are delicious and can absolutely be keto-friendly too
Notes
This keto fried green tomatoes will only have 6.2 of net carbs per serving. And it's so good!

Instructions
1. Slice the green tomatoes and sprinkle with salt. Set it aside for 5 - 10 minutes.
2. Whisk together the flax egg and heavy coconut cream.
3. In another container, mix Cajun seasoning and peanut flour.
4. Preheat the oil in a large pan.
5. Dip each slice of tomato first into the egg mixture, followed by a spicy peanut mix.
6. Fry each slice around 3-4 minutes per side or until golden.
7. Drain cooked batch with a paper towel. And repeat the process until you are out of coated tomatoes.
8. Serve with your favorite keto sauce (Sriracha? Keto avocado mayo?) and enjoy!
Nutrition Facts
Keto fried green tomatoes | Recipe card
Serves: 2
Amount Per Serving:

5-6 slices

Calories

309

% Daily Value*
Total Fat

29.6g

44.6%
Saturated Fat

5.4g

25%
Trans Fat

0mg

Cholesterol

0mg

0
Sodium

667mg

27.8%
Total Carbohydrate

10.6g

3.3%
Dietary Fiber

4.4g

16%
Sugars

5.6g

Protein

6.6g
Vitamin A

0mg

Vitamin C

0mg

Calcium

30mg

Iron

1mg
* Percent Daily Values are based on a 2,000 calorie diet. Your daily values may be higher or lower depending on your calorie needs.

Thanks for the graphics: Canva.com
Disclosure: At vegketodiet.com I only mention the products that I researched and considered worthy. But it's important to note that we are a participant of several affiliate programs, including but not limited to VigLink and Amazon Services LLC Associates Program. As an Amazon Associate, this website earns from qualifying purchases. Also please note that I am not a doctor. As such readers are strongly recommended to make decisions that might affect their health by doing their own research. At vegketodiet.com I only document and describe thoughts, researches and ideas that proved to be working for me.