Is Sauerkraut Keto Approved? (Best Keto Vegan Recipe Included)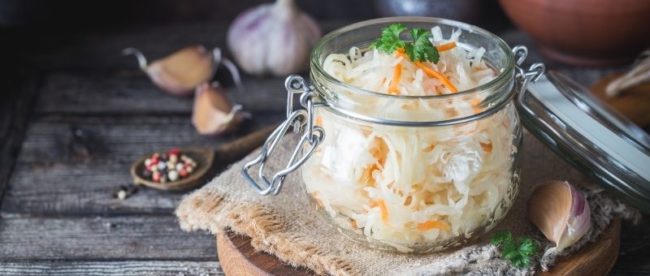 Sauerkraut is one of the hidden gems of the keto diet. Not many people know of it when they start the ketogenic diet, but there is no going back once they discover it. Vegan keto sauerkraut is one of my favorite foods because I just love fermented foods. However, I must say that sauerkraut is an acquired taste due to the whole fermentation process. 
So, what exactly is sauerkraut? Sauerkraut is made by fermenting cabbages. That's it. It's basically pickled cabbages. In fact, you can make your own at home! 
All you have to do is shred one cup of cabbages, mix in a quarter teaspoon of salt, and dump it into a mason jar. Then, cover the mason jar with a cloth and thread.
I allow my cabbage to ferment for at least three days before eating it. But I must say, the flavors get better the longer it ferments. Amazingly, the fermentation process releases some water from the cabbages. Fermentation really intrigues me, and I like to ferment my own sauerkraut and pickles. Fermented foods on keto are ideal for switching things up from a boring routine. 
Do you have a particular question about eating sauerkraut on keto diet? Then use the table of contents below to jump to the most relevant section. And you can always go back by clicking on the arrow in the right bottom corner of the page. Also, please note that some of the links in this article may be affiliate links. For more details, check the Disclosure section at the bottom of the page. 
How many carbs in sauerkraut?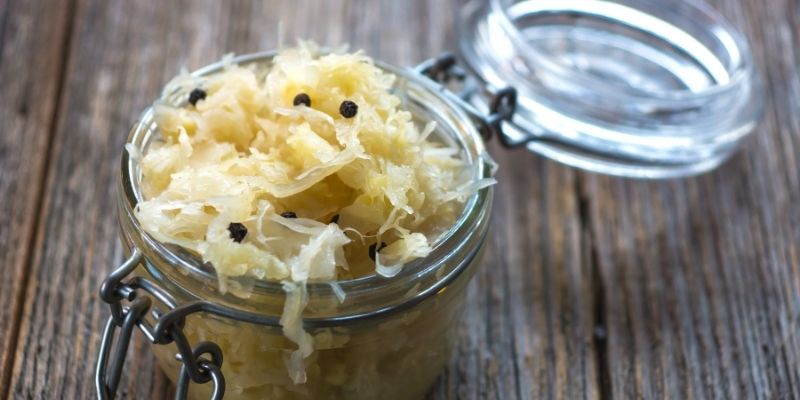 1 cup of sauerkraut contains 6g of carbohydrates and 4g of fiber. That means there are only 2g of net carbs in sauerkraut. This is great for the keto diet. You can have sauerkraut as a side dish and remain well within ketosis. 

Is sauerkraut keto-friendly?
Can you have sauerkraut on keto? Yes, you definitely can. Most sauerkraut is made using shredded cabbage and salt, both of which are keto-friendly. One cup of cabbage sauerkraut contains only 2g of net carbs, perfect for the keto diet. 
However, if you are eating store-bought sauerkraut, you might want to read the ingredients labels. This is because some recipes call for sugar in sauerkraut to fasten the fermentation process. Some German keto recipes with sauerkraut will also call for bacon and apples. 

Is sauerkraut good for keto diet? 
You can have as much sauerkraut on keto as you like – it's not very carby. In addition to that, it is a source of probiotics since it is a fermented food. Sauerkraut can also strengthen your immune system and improve digestion. 
You can add sauerkraut to various keto dishes, for example, cauliflower rice, keto sushi bowl, and avocado toast. It adds a sharp, salty contrast to your dish. 

No meat sauerkraut balls keto recipe
These healthy sauerkraut balls will be the perfect appetizer for a family dinner, or they can be eaten as a snack. They are low in calories and carbs and will have you craving for more when you finish them! Note that the recipe should be adjusted because different sauerkrauts have different water content, affecting the consistency of the mixture.
Notes
Those are delicious and make a full meal. Only have 9.1g of net carbs per serving. There is no need to add salt because the sauerkraut already has salt.

Ingredients
2 cups of sauerkraut
6 tablespoons of chickpea flour
2 tablespoons of parsley
1 flax egg (one tablespoon of flax meal + 3 tablespoons of water)
2 tablespoons of water
Instructions
1. Drain the sauerkraut, getting rid of as much water as you can.
2. Add parsley and the flax egg and mix it all up.
3. In a separate bowl, add water to the chickpea flour and mix till there are no clumps left.
4. Combine all the above ingredients and chill for several hours or overnight.
5. Form balls from the mixture and set them aside.
6. Heat oil in a pan and lower the balls in gently.
7. Cook each side for about 2 minutes or until they turn golden brown.
8. Serve with homemade ketchup or keto tartar sauce.
Nutrition Facts
No meat sauerkraut balls keto | Recipe Card
Serves: 4
Amount Per Serving:
Calories

92

% Daily Value*
Total Fat

1.8g

1.5%
Saturated Fat

0.2g

0%
Trans Fat

0mg

Cholesterol

0mg

0
Sodium

476mg

19.8%
Total Carbohydrate

15g

5%
Dietary Fiber

5.9g

20%
Sugars

3.3g

Protein

4.7g
Vitamin A

0mg

Vitamin C

0mg

Calcium

44mg

Iron

3mg
* Percent Daily Values are based on a 2,000 calorie diet. Your daily values may be higher or lower depending on your calorie needs.
Thanks for the graphics: Canva.com