11 Vegan Keto Korean Food Recipes to Make at Home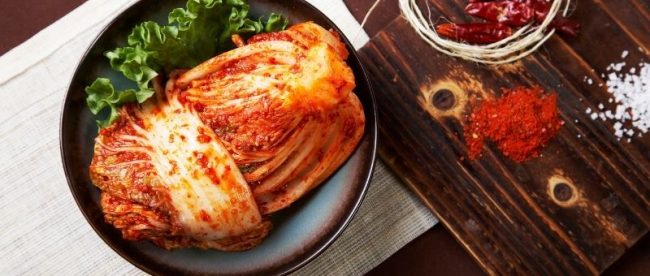 When making your own food, you can easily create Korean food keto options without any pesky carbs and sugars. When it came to Korean food, there are so many recipes you can easily convert to the keto (and vegan!) diet. You can replace the meats with tofu or tempeh, and omit the sugar from a recipe and still create tasty Korean food for the keto diet. 
Let's get into the 11 low carb Korean food recipes that you can enjoy and stay in ketosis without further ado. 
Are you interested in a particular keto Korean food? Then use the table of contents below to jump to the most relevant section. And you can always go back by clicking on the arrow in the right bottom corner of the page. Also, please note that some of the links in this article may be affiliate links. For more details, check the Disclosure section at the bottom of the page. 
Vegan Keto Bibimbap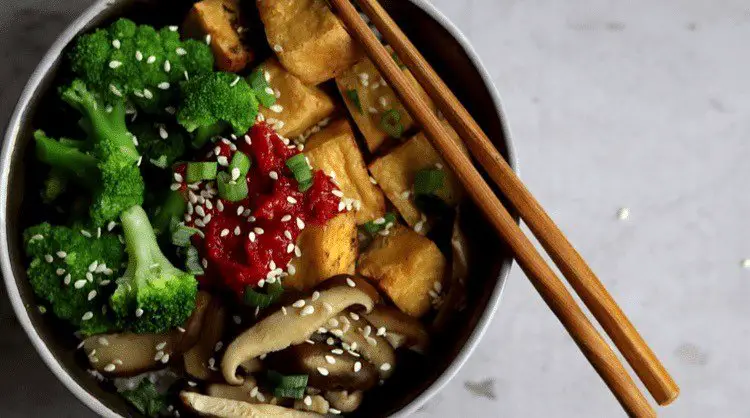 Bibimbap is a Korean dish that translates to "mixed vegetables" in English. This dish consists of air-fried tofu, broccoli, shitake mushrooms, sesame seeds, gochujang, and scallions. The original Korean recipe calls for rice as the dish's base, but our low carb Korean dish will feature cauliflower rice. The best part about this recipe is that you don't have to start from scratch. If you have some left-over veggies, you can add them to the dish.
This bibimbap recipe calls for shitake mushrooms, which may seem a bit high in carbs for one serving. However, they contain Vitamin B5, which is really good for vegans on the keto diet. 

Net Carbs: 9.5g | Fat: 12.7g | Protein: 18g | Calories: 247 kcal
Find the full recipe here.

Keto Kimchi
Kimchi is a dish that has roots so far back in history: We are talking 35 BC. Kimchi is a traditional dish that is made by fermenting vegetables. Back in the day, they didn't have refrigeration, and fermentation was an excellent way to make food last longer.
The problem with most kimchi recipes is that they contain sugar that is not allowed in the ketogenic diet. This low carb Korean keto recipe will make a perfect side dish for main protein dishes. You can also plop this into soups. Or, you can just have it as a little snack when you're feeling hungry. 
Net Carbs: 5g | Fat: 0g | Protein: 1g | Calories: 22 kcal
Find the full recipe here.

Cauliflower Fried Rice with Kimchi (Keto)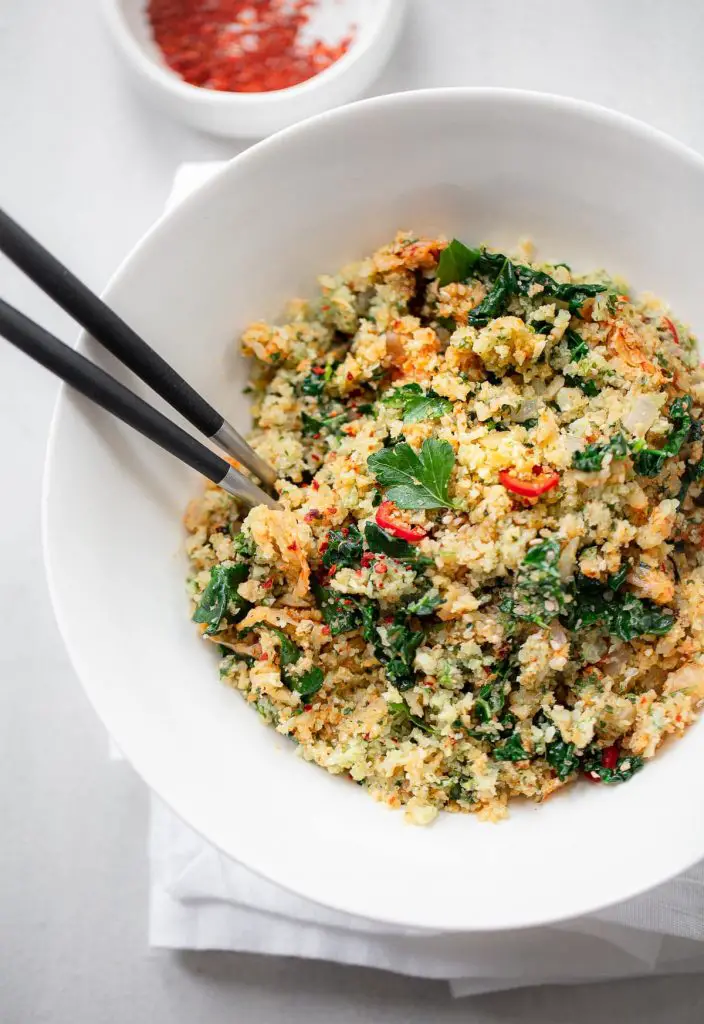 This Korean take on cauliflower rice requires the previous keto kimchi recipe. So, when your kimchi is ready, grate up your cauliflower florets! Or you can get already-riced cauliflower from the store. Either way, this dish makes for a great lunch or dinner.
Cauliflower rice has a fantastic texture and flavor compared to white rice, and it goes really well with the kimchi. By being a fermented food, kimchi provides the body with good bacteria that promote gut health. 
Net Carbs: 8g | Fat: 11g | Protein: 4g | Calories: 153 kcal
Find the full recipe here.

Tempeh
Another one of our Korean keto recipes today is tempeh. Tempeh is a great vegan protein to add to your vegan keto dishes. Tempeh is made using soybeans and a tempeh starter called Rhizopus mold. It's an exciting process for sure. Tempeh will be an excellent addition to soups, sautés, and sauces. 
Tempeh has many benefits, including potentially reducing cholesterol levels and improving bone health. It is an excellent source of protein for vegans, too. Since it is a fermented food, it provides probiotics that are good for gut health.
Net Carbs: 8g | Fat: 11g | Protein: 19g | Calories: 193 kcal
Find the full recipe here.

Dubu Jorim (Braised Tofu)
Dubu jorim, or braised tofu, is a popular dish in Korea, and it is eaten as a side dish to rice. Of course, in the keto diet, we always have cauliflower rice instead of regular white rice. In this recipe, you have to pan-fry your tofu until golden brown, then braise it with some soy sauce to bring out the Korean flavor. 
The gochugaru or Korean red chili pepper flakes will give you a little spicy kick to warm up your palate. The freshness of chopped garlic and scallions will accentuate the flavor of the tofu. 
Net Carbs: 4g | Fat: 15g | Protein: 12g | Calories: 215 kcal
Find the full recipe here.

Oi Muchim (Spicy Cucumber Salad)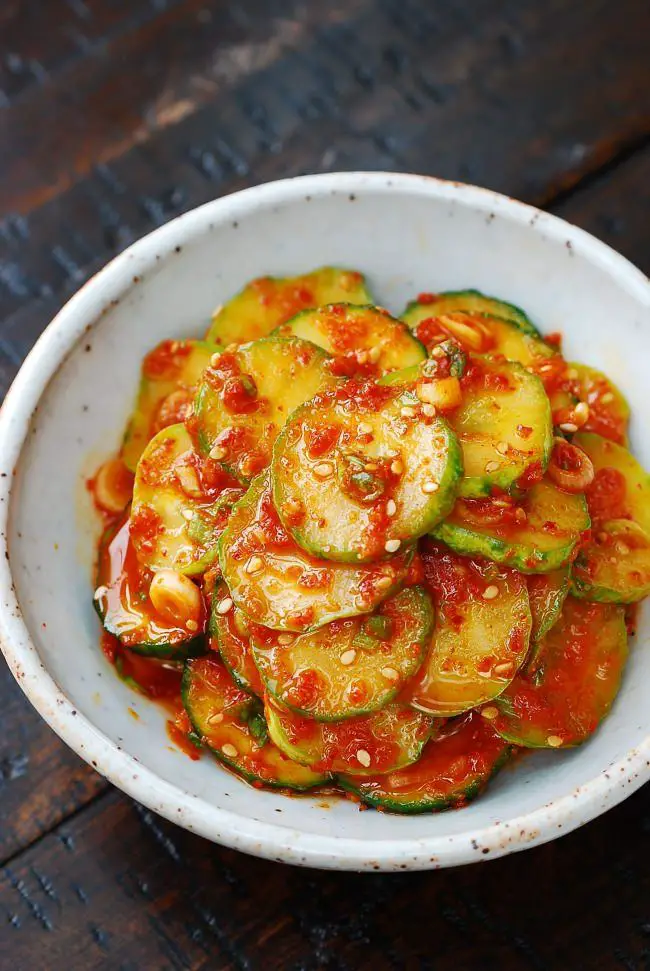 This is a spicy cucumber side dish that can be had with any cuisine of food! And for a little bit of translation: oi means cucumber, and muchim means mixed with seasonings. For this recipe, you will need to cut your cucumbers into slices and slather on the herbs. 
If I'm being sincere, I would have this spicy cucumber salad as a movie snack. 
Net Carbs: 1g | Fat: 2g | Protein: 1g | Calories: 40 kcal
Find the full recipe here.

Eggplant rolls (Gaji Mari)
Another recipe from Hyosun's blog (it's packed with true gems). This eggplant roll is a vibrant and fresh appetizer dish. These thinly sliced eggplants are lightly cooked in a skillet and then used to roll up veggies like pepper, enoki mushrooms, alfalfa sprouts. We also have a sauce to drizzle on top for a spicy and savory flavor. 
The textures and flavors in this low carb Korean food are indeed a delight. Personally, I love eggplants. Believe it or not, I can actually taste the eggy flavor of eggplants. The contrasting softness and crunch from the peppers really do something for this dish. 
Net Carbs: 1.7g | Fat: 1.5g | Protein: 0.7g | Calories: 28 kcal
View the full recipe here.

Air-Fryer Asian BBQ Cauliflower Wings
Cauliflower is the official vegan chicken – at least according to me. Either way, vegan or not, people actually like fried cauliflower. In this BBQ low carb Korean food, bake your cauliflower florets in an oven (this recipe was made for an air-fryer). Then toss it in the Korean BBQ sauce made of hoisin sauce, soy sauce, sesame oil, ground ginger, and garlic. 
The recipe calls for sugar, but you can always substitute it with allulose, erythritol, or monk fruit extract. If you don't want to use any sweeteners, the recipe will still work and taste almost the same. Without the sugar, this recipe will taste strictly savory, which isn't a bad thing. 
Net Carbs: 8g | Fat: 1.3g | Protein: 2g | Calories: 215 kcal
View the full recipe here.

Deulkkae Soondubu Jjigae (Soft Tofu Stew with Perilla Seeds)
This is one of the best Korean keto recipes that will be perfect for tofu fans. It uses tofu curd, silken tofu, and dried kelp in a simple soup garnished with scallions and shiitake mushrooms. We also have the usual set of fresh herbs – ginger and garlic. The spices in this dish are pretty clean – soy sauce and black pepper. If you want a bit of heat, you can add Korean chili flakes. 
It sounds like the perfect vegan comfort food – the kind of thing you'd have on a cold night when you're feeling lonely. 
Net Carbs: 0.6g | Fat: 0.9g | Protein: 0.2g | Calories: 13 kcal
View the full recipe here.

Kimchee-Jjigae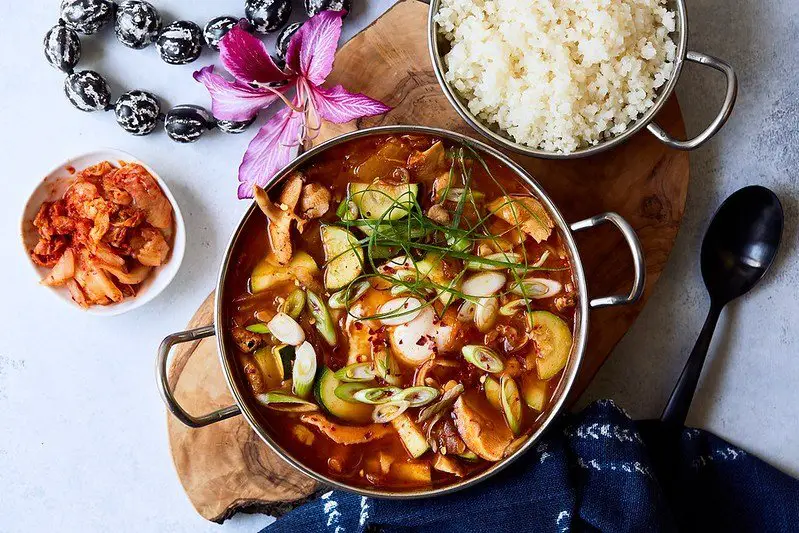 This is another one of the healthy Korean food options on this list. It brings you authentic Korean flavors from the kimchi and gochujang paste. The other ingredients like zucchini, shiitake mushrooms, and scallions give you that fresh and healthy flavor. This dish can be served together with cauliflower rice or coconut naan.  
Net Carbs: 1.4g | Fat: 0.3g | Protein: 0.4g | Calories: 13 kcal
View the full recipe here.

Air Fryer Vegan Keto Korean BBQ Tofu Fries
We use tofu and some great herbs and spices to create a spicy and savory Korean dish in this recipe. Think about all the goodness that can come from tofu, low-sodium tamari, gochujang, garlic powder, ginger powder, and scallions. 
While tofu is mostly considered vegan meat, it's still low in carbs and can be eaten as a snack. So, don't feel weirded out by "tofu fries." Cut up your tofu into fry-like strips, and toss with the fantastic spices, to add to your Korean food keto options. 
Net Carbs: 3.4g | Fat: 26.3g | Protein: 16.2g | Calories: 309 kcal
View the full recipe here.

Can I eat Korean food on keto?
Korean food is pretty popular all over the world, and rightfully so. Korean dishes have so many flavors and tastes, it's incredible. However, one thing you have to be careful about is the carbs and sugar in the recipe. When eating out in a Korean restaurant, you might be hard-pressed to find completely keto-friendly Korean food. 
That said, there is some good news. You can modify a few things in your kitchen to make keto-friendly versions of Korean food on keto. Many Korean dishes can be changed into low carb Korean food recipes. We can easily take out the carbs and sugar while maintaining the authentic flavors. Some Korean pastes and sauces can be incorporated into a ketogenic diet, even for those ketonians who are also vegan.  
Thanks for the graphics: Canva.com, meatfreeketo.com, ketosummit.com, familystylefood.com, veganlovlie.com, koreanbapsang.com, thedeliciousspoon.com, tasty-yummies.com
Disclosure: At vegketodiet.com I only mention the products that I researched and considered worthy. But it's important to note that we are a participant of several affiliate programs, including but not limited to VigLink and Amazon Services LLC Associates Program. As an Amazon Associate, this website earns from qualifying purchases. Also please note that I am not a doctor. As such readers are strongly recommended to make decisions that might affect their health by doing their own research. At vegketodiet.com I only document and describe thoughts, researches and ideas that proved to be working for me.