Are Sunflower Seeds Keto? Roasted, Raw, BBQ? (+Vegan Keto Recipe included)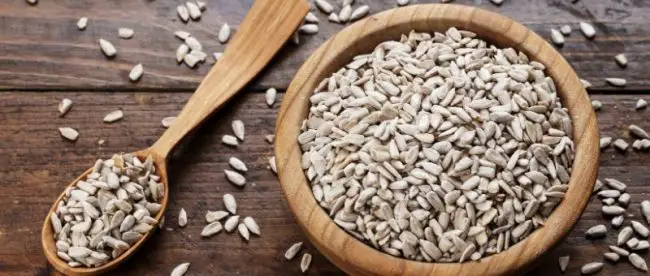 Sunflower is most likely to be domesticated by some of the western Native American tribes around 1000 BC. Today it's an important element of the agricultural sector of the economy. And there are two main types of sunflower crops. Those that are grown for the seeds or for the oil.  
When answering a question, "Are sunflower seeds keto?" I'll be referring to the former. 
Sunflower seeds have a mild flavor and a tender texture. They're often roasted to intensify the taste, but you can buy or eat them raw too. And it's a nice fatty snack rich in fiber and vitamins. 
Do you have a particular question about keto and sunflower seeds? Then use the table of contents below to jump to the most relevant section. And you can always go back by clicking on the arrow in the right bottom corner of the page. Also, please note that some of the links in this article may be affiliate links. For more details, check the Disclosure section at the bottom of the page. 
How many carbs in sunflower seeds? 

Depending on the brand of the seeds you are using, and whether those are raw or roasted, there's still quite a low amount of carbs in sunflower seeds. It can be anywhere from 1 to 5g of net carbs per 1oz serving, considering that this superfood is rich in fiber. 
I wasn't able to find the insulin index of this product (some foods affect insulin levels without causing the spike and glucose, and it's crucial for keto). However, there were plenty of papers on how this product affects patients with diabetes. E.g., this article investigating the effects of sunflower seeds on fasting blood glucose. It concludes that sunflower seeds can be recommended to render control over the blood sugar levels and good cholesterol levels for maintaining heart health.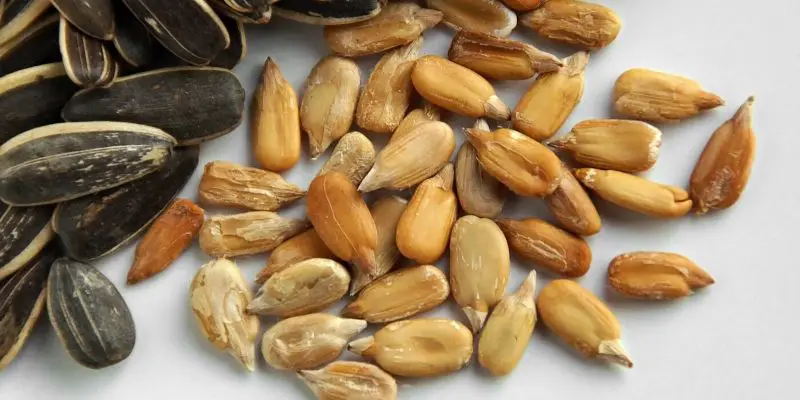 Are sunflower seeds a good keto snack? 
Since it's low in carbs and even known to help control blood sugar levels, sunflower seeds are definitely a great keto-friendly option. 
On top of being keto-safe, these are a solid magnesium source, which can help with some keto flu symptoms. And vitamin E, which helps protect blood vessels and prevent free radicals from damaging healthy cells in your body.
And these seeds also can be used as a keto baking ingredient. Sunflower flour is an excellent alternative for keto recipes when you want to avoid nuts and don't feel very thrilled about the carb count of coconut flour. 

What kind of sunflower seeds can you eat on keto?
The answer does not only come to raw or roasted. Sometimes you may miss popular flavored variations of sunflower seeds: bacon, BBQ, etc. 
But those might come at the cost of pretty unhealthy artificial ingredients, so don't forget to be diligent when picking up a specific snack. Let's have a look at several options together. 

Are roasted sunflower seeds keto-friendly?
These roasted and salted sunflower seeds by David Seeds are expected to be quite high in calories but overall pretty good in terms of nutrients' keto-friendliness.
It has 190 calories per serving (~1oz). Including 15g of fat (1.5g of saturated fats) and 3g of net carbs (total is 5g, but it also has 2g of fiber). These roasted seeds are definitely a keto-approved snack option. 

Are raw sunflower seeds keto-friendly? 
These raw sunflower seeds by Sincerely Nuts are even better. It has 160 calories per serving (~1oz), 14g of fat (1.5g of saturated fat), and 5g of carbs (including 3g of fiber, so it's only 2g of net carbs). 
And you can always roast it yourself with no added oils or chemicals to get that unique taste with zero health impact. However, remember, roasting nuts may damage their healthy fat, reduce their nutrient content, and even lead to the formation of a harmful compound called acrylamide.

Are Bigs BBQ sunflower seeds keto?
BIGS sunflower seeds come in many flavors: bacon, buffalo, taco bell, but BBQ is probably one of the most popular. 
It has 190 calories per serving (~1oz). And around 8g of carbs. Since 3g of those are fiber, you end up with 5g of net carbs. 
And even though it might not sound too bad when looking at the ingredients list, you might want to think twice before eating BIGS sunflower seeds on keto. Maltodextrin, sugar, fructose, honey modified food starch – that's just a few of the things that caught my attention. So I'd avoid this brand altogether. 

Best sunflower seeds for keto
Unsalted, raw kernels are the least processed versions of the seeds. 
And when it comes to picking one "the best of all" option, I'd suggest sticking with a raw organic variation of sunflower seeds. Thus you'll know that those are GMO-free. 
E.g., these raw, unsalted, hulled, organic seeds by Terrasoul Superfoods look like the best keto option from all the products I've looked into while doing this little research. 
It has 181 calories per 1oz serving and only 2g of net carbs in total. For further comparison, it has 0mg of sodium vs. 1980mg in BBQ ones by BIGS. 

Keto recipe with sunflower seeds
If you are not satisfied with the perspective of eating sunflower seeds as it is while on keto, I have an excellent recipe for you to try too. 
Sunflower seed keto crackers
Crunchy and healthy keto vegan sunflower seed snack option
Total Time
1 hour, 15 minutes
Notes
Spread out the mixture very thin - it will speed up the process, and your crackers will turn out to be very crispy.
In this recipe, there are 4 crackers per serving. And it's only 2.6g of net carbs.


Instructions
1. Pour 2 cups of water in a mixing bowl and start to stir in the psyllium husk slowly.
2. Start adding the seeds and the salt. Mix well every step of the way.
3. Let the mixture sit for 10-15 minutes and meanwhile preheat the oven to 350F.
4. Thinly spread the dough on the greased baking sheet.
5. Place in the oven for about 30 minutes.
6. Once the time is up, put it out and cut the dough into crackers using a sharp knife. You have to end up with 32 pieces in total.
7. Then put them back into the oven for another 15 minutes to get really crispy. But observe them since seeds burn easily.
8. Serve it right away or store it in an airtight sealed container.
Nutrition Facts
Sunflower seed keto crackers | Recipe card
Serves: 15
Amount Per Serving:

4 crackers

Calories

141

% Daily Value*
Total Fat

11.3g

17.4%
Saturated Fat

1.2g

6%
Trans Fat

0mg

Cholesterol

0mg

0
Sodium

22mg

0.9%
Total Carbohydrate

6.7g

2.2%
Dietary Fiber

4.1g

16.4%
Sugars

0.5g

Protein

4.8g
Vitamin A

0mg

Vitamin C

0mg

Calcium

100mg

Iron

3mg
* Percent Daily Values are based on a 2,000 calorie diet. Your daily values may be higher or lower depending on your calorie needs.
Thanks for the graphics: Canva.com

Disclosure: At vegketodiet.com I only mention the products that I researched and considered worthy. But it's important to note that we are a participant of several affiliate programs, including but not limited to VigLink and Amazon Services LLC Associates Program. As an Amazon Associate, this website earns from qualifying purchases. Also please note that I am not a doctor. As such readers are strongly recommended to make decisions that might affect their health by doing their own research. At vegketodiet.com I only document and describe thoughts, researches and ideas that proved to be working for me.