Keto Empanadas: Here's How You Can Enjoy the Dish on a Low-Carb Diet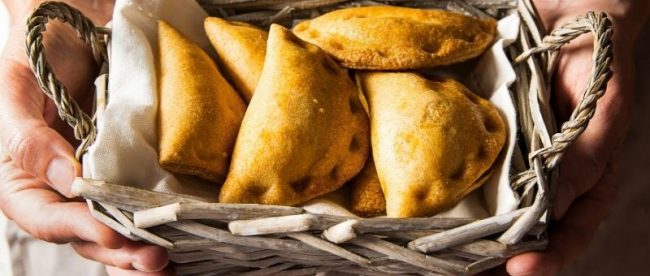 It's hard to find one person that doesn't like empanadas, a very popular dish in Latin American countries. Think about it – you bite into a pastry that is filled with a delicious savory stuffing. But it's hardly be called healthy, and dieter's friendly. 
I've been thinking of a dish that can pair well with my keto tartar sauce, and what do you know? Vegan keto empanadas to the rescue. 
Do you have a particular question about keto empanadas? Then use the table of contents below to jump to the most relevant section. And you can always go back by clicking on the arrow in the right bottom corner of the page. Also, please note that some of the links in this article may be affiliate links. For more details, check the Disclosure section at the bottom of the page. 
How many carbs in traditional empanadas?
 Let's take a look at the nutritional information of the average beef empanada.
For instance, this one: Cocina 54 Empanadas.  The ingredients used include corn starch, tapioca starch, nonfat dry milk, psyllium husk powder, dried egg whites, and buttermilk solids for the pastry. In the filling, they also use all-keto ingredients. Here are the ingredients for the Cocina 54 empanadas: onions, ground beef, butter, eggs, olives, and spices like paprika, black pepper, and cumin. 

We are looking at 210 calories, 9g of total fats (saturated fat 5g and 0 trans fat), 23g net carbs, and 7g protein in one serving or one empanada. 
That is a lot of carbs, way higher than the daily average of 20g for the ketogenic diet. And let's face the facts – empanadas are too tasty to have just one piece. This leads us to the next question in the quest for low carb empanadas.

Can you eat empanadas on keto?
Empanadas are not keto-friendly. As we saw above, the carb content of one empanada is 23g net carbs. If you eat one empanada, you are pretty much done for the day (depending on how strict your diet is). However, there is a loophole in the system. Most non-keto foods can be converted using keto-friendly substitutes, and empanadas are one of them. 
To create keto-friendly empanadas, you will need to substitute all the high-carb ingredients with low carb ingredients to maintain the original flavor for maximum enjoyment. 
So, my answer is this: You can only eat modified low carb keto empanadas on keto. 


Traditional empanadas VS keto empanadas
Let's take apart the average traditional empanada. We have a pastry shell on the outside, mostly made of all-purpose flour, butter, eggs, and salt. Then, for the filling, empanadas usually have ground beef, pork, or chicken, green, red, and yellow pepper, dried spices, along with fresh herbs like garlic, ginger, and cilantro. It's not quite keto. But in all honestly, you can make this dish low-carb by swapping a few ingredients here and there.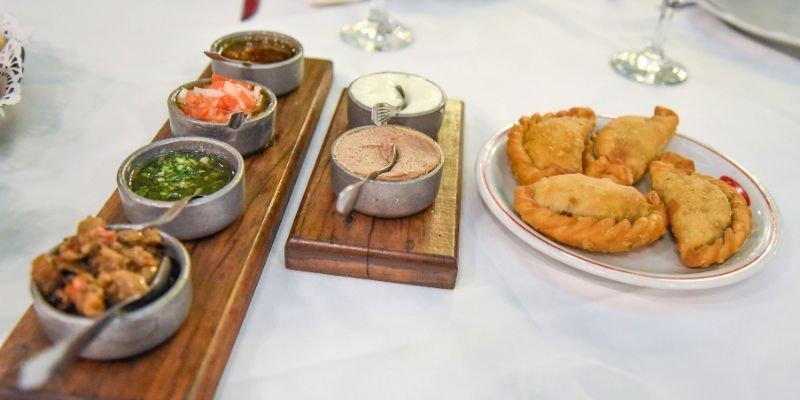 Keto empanadas recipe is going to have an all-keto ingredient in it. The pastry will not feature all high carb ingredient like all-purpose flour. If you are not vegan, then you can add butter and eggs to your pastry dough. However, for all the vegan keto humans out there – we need to dig deeper to find ingredients that match our dietary preferences. 

Common ingredients in traditional empanadas and keto-friendly substitutes
When it comes to why a particular food cannot be keto, it is only about one or two ingredients that have way too many carbs. Or maybe some recipes have sugar in them, which introduces insulin in the blood. These are some of the reasons why we can't just go around eating any food we like on the keto diet.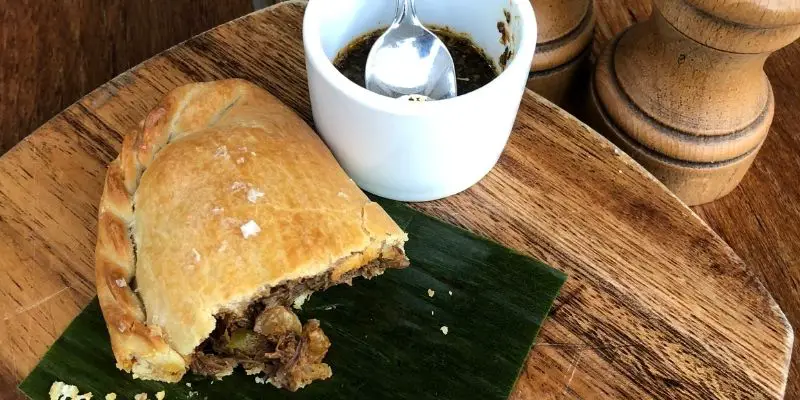 The first ingredient in empanadas that is not keto is the all-purpose flour. This type of flour is really high in carbs and also gluten. Many people are sensitive to gluten, which can cause all sorts of problems like bloating, abdominal pain, and mental health problems like brain fog and even depression. To kick all-purpose flour out of the keto diet, you can substitute it with fine almond flour, for instance.
The filling of empanadas doesn't have any crazy ingredients that kick you out of ketosis. Some recipes will call for potatoes, but you can omit them from the cooking or just add radishes. Other recipes may also include legumes like beans, lentils, and peas, but you will need to omit them from the recipe. Instead, pack your empanadas with peppers, tofu, and cauliflowers. 
Dessert empanadas are another twist to the traditional savory empanada. The recipe for a dessert empanada will call for a lot of sugar, which you can substitute with allulose, erythritol, or monk fruit extract. 

Keto empanada filling ideas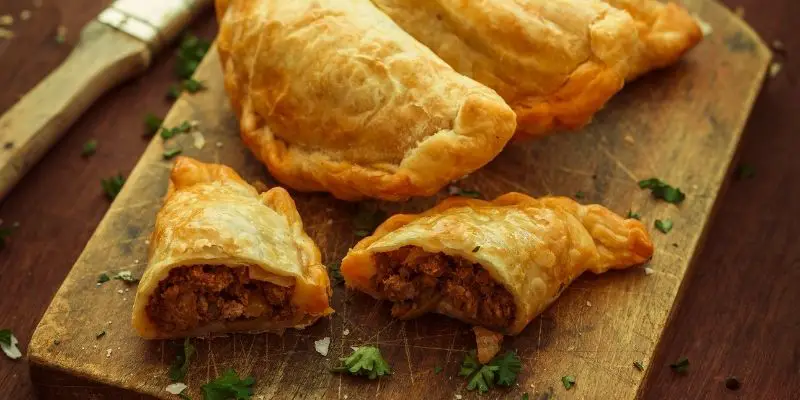 The possibilities are truly endless when it comes to keto empanada filling ideas. A simple stir-fry can transform this entrée into something delicious. You can sautee tofu and use it as the filling. Combine your favorite veggies and spices, or just stuff it with cabbages. I promise that anything works with this recipe. Don't forget to load it up with fresh herbs and peppers for a crunch. 

How to make keto empanada dough 
As we have seen, regular empanada dough just won't cut it. For that reason, you have to obtain some coconut flour because it doesn't have many carbohydrates in one serving for an empanada. You can also use tapioca flour because it is gluten-free, but this flour is actually a source of empty calories and has next to no nutritional value.
Keto empanada dough will also require eggs and butter to provide the moisture and binding agents for our pastry. However, there are some more substitutes for vegans on the keto diet to look at—for example, psyllium husk powder, vegan butter or margarine, and chia meal. Let's get into the recipe for keto empanadas.

Easy keto empanadas
In my vegan keto journey, I've learned how to use different keto-friendly ingredients to cook up a dish that looks and tastes as close to the original as possible. My methods work out most of the time because the taste remains the same. These keto empanadas recipe might blow you off your feet – they did for me!
Take a trip to another country with these low carb keto empanadas. Enjoy the textures and flavors of this turnover pastry with a savory stuffing.
Notes
You can store these in the freezer for up to a month. 1 empanadas contains 333 calories, 17.7g of fat, 8.1g protein, and 16.2g net carbs (42.3g of carbs and 21.6g of fiber).

Ingredients
1 cup of coconut flour
¼ cup of vegan margarine, cubed
2 tablespoons of organic psyllium husk
1 pinch of salt
3 tablespoons of water
1 tablespoon of chia meal, and 1/3 cup of water to activate it
2 tablespoons of coconut oil
1 teaspoon of finely chopped ginger and garlic
½ cup of tofu, chopped finely
2 cups of chopped green, red, or yellow peppers
1 teaspoon of soy sauce
¼ teaspoon of cumin powder
½ teaspoon of paprika
Instructions
1. Combine the coconut flour, psyllium husk, and salt in a bowl.
2. Activate the chia meal with a third cup of water to form an egg-like consistency.
3. Add the margarine to the dry mixture, knead, and then add the chia meal.
4. Knead to form a firm dough.
5. Break the dough into 8 small balls and refrigerate for 10 minutes.
6. For the filling, heat up a frying pan with some coconut oil.
7. Sautee the chopped ginger and garlic, then add the tofu and peppers.
8. Add the soy sauce, cumin powder, paprika, and salt to taste.
9. Take out the dough balls and roll them into a circle shape.
10. Add the stuffing to one half of the circle, and fold the other half.
11. Press down on the edges with a fork.
12. Preheat your oven to 180 C, and then bake your keto empanadas for about 12 minutes or until the pastry gets a golden-brown color.
13. Serve with a fresh salad on the side.
Nutrition Facts
Keto Empanadas | Recipe card
Serves: 8
Amount Per Serving:

1 empanada

Calories

333

% Daily Value*
Total Fat

17.7g

26.2%
Saturated Fat

7.9g

35%
Trans Fat

0mg

Cholesterol

0mg

0
Sodium

198mg

8.3%
Total Carbohydrate

42.3g

14%
Dietary Fiber

26.1g

104%
Sugars

0.2g

Protein

8.1g
Vitamin A

0mg

Vitamin C

0mg

Calcium

56mg

Iron

1mg
* Percent Daily Values are based on a 2,000 calorie diet. Your daily values may be higher or lower depending on your calorie needs.
Thanks for the graphics: Canva.com
Disclosure: At vegketodiet.com I only mention the products that I researched and considered worthy. But it's important to note that we are a participant of several affiliate programs, including but not limited to VigLink and Amazon Services LLC Associates Program. As an Amazon Associate, this website earns from qualifying purchases. Also please note that I am not a doctor. As such readers are strongly recommended to make decisions that might affect their health by doing their own research. At vegketodiet.com I only document and describe thoughts, researches and ideas that proved to be working for me.