Is Sushi Keto? What Sushi Can I Eat on Keto?
Historians have traced the origins of sushi to the 9th century. People started eating the dish because of Buddhism, the dominant religion at the time, encouraged followers to avoid meat, and they embraced fish. 
I used to eat sushi because I loved seafood and was a fan of everything Japanese. But as an enthusiastic fan of the keto vegan diet, I waited too long to ask an important question: is sushi keto? And are there any worthy vegan versions of it?
That question rarely occurs to people because sushi is good for you. You wouldn't expect the dish to ruin your keto diet. But that is precisely what it will do. Sushi is not the ketogenic Japanese food people think it is.
Do you have a particular question about eating sushi on keto ? Then use the table of contents below to jump to the most relevant section. And you can always go back by clicking on the arrow in the right bottom corner of the page. Also, please note that some of the links in this article may be affiliate links. For more details, check the Disclosure section at the bottom of the page. 
How many Carbs Are In Sushi?
A large sushi roll can add as many as 500 calories to your diet. But the keto diet emphasizes the carbohydrate content above all else. To enter and remain in ketosis, you have to limit your consumption of carbs to 50 grams or less each day.  

Therefore, your biggest concern is not the 500 calories but, rather the 30 grams of carbohydrates. Those carbs come from the four or so ounces of rice in a sushi roll. That is why dieters looking for low-carb sushi options typically opt for sushi without rice. 
They argue that removing rice from the equation can improve the meal because the dieter enjoys the pure flavor of the fish and vegetables. But for some people, sushi without rice isn't worth the effort. 
Ultimately, the carb content of sushi will depend on the size of the serving and the ingredients. For instance, a single piece of sushi (26g) has just 7.7g of total carbs and 7.6g of net carbs. Clearly, the right chef can make keto sushi.

Is Sushi Keto Friendly?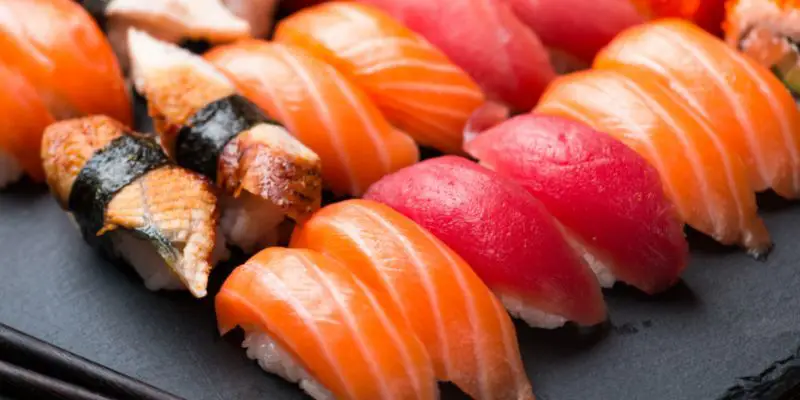 Sushi has many health benefits. The fish (if you are eating it) has vitamin D and omega-three fatty acids. In addition, Wasabi has anti-inflammatory components, while seaweed brings iron, calcium, phosphorus, and other healthy minerals to the table. But you cannot eat sushi on keto. 
Your biggest challenge is the rice. When this dish was first introduced, the Japanese would wrap salted fish in fermented rice to preserve it. Today, rice is a critical component of sushi.
You might be surprised to learn that the Japanese word for 'Sushi' translates into 'Sour Rice.' But a cup of rice (cooked and brown) has 52g of carbohydrates.
Therefore, rice in traditional sushi will break your keto diet. However, don't forget that sushi consists of large quantities of rice and some fish and vegetables. Even if you choose to downplay the amount of rice in a single roll of sushi, most people eat multiple rolls before they're satisfied, which puts them in a dangerous position.
Others dip their sushi in sweet sauce, which makes things even worse. You can make the sushi keto-friendly by replacing sushi rice with cauliflower rice. A cup of cauliflower rice has just 7g of carbohydrates, conducive to a keto diet. 
But don't be so quick to celebrate. Restaurants don't offer cauliflower rice with their sushi, so you should avoid sushi whenever you dine out. If you must eat sushi, make it at home. This gives you more control over your carb intake. 

What Sushi Can I Eat On Keto?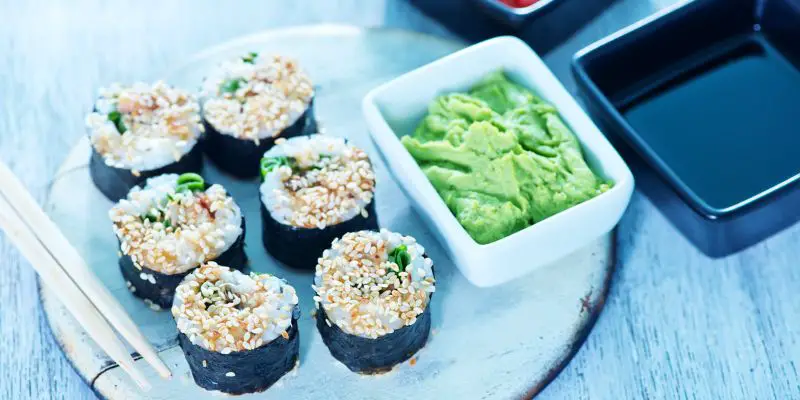 Regarding keto sushi options, sashimi is the best because it has 0 carbs. However, sashimi doesn't have rice or seaweed, so it isn't as popular as regular sushi. The primary ingredient is raw fish. 
Many restaurants serve it with Wasabi (2 grams of carbohydrates) and soy sauce. However, the soy sauce could ruin your meal if you use the wrong type.
Sweet soy sauce has up to 15g of carbohydrates. On the other hand, light soy sauce has a carb content of just 1g.  

What Else To Eat at Japanese Restaurant On Keto?
What can you eat if you can't eat sushi at a restaurant? You have numerous options, including:
Miso Soup
This thin, light soup has a rich, refreshing flavor that comes from soybean paste. Not only is miso soup cheap, but you can customize the soup to suit your preferences by adding elements such as tofu and mushroom. Many people start their meal at a Japanese restaurant with miso soup.
Edamame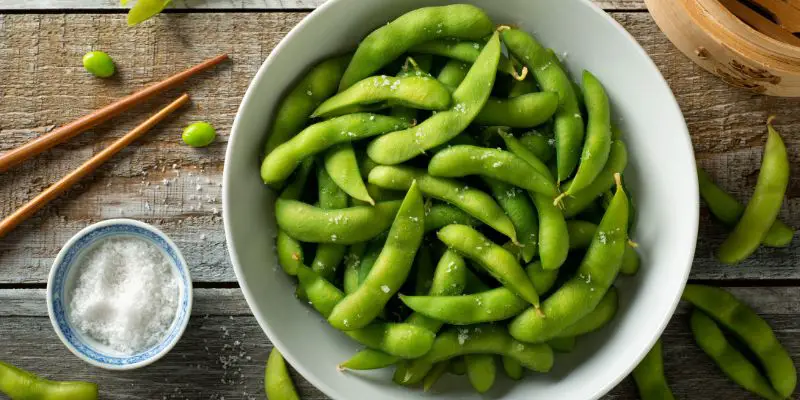 Japanese restaurants pair these boiled and salted soybean pods with grilled meat. 100g serving of cooked edamame has 3.7g of net carbs. 
Pickles
Japanese pickles are a great side dish that introduces good bacteria to your body. This kind aids the digestive process.
Shabu-Shabu
Shabu-Shabu is fascinating because you cook the dish yourself. It has vegetables, thin beef slices, and hot broth. The food is so light that you can cook it to perfection in just a minute.
Tamagoyaki
Tamagoyaki is basically a Japanese omelet. But the Japanese use dashi and rice wine for seasoning, which is why the final product is sweeter and fluffier.
Unagi
This is grilled eel. You marinate the eel in mirin, soy sauce, and sake before grilling it over charcoal. Though you can cook the eel in various ways. Grilled eel is only problematic if you eat it with rice. But you can replace the rice with stir-fry vegetables. 

Keto-Friendly Sushi Recipe
Sushi is bad for your keto diet, but only if you prepare the dish using traditional ingredients. To make sushi keto-friendly, you have to replace the rice with a low-carb alternative, which this recipe has done. And it's also vegan! Yay!
Notes
If you have a shallow container, you can keep the sushi in a freezer for two months.
Ingredients
4 cups of chopped cauliflower florets
1 tbsp of white vinegar
½ tsp of salt
One serving of Wasabi
Two sheets of Nori
1/8 tsp of sesame seeds
2 tbsp of mayonnaise
¼ cup of smoked tofu
½ small avocado (sliced into strips)
Instructions
1. Prepare the cauliflower florets with a food processor. Wait until it reaches the consistency of rice.
2. Put the rice in a bowl, sprinkle salt and place the bowel in a microwave (4 to 5 minutes). The rice should be soft when you remove it.
3. Eliminate the excess water.
4. Allow the rice to cool.
5. Add vinegar, and then mix.
6. Place the rice on the nori sheets. Leave a ¼ inch of space around the parameter.
7. Add mayonnaise, tofu, avocado, and Wasabi.
8. Roll the sheets tightly. Remove any filling that leaks before slicing the rolls into pieces.
Nutrition Facts
Keto-Friendly Sushi Recipe | Recipe Card
Serves: 2
Amount Per Serving:

8 pieces

Calories

325

% Daily Value*
Total Fat

20.4g

30.8%
Saturated Fat

2.8g

10%
Trans Fat

0g

Cholesterol

4mg

1.3%
Sodium

763mg

31.8%
Total Carbohydrate

23.2g

7.7%
Dietary Fiber

9.2g

36%
Sugars

6g

Protein

16.4g
Vitamin A

0mg

Vitamin C

0mg

Calcium

223mg

Iron

3mg
* Percent Daily Values are based on a 2,000 calorie diet. Your daily values may be higher or lower depending on your calorie needs.
Thanks for the graphics: Canva.com

Disclosure: At vegketodiet.com I only mention the products that I researched and considered worthy. But it's important to note that we are a participant of several affiliate programs, including but not limited to VigLink and Amazon Services LLC Associates Program. As an Amazon Associate, this website earns from qualifying purchases. Also please note that I am not a doctor. As such readers are strongly recommended to make decisions that might affect their health by doing their own research. At vegketodiet.com I only document and describe thoughts, researches and ideas that proved to be working for me.