Keto Flan vs. Traditional Flan (+ Low-Carb Vegan-Friendly Recipe)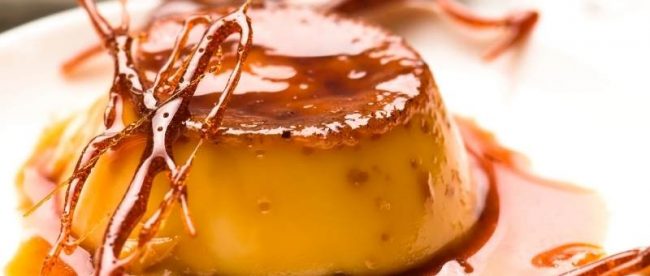 Studies show that keto is one of the best strategies for weight loss and may help reduce type 2 diabetes and other cardiovascular risks. While you are probably thinking that this kind of diet calls for no desserts at all, deliciously rich and creamy, keto flan might go a long way. Here's my take on both traditional and low-carb flans.
Are you interested in a particular recipe for keto flan? Then use the table of contents below to jump to the most relevant section. And you can always go back by clicking on the arrow in the right bottom corner of the page. Also, please note that some of the links in this article may be affiliate links. For more details, check the Disclosure section at the bottom of the page. 
How many calories (and carbs) are in a traditional flan?
This can vary depending on the ingredients you use. Using sugar will raise the number of calories in any flan. 
There are 130 calories, 20g net carbs, and 3.5g fat in one serving of a traditional flan pudding. But you can definitely decrease those numbers.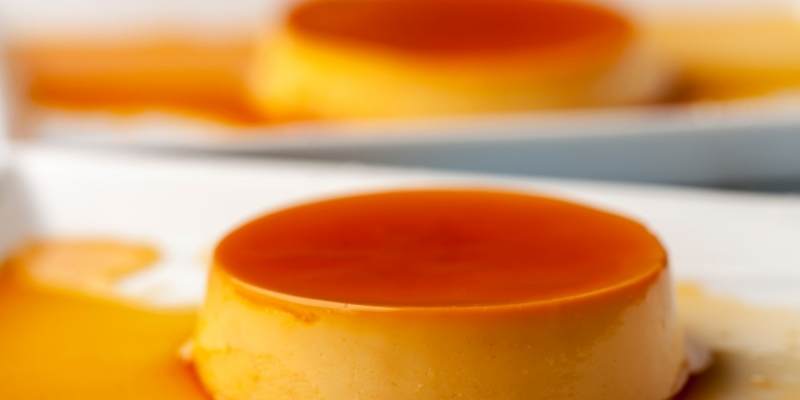 Can you have flan on the keto diet?
Yes! You can definitely have flan on your keto diet. Just switch from sugars to keto-friendly substitutes, like monk fruit, and you can prepare your keto flan. Keto version of it can have as low as 153 calories, 15g fat, and 2g carbohydrates, making it the perfect low carb flan.

How to make a flan keto-friendly? 

The traditional ingredients for preparing a flan are milk, sugar, and eggs. To make a vegan keto-friendly flan, you will substitute milk with plant-based milk like almond milk, eggs with mashed banana or applesauce, and sugar with ​natural sugar-free sweeteners​ like erythritol or powdered monk fruit. 

Best keto flan recipes
Here are two of my personal favorite keto flan recipes to try. Both are keto and vegan friendly and also absolutely delicious. 

Coconut keto flan
If you are not a fan of dairy and still want to enjoy your flan, then coconut milk is the ideal ingredient for you.
This ​sugar-free flan ​will have a very slight hint of coconut and still maintain a delightfully creamy texture you will love
Total Time
1 hour, 15 minutes
Notes
When in the refrigerator for cooling, it might form crystals. Simply invert the flan on a plate and remove the crystallized pieces from the caramel sauce.
The recipe only has 5.6g of net carbs per serving.

Ingredients
1 2/3 cups of unsweetened full fat coconut milk
½ tsp of lemon zest (a whole piece of peel)
2 1/2 tsp of erythritol
1 tsp of agar agar
2 tsp of vanilla extract
Pinch of sea salt
Turmeric for color
1 tsp of water
Instructions
1. Put the coconut milk into a saucepan and heat gently to a simmer. Add vanilla extract, lemon peel, salt, and 1 teaspoon erythritol and whisk until completely combined.
2. Sprinkle in the agar powder as you continue to whisk until well dissolved, from heat and set aside.
3. In a different saucepan, heat the rest of erythritol, water, and turmeric. Stir until it's a syrup and remove from heat and pour into five ramekins.
4. Allow it to cool and be spread evenly.
5. Remove the lemon peel from the coconut milk slowly and pour it into the ramekin and allow it to sit at room temperature for 1 hour.
6. Set it in the fridge for 3-4 hours until it has set completely, then serve whenever ready.
Nutrition Facts
Coconut keto flan | Recipe Card
Serves: 5
Amount Per Serving:

1 cup

Calories

191

% Daily Value*
Total Fat

19.1g

29.2%
Saturated Fat

16.9g

80%
Trans Fat

0mg

Cholesterol

0mg

0
Sodium

60mg

2.5%
Total Carbohydrate

7.5g

2.3%
Dietary Fiber

1.9g

4%
Sugars

5.4g

Protein

1.9g
Vitamin A

0mg

Vitamin C

0mg

Calcium

15mg

Iron

2mg
* Percent Daily Values are based on a 2,000 calorie diet. Your daily values may be higher or lower depending on your calorie needs.

​Keto pumpkin flan
Cuisine American
This low carb flan is definitely a must-try if you are into a keto diet. And even if you are not, it's still worth your time
Notes
You can substitute the pumpkin puree for butternut squash puree.
The recipe only has 3.6g of net carbs per serving.

Instructions
1. Preheat the oven to 350 degrees
2. Place all the ingredients in a food processor with a metal blade and stir until smooth and well combined
3. Scrape the mixture into a good caramel pan and make the top smooth
4. Place the pan in a roasting pan and add hot water around the area till it reaches the height of the flan mixture
5. Bake for up to 45 minutes
6. Allow it to cool for 2 hours or overnight
7. When ready to serve, place an upside-down serving platter over the flan and invert it to the plate.
Nutrition Facts
​Keto pumpkin flan | Recipe card
Serves: 4
Amount Per Serving:

1 piece

Calories
65
% Daily Value*
Total Fat 2.5g
3.1%
Saturated Fat 0.4g
0%
Trans Fat 0mg
Cholesterol 0mg
0
Sodium 35mg
1.5%
Total Carbohydrate 4.7g
1.3%
Dietary Fiber 1g
4%
Sugars 2.2g
Protein 6.4g
| | |
| --- | --- |
| Vitamin A 0mg | Vitamin C 0mg |
| Calcium 38mg | Iron 1mg |
* Percent Daily Values are based on a 2,000 calorie diet. Your daily values may be higher or lower depending on your calorie needs.
Vegan Keto Diet Recipes and Tips
Thanks for the graphics: Canva.com
Disclosure: At vegketodiet.com I only mention the products that I researched and considered worthy. But it's important to note that we are a participant of several affiliate programs, including but not limited to VigLink and Amazon Services LLC Associates Program. As an Amazon Associate, this website earns from qualifying purchases. Also please note that I am not a doctor. As such readers are strongly recommended to make decisions that might affect their health by doing their own research. At vegketodiet.com I only document and describe thoughts, researches and ideas that proved to be working for me.