Is Couscous Keto? Carb Content Analysis + Low Carb Recipe
As with all things keto, one must ask the question: Is couscous keto? To truly understand the impact of couscous on keto, we must investigate its carb content. Keep reading to find out more. 
Couscous is a staple food in North African and Middle Eastern communities. You might have seen couscous before in the pasta aisle. But you walked past it because it sounded too exotic. That's what I thought too. It looks a bit like quinoa, but couscous isn't a grain that is harvested from plants. It's actually made using wheat flour – durum wheat in particular. The wheat is milled into semolina, water is added to it, and it takes the shape of tiny pebbles. So, in essence, it is pretty much pasta. 
One of the most enjoyable parts of couscous is its texture. It is made of tiny balls packed with starch that fills the stomach. It is smaller than rice and can be scooped up with a spoon to enjoy its fluffy and soft texture. 
Do you have a particular question about whether or not couscous is keto? Then use the table of contents below to jump to the most relevant section. And you can always go back by clicking on the arrow in the right bottom corner of the page. Also, please note that some of the links in this article may be affiliate links. For more details, check the Disclosure section at the bottom of the page. 
Is couscous low in carb?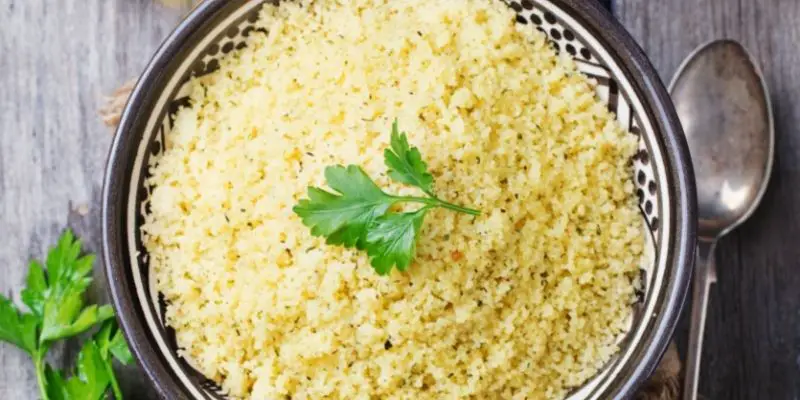 Couscous is not low-carb. If you follow a low-carb diet, you should skip the couscous. It's also not ideal for people with blood sugar issues and diabetes because it may spike blood sugar in the bloodstream. Furthermore, couscous is not gluten-free, so think twice about adding a bag to your grocery cart. Gluten may also be a problem for people with Celiac disease. 

Couscous might not be for everyone, but it is tasty if you are not concerned about its carb and gluten content. In fact, it is rich in selenium, a mineral that helps with repairing damaged cells and decreasing inflammation. 

Carbs in couscous vs. rice
Couscous can be considered in the same category as rice. However, couscous is not a grain like rice – it's more of a pasta than a grain. It looks a lot like quinoa. I would say couscous functions much like rice or pasta. You can have it on its own, but it's better to add a few spices while cooking it or have it with a sauce on the side. You can also add couscous to cold salads. 
In one cup of couscous, we are looking at 34g of net carbs. That would be 34g of couscous net carbs in 157g of its total weight. If you are on a low-carb diet but want to eat couscous, you might need to look for a low-carb couscous alternative. 
In one cup of rice, there are 45g of net carbs. That means there are more carbs in rice than couscous, which might be good for people who want to cut calories. 

Is couscous keto-friendly?
No, couscous is not keto-friendly. One cup of cooked couscous has 36g of carbs, including 2.2g of fiber, which is totaling in 33.8g of net carbs. If your daily carb limit is as low as 20g, then you cannot eat much couscous on keto. The problem with couscous and other grains is that they contain carbs. 
Couscous is just one of many foods you must give up when on the ketogenic diet. Other common foods not allowed on the keto diet are potatoes and wheat products like bread, pastries, and pasta.
The whole premise of the keto diet is to eat a low-carb, moderate-protein, and high-fat diet. When you forgo carbs for enough time (usually 3-4 days,) your body stops using glycogen made from carbs for energy. It turns to your body fats and produces ketones that provide you with energy to power your body. This is the reason why people lose body fat while on keto. 
If you eat too many carbs, you will be kicked out of ketosis. However, you can eat a lower amount of net carbs – just keep it lower than 20-50g, depending on your metabolism. Most people on the keto diet will just try to stay away from carbs and sugar altogether. The best way to track if you are in ketosis or not is to take a ketone blood test or use ketone strips. 

Low carb alternative to couscous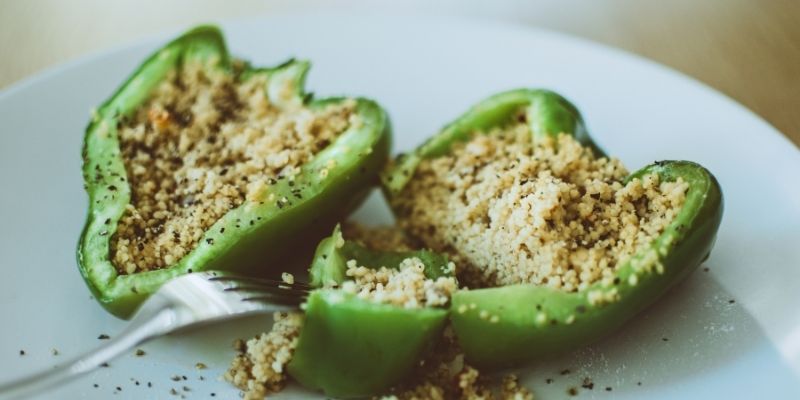 Before going keto-mode, I really liked couscous, I'll tell you that. I didn't have it all the time, just on special occasions or when it happened to grab my attention in the grocery store. I didn't have enough time for its novelty to wear off, so it is still something that makes me excited.
That got me thinking – I need to experiment and come up with a low-carb alternative to couscous. This would help ketonauts and people on low-carb diets, diabetics, and people with Celiac disease. 
I am a self-proclaimed keto food converter. I realized a long time ago that just because I was keto doesn't mean I can't relish food! The number one thing that shoots couscous' net carbs through the roof is the wheat in it.
To get the perfect flavor and texture of couscous, I experimented with cauliflower.
Yes, the highly versatile vegetable that doubles as vegan chicken and low-carb rice. Let me take you through my very own low-carb couscous: keto cauliflower couscous.
Notes
Make a ginger-garlic paste by peeling and chopping up ½ a tablespoon of ginger and ½ a tablespoon of garlic. Blend them both together into a paste. Add a little water if necessary.

Ingredients
2 ½ cups of cauliflower florets
2 tablespoons of coconut butter
1 tablespoon of fresh ginger-garlic paste
½ tablespoon of fresh parsley
½ tablespoon of fresh mint leaves
1 teaspoon of fresh lemon juice
Salt and pepper to taste
Instructions
1. Chop cauliflowers roughly and add toss into a blender.
2. Pulse until tiny grains are formed.
3. Add 1 tablespoon of coconut oil to a pan and stir-fry the grains for 15 minutes or until fully cooked.
4. Heat 1 tablespoon of coconut oil in another pan and fry ginger-garlic paste, parsley, and mint leaves.
5. After the raw smell from the ginger and garlic dissipates, turn off the pan and dump this mixture into the cauliflower grains.
6. Add the lemon juice to the grains.
7. Add salt and pepper to taste.
Nutrition Facts
Keto cauliflower couscous | Recipe card
Serves: 5
Amount Per Serving:

1/2 cup

Calories

134

% Daily Value*
Total Fat

12.1g

18.5%
Saturated Fat

7.9g

35%
Trans Fat

0g

Cholesterol

0mg

0
Sodium

26mg

1.1%
Total Carbohydrate

6g

2%
Dietary Fiber

2.2g

8%
Sugars

2.1g

Protein

2g
Vitamin A
Vitamin C
Calcium

21mg

Iron

1mg
* Percent Daily Values are based on a 2,000 calorie diet. Your daily values may be higher or lower depending on your calorie needs.
Thanks for the graphics: Canva.com

Disclosure: At vegketodiet.com I only mention the products that I researched and considered worthy. But it's important to note that we are a participant of several affiliate programs, including but not limited to VigLink and Amazon Services LLC Associates Program. As an Amazon Associate, this website earns from qualifying purchases. Also please note that I am not a doctor. As such readers are strongly recommended to make decisions that might affect their health by doing their own research. At vegketodiet.com I only document and describe thoughts, researches and ideas that proved to be working for me.