Keto German Chocolate Cake: Easy Vegan Low-Carb Recipe
German cake is a rich and decadent dessert consisting of a moist chocolate cake base and a pecan and coconut filling. The sad news for keto-dieters is that most cakes are not keto, especially if they are made using sugar as an ingredient. Sugar kicks you out of ketosis. But I think it's quite unfair to those of us who want to switch to a healthier lifestyle. So I'll try to figure out if there's a way to enjoy a keto german cake for all of us keto-addicts. 
Do you have a particular question about keto German chocolate cake? Then use the table of contents below to jump to the most relevant section. And you can always go back by clicking on the arrow in the right bottom corner of the page. Also, please note that some of the links in this article may be affiliate links. For more details, check the Disclosure section at the bottom of the page. 
German chocolate cake origin and history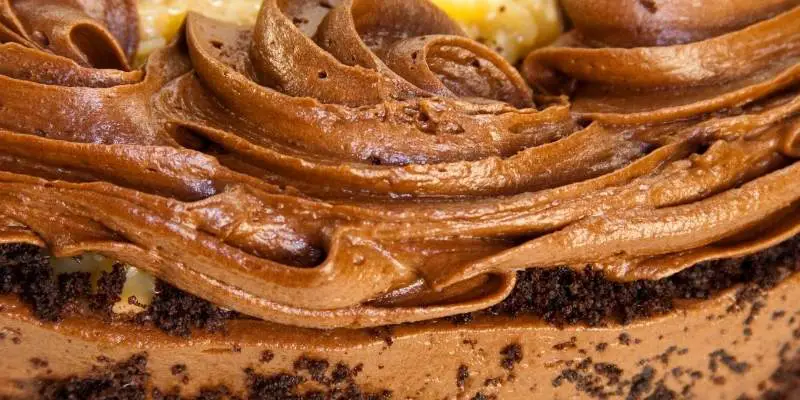 German chocolate cake was first created in 1957 by Samuel German. It was a chocolate cake made to promote chocolate from Baker's Chocolate – a company run by Samuel German. He was an English-American chocolate maker from the United States.
He developed a recipe for dark baking chocolate to use in his cake. While German's recipe calls for his very own Baker's chocolate, and sweet baking chocolate will work for this cake too. 

How many calories and carbs are in German chocolate cake?
This decadent and indulgent cake combines a rich, moist chocolate cake with a pecan and coconut filling. A serving of German chocolate cake complete with icing and filling has 403 calories. 

From this, we have 20.21g of fat, 53.88g of carbs, and 3.81g of protein. 

Is German chocolate cake keto? 
A traditional German chocolate cake is not keto. Remember that the restriction for carbs in the keto diet ideally is 20g of net carbs. And it's almost 2.5 times more than one piece of German cake has. 
However, here is some good news: There are keto-friendly versions of low carb German chocolate cakes. If you bake a keto German chocolate cake with keto-friendly ingredients at home, enjoy your fantastic dessert while staying in ketosis. (Find my vegan and keto-friendly German cake recipe at the end of this post.)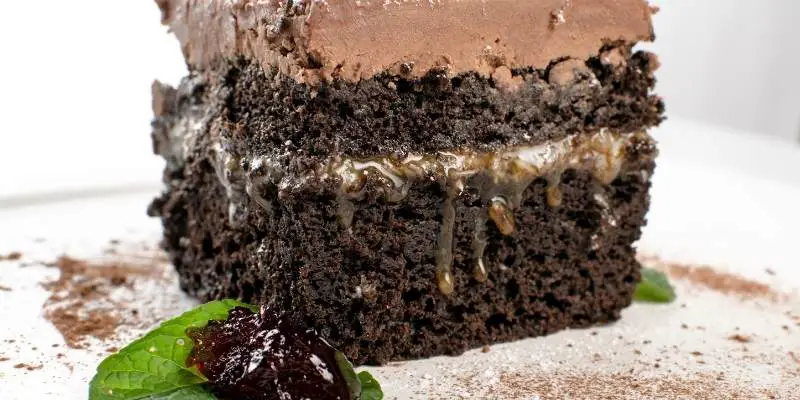 Keto German chocolate cake vs. traditional German chocolate cake 
Let's take a look at a traditional German chocolate cake:
It consists of a chocolate cake and a pecan and coconut filling. The chocolate cake is made using the following ingredients: sweet baking chocolate, coffee, all-purpose flour, buttermilk, butter, white sugar, eggs, and vanilla extract. 
Of those ingredients, the following are not keto and will kick you out of ketosis: chocolate (has sugar), all-purpose flour (too many carbs), and white sugar. 100g of chocolate has anywhere from 25 to 50g of carbs. The same amount of all-purpose flour has 76g of carbs. White sugar in German chocolate cake has enough sugar to spike your insulin and kick you out of ketosis. 
On the other hand, a sugar-free German chocolate cake recipe can help you stay in ketosis while indulging your sweet tooth.
Let's take a look at some non-keto ingredients and their alternatives for a keto-friendly German chocolate cake: 
Chocolate – Unsweetened dark baking chocolate 
All-purpose flour – Almond flour
White sugar – Monk fruit sweetener 

Easy recipe for keto German chocolate cake
This vegan keto-friendly cake is bound to sweep you off your feet, but not without first satisfying your sweet tooth. Enjoy its moist chocolatey goodness with a creamy pecan and coconut filling to melt your senses
Total Time
1 hour, 20 minutes
Notes
Allow your cake to cool down completely before adding fillings and toppings. A good tip would be to add your fillings the day after baking your cake.
This recipe only has 5.9 g.of net carbs per serving.

Instructions
1. Preheat oven to 350 degrees F (180 degrees C)
2. Melt chocolate and coffee over a pot of simmering water
3. Combine the melted chocolate and coffee with soymilk, ACV, whipped vegan butter, and monk fruit sweetener.
4. To the above, add sifted almond flour and baking powder and combine.
5. Grease your cake pan and pour the batter.
6. Bake for 45 min at 300 degrees F (150 degrees C)
7. Cool down before adding the filling
8. To make the filling dissolve coconut flour in two tablespoons of cold water
9. In a medium pot, add coconut milk, dissolved coconut flour, and monk fruit sweetener, bringing to a low boil. Whisk continuously until the mixture thickens and achieves a syrup-like consistency.
10. Turn off the flame and add in chopped toasted pecans and shredded coconut and combine.
11. Assemble your cake.
Nutrition Facts
Keto German Cake | Recipe Card
Serves: 10
Amount Per Serving:

1 piece

Calories

426

% Daily Value*
Total Fat

37.5g

56.9%
Saturated Fat

14g

70%
Trans Fat

0g

Cholesterol

0mg

0
Sodium

115mg

4.8%
Total Carbohydrate

14.5g

4.7%
Dietary Fiber

8.6g

32%
Sugars

3.7g

Protein

12.8g
Vitamin A
Vitamin C
Calcium
Iron

3mg
* Percent Daily Values are based on a 2,000 calorie diet. Your daily values may be higher or lower depending on your calorie needs.
Thanks for the graphics: Canva.com
Disclosure: At vegketodiet.com I only mention the products that I researched and considered worthy. But it's important to note that we are a participant of several affiliate programs, including but not limited to VigLink and Amazon Services LLC Associates Program. As an Amazon Associate, this website earns from qualifying purchases. Also please note that I am not a doctor. As such readers are strongly recommended to make decisions that might affect their health by doing their own research. At vegketodiet.com I only document and describe thoughts, researches and ideas that proved to be working for me.