10 Vegan Keto Japanese Food to Try Right Now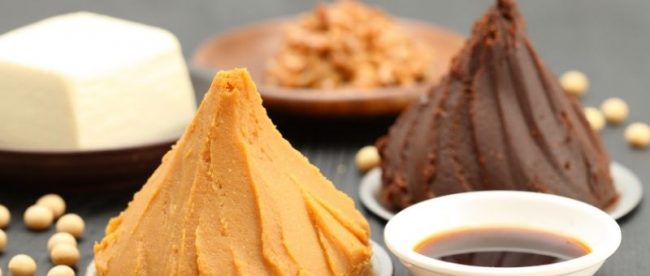 Japanese people have rice almost three times a day, along with other main courses. This means that the cuisine features dishes that complement the taste of rice. But worry not, rice can be substituted by cauliflower rice if need be. Aside from that, there is always some rogue carb hiding beneath the surface that may kick you out of ketosis.  Japanese dishes also use a lot of sugar and carbs. 
But don't get discouraged if you want to eat Japanese food on keto – some dishes can be modified for low-carb consumption. 
I've searched long and hard to find elusive vegan keto dishes that will give you Japanese vibes. Also, be sure to double-check the recipes for any ingredients that may not be keto or vegan. 
Indulge in these 10 vegan keto recipes without feeling the stress of added carbs. 
Take your pick from this list of Japanese keto dishes and snacks. 

Are you interested in a particular vegan keto Japanese recipe? Then use the table of contents below to jump to the most relevant section. And you can always go back by clicking on the arrow in the right bottom corner of the page. Also, please note that some of the links in this article may be affiliate links. For more details, check the Disclosure section at the bottom of the page. 
Edamame
For our first Japanese keto food, I've selected edamame. What exactly is edamame? Edamame refers to immature soybeans that are cooked by steaming or boiling. They feature in several Asian cuisines, including Japanese. While the edamame carb content might not be the lowest of the low, it can still be consumed in small quantities.
This recipe uses crushed pepper flakes and garlic powder to bring some spicey flavor to the edamame. You can use edamame to scoop a keto dip or curry. 
Net Carbs: 6g | Fat: 20g | Protein: 8g | Calories: 218 
View the full recipe here.

Vegan Keto Sushi Bowl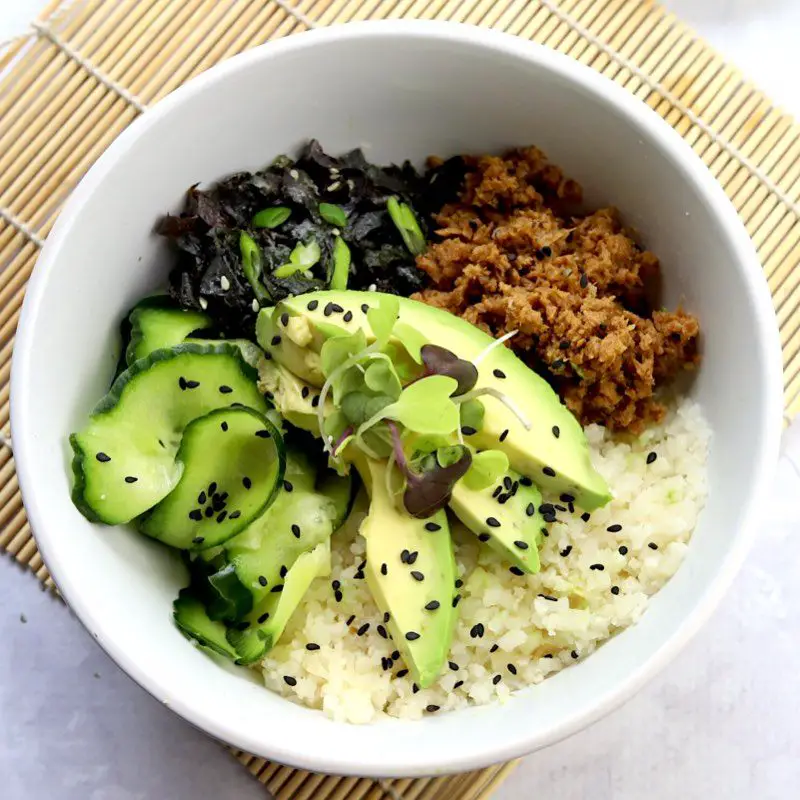 A sushi bowl is a low effort meal that requires tossing all your ingredients together in a bowl. Sushi bowls are an alternative to actual sushi rolls, because seriously – not everyone has the talent and skill for rolling sushis. 
This vegan keto sushi bowl requires cauliflower rice, seaweed salad, cucumber slices, and a protein like tempeh or tofu. For the toppings, you need avocadoes and sesame seeds. 
Net Carbs: 5.6g | Fat: 20.6g | Protein: 15.6g | Calories: 289 
View the full recipe here. 

Vegan Cauliflower Rice Sushi Rolls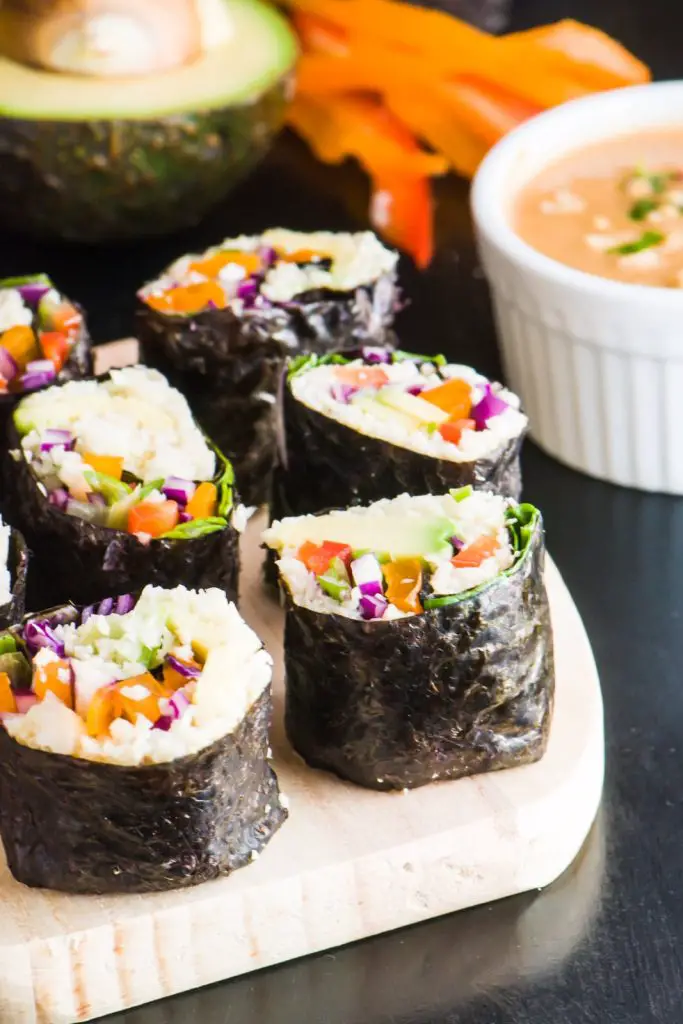 Get ready to test your sushi rolling skills in this vegan keto sushi recipe. Instead of carb-laden white rice, we shall use cauliflower rice in this dish. Pack a bit of crunch into your sushi by using fresh peppers and red cabbage.
Assemble your ingredients on a Nori sheet and beginning rolling! After this, you can cut your roll into sushi-sized bites. Enjoy your vegan and keto Japanese food!
Net Carbs: 5g | Calories: 116 
View the full recipe here.

Seitan Negimaki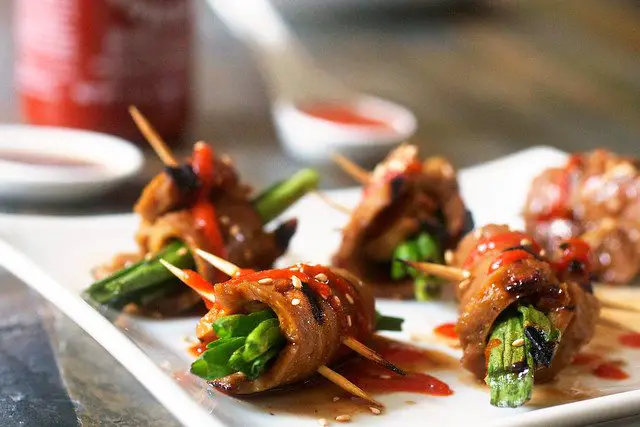 Negimaki is an authentic Japanese meal consisting of scallions wrapped with a meat strip. This Japanese keto dish calls for a keto-friendly teriyaki sauce. For a vegan version of negimaki, use seitan or tofu instead of meat.  
Char your scallions over a grill for that smoky charred flavor. After this, you can assemble your negimaki by wrapping seitan strips around a few sticks of scallion. Sprinkle with sesame seeds. Just thinking about this dish is making my mouth water!
View the full recipe here.

Roasted Teriyaki Brussels Sprouts
This recipe calls for some sesame oil to bring out the Japanese flavors. What you need are some fresh brussels sprouts to roast in sesame oil. After that, add some keto teriyaki sauce to the sprouts, and toss. Voila, you have an amazing Japanese inspired teriyaki brussels sprouts dish. 
View the full recipe here.

Miso Eggplant – Nasu dengaku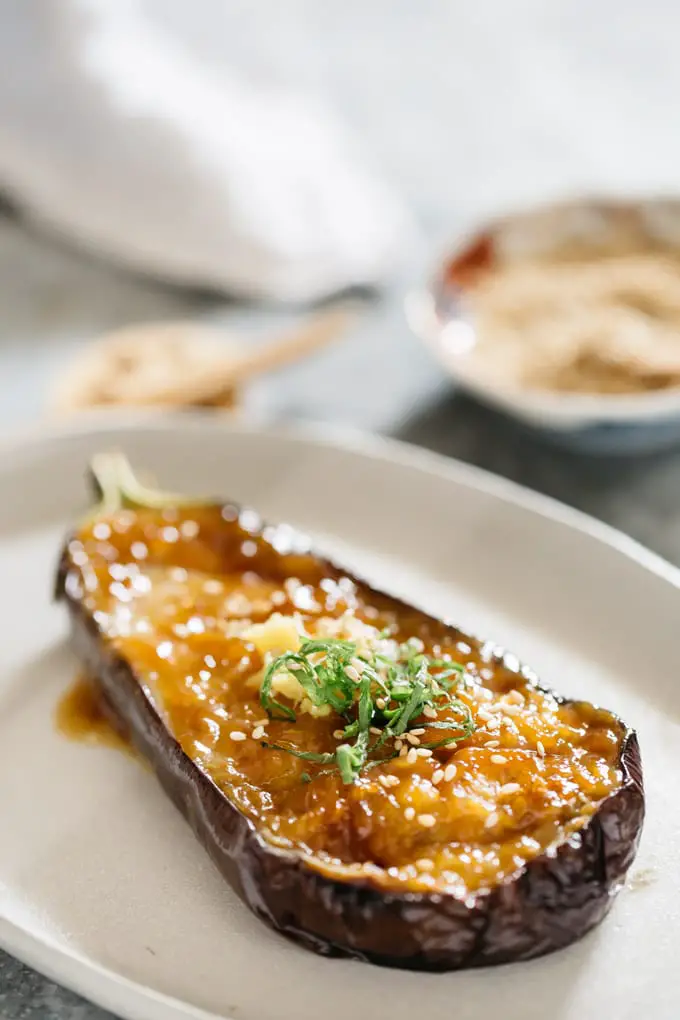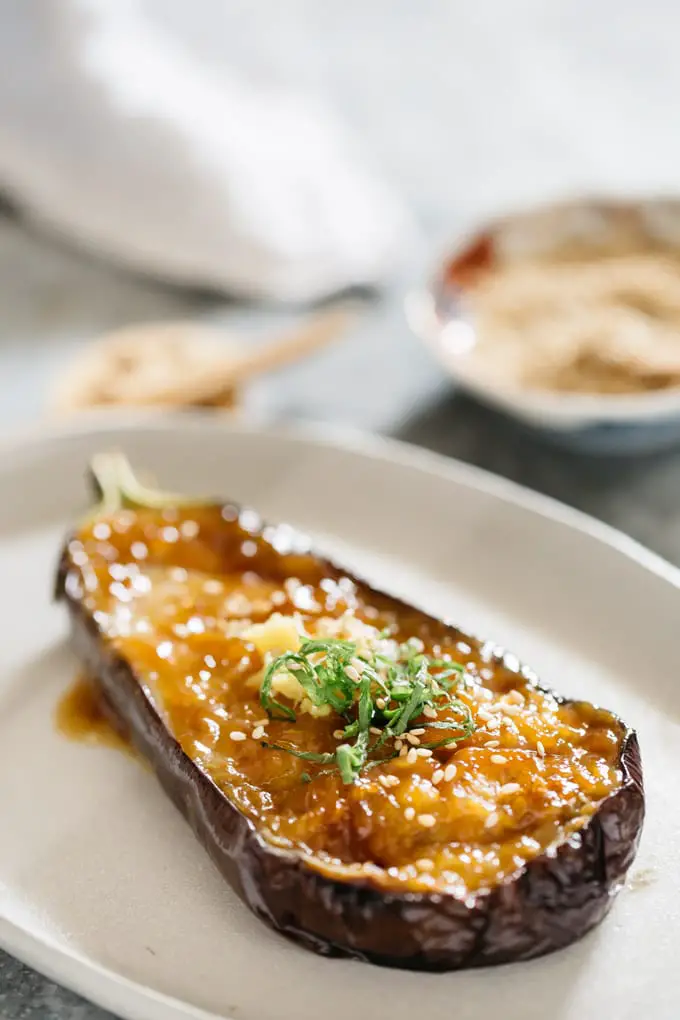 This tasty Japanese keto dish uses eggplants, which are a great low-carb vegetable. You will also need to create a miso glaze for the eggplants. The taste of roasted eggplants with a bit of a char is one of my favorite flavors ever. Enjoy this hearty appetizer the next time you're craving Japanese keto food. 
Net Carbs: 6g | Fat: 10g | Protein: 4g | Calories: 219 
View the full recipe here.

Tofu and Shirataki Noodle Stir-Fry
Stir-fries are one of my favorite dishes to cook up in a short time. I make a mean noodle stir-fry. Since going keto, I've had to cut wheat noodles and pasta from my pantry. Well, there is good news, because shirataki noodles exist! 
In this recipe, create a delicious Japanese keto dish using shirataki noodles and tofu. And what are stir-fries if they don't have any vegetables in them? Load up on low carb veggies like cabbage, broccoli, and cauliflower. 
View the full recipe here.

Seaweed Salad
Japanese food features a lot of seaweed. So, what better Japanese keto food than a seaweed salad? This seaweed recipe calls for nori sheets, which, incidentally, is what is used to roll sushi. Cut the nori sheets into strips to prep for the salad. Stir in coconut aminos, ginger, garlic, and sesame oil to prepare this no-cook seaweed salad. The seaweed absorbs all the moisture from the other ingredients. Don't forget to top this with sesame seeds to get a visually appealing salad.
Net Carbs: 4g | Fat: 8.4g | Protein: 3.1g | Calories: 88
View the full recipe here. 

Traditional Japanese Miso Soup 
Personally, miso soup is the most Japanese sounding dish out there. Miso is actually a Japanese seasoning made from fermented soybeans that are combined with a mold called koji. Miso adds a salty umami flavor to Japanese dishes, and I think that's the perfect seasoning for a soup. 
Miso is a cultured food and provides a natural source of probiotic bacteria. This bacteria is good for gut health. Since miso is a fermented food, it is advisable to add it to dishes at the final preparation stage. Avoid boiling it. 
In this traditional Japanese miso soup recipe, we make use of tofu and sliced green onions. Mouthwatering soup ready to warm your soul!
Net Carbs: 1g | Fat: 5g | Protein: 50g | Calories: 316 
View the full recipe here. 

Shirataki Noodles with Almond Butter Sauce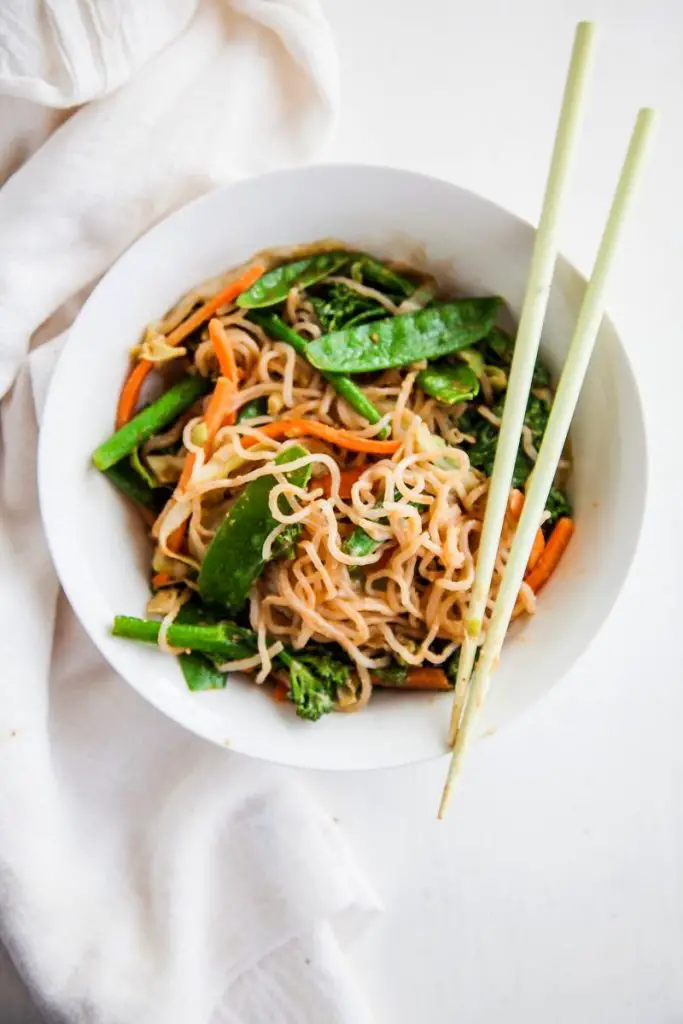 I just had to add another shirataki noodle recipe to this list. Did you know that shirataki noodles are also called "miracle noodles" or "zero noodles"? That's because some shirataki noodle brands literally have zero calories. Almost too good to be true, but such miracles exist. 
Be sure to add in all your favorite low carb veggies to pack in a nutritional punch. Besides, we also have some fresh herbs making a presence – my favorite ginger and garlic. This recipe uses rich and creamy almond butter, but you can always swap it for peanut butter. Enjoy this delicious shirataki and almond butter sauce keto dish. 
View the full recipe here. 

Can I eat Japanese food on keto?
Japanese food is one of the healthiest all over the world. It is rich in fish, seafood, and plant-based foods. These are whole foods that boost the immune system. In addition to that, the portion sizes in Japanese dishes are tiny. These are just some of the reasons why Japanese meals can be beneficial to overall health. 
However, Japanese foods are prepared using ingredients that are high in carbs. For example, Japanese culture relies on rice as a staple for every single meal of the day. As we all know, rice is a big no-no in the keto diet. Besides, you are also looking at added sugars and high carb ingredients that are not keto-friendly. 
But don't let that discourage you. You can definitely find low carb and authentic Japanese dishes, such as teriyaki, sushi, and negimaki. That said, you can easily take out high carb ingredients from a recipe and enjoy your Japanese keto dish anyway. 
Thanks for the graphics: Canva.com, wickedstuffed.com, meatfreeketo.com, namelymarly.com, theppk.com, runninginaskirt.com, chopstickchronicles.com, diannesvegankitchen.com, simplysohealthy.com, lowcarbingasian.com, wallflowerkitchen.com.
Disclosure: At vegketodiet.com I only mention the products that I researched and considered worthy. But it's important to note that we are a participant of several affiliate programs, including but not limited to VigLink and Amazon Services LLC Associates Program. As an Amazon Associate, this website earns from qualifying purchases. Also please note that I am not a doctor. As such readers are strongly recommended to make decisions that might affect their health by doing their own research. At vegketodiet.com I only document and describe thoughts, researches and ideas that proved to be working for me.