Best Vegan Gorgonzola Recipe (Also Keto Friendly)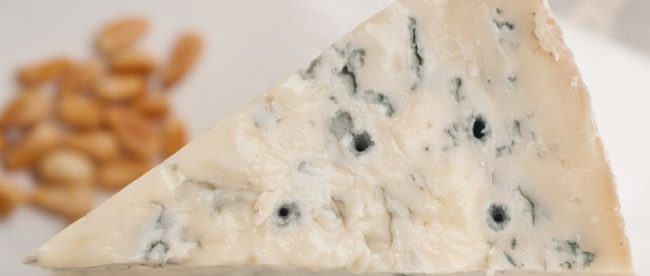 Gorgonzola is easy to crumble one of the world's oldest blue-veined cheeses made from either cow's milk or goat's milk. It is mainly made in the north of Italy, in the Piedmont and Lombardy regions. 
Two types of Gorgonzola are generally available in the US – Piccante( more aged and firmer) and Dolce (sweet and creamy). 
And while this cheese is keto-friendly, it's still a no-go for vegans. So, in this post, I am trying to put an end to injustice. And share the most incredible vegan gorgonzola recipe (that is also keto, in case you'll decide to opt-in for a cleaner and healthier version of keto). 
Do you have a particular question about vegan Gorgonzola? Then use the table of contents below to jump to the most relevant section. And you can always go back by clicking on the arrow in the right bottom corner of the page. Also, please note that some of the links in this article may be affiliate links. For more details, check the Disclosure section at the bottom of the page. 
How do they make Gorgonzola?
There are only 29 dairies in the world certified to manufacture Gorgonzola (and those are in charge of producing 5,000,000 wheels of cheese every year). But after crawling Amazon for a while I've noticed a bunch of companies making their own products and proudly labeling it with "Gorgonzola" as well. 

And while those are not legitimately approved by all those authorities vendors, they are still using pretty much the same ingredients. It's mainly cultured pasteurized milk, salt, and starter bacterias, e.g., classic Penicillium glaucum. (It is also used in the manufacturing of Fourme d'Ambert and Stilton, by the way).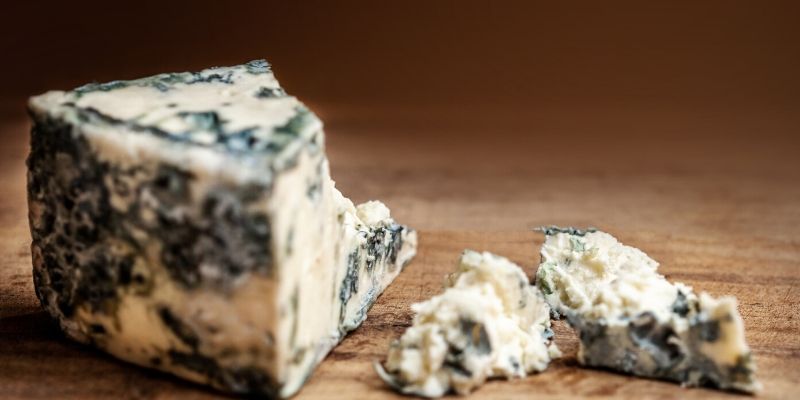 So starter bacteria are added to the whole milk (cow's or goat's). Then it's the curdling time when they remove the whey. And whey-less content is left to age at low temperatures.
During the aging process, the cheeses are pricked with needles at 4-weeks of age. The pricks are creating air channels that allow boosting the growth of the mold spores. And that's what causes the Gorgonzola's distinctive veining.

It is also soaked in brine as it ages, stimulating the growth of bacteria responsible for the product's distinctive smell. It usually takes up to four months for this cheese to attain full ripeness. 

Gorgonzola cheese. Nutritional facts
Depending on the brand and Gorgonzola type, the nutritional value may slightly vary. But let's take this product as an example. 100g of it has 357 calories, 21.43g of protein, 32.14g of fats, 3.57g of carbs, 1321mg of Sodium, 107mg of cholesterol.  

Is Gorgonzola keto?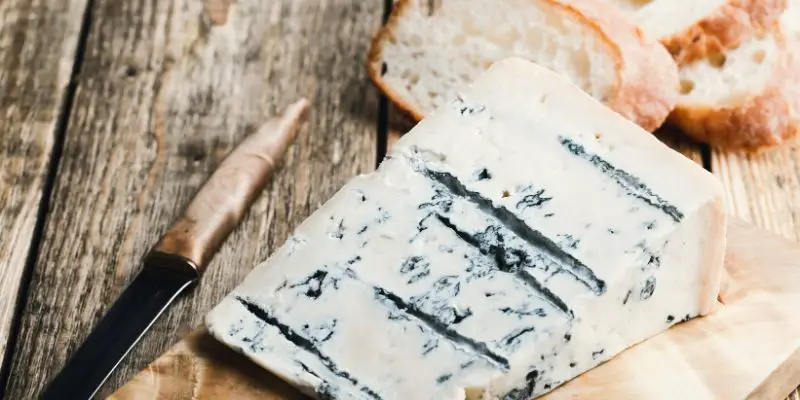 Yes, Gorgonzola is keto-friendly. But it all depends on whether you prefer a clean and healthy diet or just keto for the sake of keto. 
Yes, this product is low on carbs. And luckily, blue cheese, unlike other dairies, such as skim milk, for instance, has relatively low insulin index too. But it's still high on bad fats (hence cholesterol) and Sodium.
And while Sodium might not be that bad for those starting out keto. Since all the electrolytes leave the body with urine, we need to replenish the supplies. But generally, it's not entirely healthy to overeat salt. 

Is Gorgonzola vegan?
Since it's primary ingredient is milk, classic Gorgonzola is not suitable for vegans. But, there is a recipe for vegan variation that might be almost as good as the dairy version.  And definitely better health-wise. 
Vegan gorgonzola recipe
This vegan gorgonzola cheese tastes almost like the real thing and only requires 5 ingredients (+ water). And although it will take some time to age, it's very much worth waiting
Notes
One serving - 40g or 3 slices of cheese contains 8.1g of net carbs. It's more than traditional dairy Gorgonzola, but way healthier since it has zero cholesterol. And overall nuts are less insulinogenic then dairy, regardless of the carb counts.
The cheeses are good to eat and store in the fridge for at least 2 months. But the taster will become stronger as they age.

Instructions
1. Preparation: soak cashews in filtered water overnight.
2. Drain the nuts and put them into a heat resistant bowl.
3. Pour the boiling hot water over the cashews, wait for a few minutes and drain it again.
4. Transfer the nuts to the food processor, add coconut oil and filtered water. Blend on high speed till smooth.
5. Add probiotics and Penicillium roqueforti to the mixture and blend it again for 15-20 seconds.
6. Move it into the bowl and cover it with the clean film. Leave it to ferment for 1 day at room temperature.
7. The next day move the bowl into the fridge for a few hours.
8. Once it's cold and easier to work with, start forming the cheese: you may use cookie cutters or any other metal forms that might keep your cheese in shape. The important thing is to line the forms with parchment or clean film first, as cashew mixture can't touch the metal.
9. Once the surface of the forms is secured, fill it in with the cheesy batter. And cover each cheese with a lid, or plastic container, or bowl. Thus you'll create a humid environment for further mold's growth.
10. Transfer the forms to a fridge for 2 days.
11. 2 days later, get your cheeses. Carefully extract it from the forms (it will be still super soft but workable) and rub it with salt - all surfaces - sides, top, bottom. Put them back in the fridge. No forms, but still covered.
12. From now on, every following day flip each of your cheeses. You might be noticing some mold on day seven. Keep going. And always make sure that you are using sterile tools and squeaky clean hands to do the job. You don't want any additional bacterias to be messing with your cheesemaking process.
13. On day 14th, grind your creation into crumbles and transfer it onto a clean bowl. Then get your forms back and line it with parchment or clean paper again. Then transfer the crumbled cheese into those forms and press gently (but not too much - there have to be some air pathways and holes for the mold to grow inside). You can remove the forms once crumbled-texture cheeses are formed.
14. Put newly shaped cheeses back in the fridge covered with a plastic box or a lid.
15. Flip cheeses daily for the next three weeks.
16. By that time, your cheeses should be covered with mold inside and outside. So you can finally give it a try.
Nutrition Facts
Vegan gorgonzola recipe | Recipe card
Serves: 15
Amount Per Serving:

3 slices

Calories

173

% Daily Value*
Total Fat

14.5g

21.5%
Saturated Fat

4.1g

20%
Trans Fat

0g

Cholesterol

0mg

0
Sodium

4mg

0.2%
Total Carbohydrate

9g

3%
Dietary Fiber

0.8g

0%
Sugars

1.4g

Protein

4.2g
Vitamin A

0mg

Vitamin C

0mg

Calcium

12mg

Iron

2mg
* Percent Daily Values are based on a 2,000 calorie diet. Your daily values may be higher or lower depending on your calorie needs.

Thanks for the graphics: Canva.com
Disclosure: At vegketodiet.com I only mention the products that I researched and considered worthy. But it's important to note that we are a participant of several affiliate programs, including but not limited to VigLink and Amazon Services LLC Associates Program. As an Amazon Associate, this website earns from qualifying purchases. Also please note that I am not a doctor. As such readers are strongly recommended to make decisions that might affect their health by doing their own research. At vegketodiet.com I only document and describe thoughts, researches and ideas that proved to be working for me.