Keto French Onion Soup: How Is It Different From Traditional Version? (Recipe Included)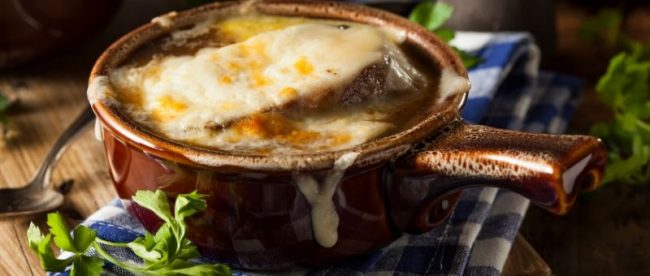 French onion soup typically made of meat stock, caramelized onions, white wine, lots of herbs and spices, and served with croutons and cheese on top. Once the popularity of French cuisine spiked back in the 1960s, this dish became common for Americans. So, if you are opting for a low-carb diet, the question about keto french onion soup variations is very fair. 
Do you have a particular question about keto onion soup? Then use the table of contents below to jump to the most relevant section. And you can always go back by clicking on the arrow in the right bottom corner of the page. Also, please note that some of the links in this article may be affiliate links. For more details, check the Disclosure section at the bottom of the page. 
Can you eat onions on keto? 
Since one of the most important ingredients of onion soup is onions, we have to figure out how keto this veggie is first. 

Although they are relatively high amounts on net carbs in onions, they're usually eaten in small quantities because of their pungent flavor. So, if we are talking about a fresh salad with a few pieces of onion here and there – it's generally keto-friendly. 
The classic recipe requires you around 1/2 cup of diced onions (around 60 grams), which totals in approximately 6 grams of carbs, 1 of which is fiber. 

How many carbs in french onion soup?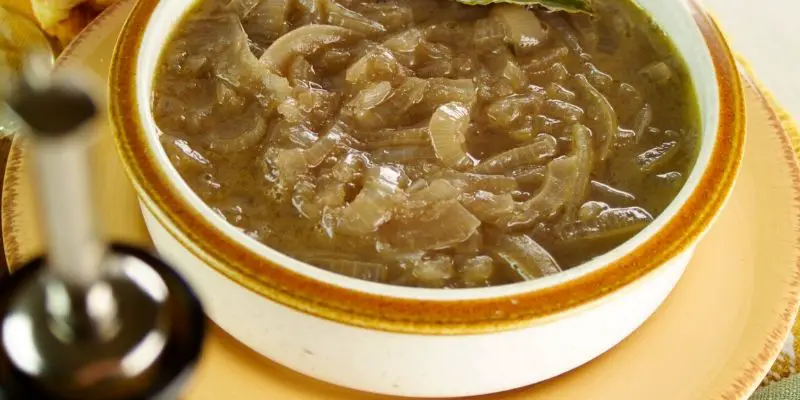 Recipes for onion soup vary greatly: you might use a meat-based stock or water. You may add milk, eggs, and flour or not.
You might use very different kinds of cheese and bread for the topping, and the list goes on.
Depending on the ingredients, there might be a very low or very high number of carbs in onion soup. Anything from 5 to 40 net carbs per serving. 

Is french onion soup keto?
The answer to the question is: it depends. 
If you adjust your recipe ingredients, you may end up with an absolutely keto-friendly onion soup. 

But to be more specific, I've picked two brands of onion soup mixes to give you an idea of how keto-friendly those products might be. 
With that being said, no one really eats that much onion in one sitting for it to throw you out of Ketosis. If you do, you have other problems to worry about.
So, if you are following Keto, one serving of this soup a day will be ok. I remember it being very hearty and filling anyway, so you may not have room for more.
Is Lipton french onion soup mix keto? 
This Lipton secret recipe soup has 20 calories and 4g of carbs per 1 cup of prepared soup (it's 2 tbsp of the mix). But in most cases, you'll probably top up this base with some extra ingredients – e.g., veggies, cheese, and croutons.
And with each extra ingredient, you decrease the keto-friendliness of the dish. Which by itself includes some nasty things like sugar, corn syrup, most likely genetically modified maltodextrin, etc. 
Is Campbell's french onion soup keto? 
This Campbell's recipe also contains some controversial ingredients, e.g., Monosodium Glutamate (MSG) that once was claimed to cause anything from asthma to brain damage. It has 70 calories and 13g of carbs per serving (1g of fiber and 8g of sugars). So I'd say you should avoid this one whether you are on keto or not. 

Keto french onion soup recipe
This vegan version of low carb onion soup won't kick you out of keto. And it will definitely bring some variety into your keto routine. Give it a try!
Notes
The soup has 14.3g of net carbs per serving, and although it's not a zero carb meal, it still might be the best keto french onion soup you've ever tried.

Ingredients
3 large yellow onions
3 cloves of garlic, diced
1/2 cup of red wine
4 1/2 cups of water
2 tbsp of soy sauce
2 tbsp of balsamic vinegar
2 tsp ground or fresh thyme
1 bay leaf
Pink Himalayan salt to taste
Fresh ground pepper to taste
1 cup of grated vegan mozzarella (you have to use the brand that melts, this should work just fine)
Instructions
1. Slice onions thin.
2. Saute them in a large pot in 1/2 cup of water until brown.
3. Pour in half of the wine and garlic. Keep glazing it over low heat for the next 5 minutes or so. Mix all the onions in the liquid - from the bottom to the top - thoroughly.
4. Add the rest of the wine and keep caramelizing the onions for another 3-5 minutes.
5. Add the rest of the ingredients to the mix (apart from the cheese) - water, bay leaf, thyme, salt, pepper, and soy sauce with balsamic vinegar. Leave it to simmer on low for about 15 minutes.
6. Preheat the broiler function of your oven on high
7. Once your soup's simmer time is out, turn the heat off and remove the bay leaves from the liquid.
8. Pour the soup into "safe for oven" pots. Put a scoop of grated vegan cheese on top. (Well, I prefer vegan, since I am a clean keto eater and avoid products that spike insulin levels, but you can use the dairy version).
9. Put the pots with soup into the oven and cook it for another 3 minutes, till the top is melted and brown.
10. Serve and enjoy the soup immediately.
Nutrition Facts
Keto french onion soup | Recipe card
Serves: 5
Amount Per Serving:

1 cup

Calories

144

% Daily Value*
Total Fat

6.1g

9.2%
Saturated Fat

3.5g

15%
Trans Fat

0mg

Cholesterol

0mg

0
Sodium

643mg

26.8%
Total Carbohydrate

16.5g

5.3%
Dietary Fiber

2.2g

8%
Sugars

4.2g

Protein

1.6g
Vitamin A

0mg

Vitamin C

0mg

Calcium

62mg

Iron

1mg
* Percent Daily Values are based on a 2,000 calorie diet. Your daily values may be higher or lower depending on your calorie needs.
Thanks for the graphics: Canva.com
Disclosure: At vegketodiet.com I only mention the products that I researched and considered worthy. But it's important to note that we are a participant of several affiliate programs, including but not limited to VigLink and Amazon Services LLC Associates Program. As an Amazon Associate, this website earns from qualifying purchases. Also please note that I am not a doctor. As such readers are strongly recommended to make decisions that might affect their health by doing their own research. At vegketodiet.com I only document and describe thoughts, researches and ideas that proved to be working for me.