Why Do We Love Hush Puppies? And How to Make this Dish Keto?
Hushpuppies (as frequently called hush puppies, even though it might lead to confusion and protests amongst convenient footwear aficionados) are small, savory, deep-fried round balls.
They are made from cornmeal-based batter, and as any deep-fried food is a beloved snack of choice for many occasions. But how can we talk about keto hush puppies then? Isn't anything cornmeal-based high in carbs and will kick you out of ketosis in no time? 
Do you have a particular question about keto hush puppies? Then use the table of contents below to jump to the most relevant section. And you can always go back by clicking on the arrow in the right bottom corner of the page. Also, please note that some of the links in this article may be affiliate links. For more details, check the Disclosure section at the bottom of the page. 
What is a hushpuppy? And where does it come from?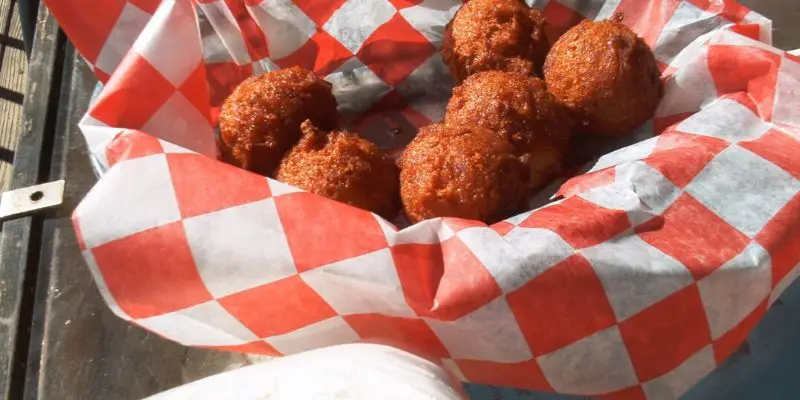 The first mention of the dish is dated by 1899. Back in the days, it was closely associated with fishermen, hunters, and other brutal creatures. They would use fried cornmeal to feed their dogs to hush them (hence the name).
The treat has evolved. And nowadays many humans enjoy it very much. And what's not to like? It's a deep-fried or baked ball of cornmeal batter and spices. They are typically made with cornmeal, egg, buttermilk, flour, baking soda, onion, and various spices.

And some cooks will experiment with the classic recipe and add anything from bacon and jalapeño to corn kernels and crawfish. Sounds very unhealthy, just like most of us LOVE. 

Hush puppies nutrition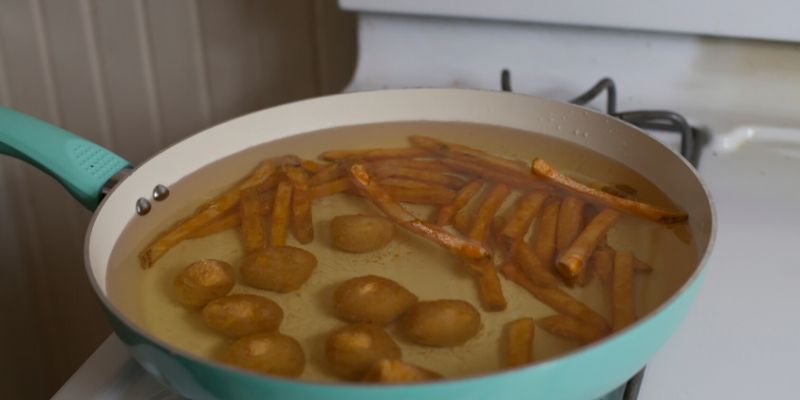 Imagine those cornmeal-buttermilk spheres drowning and singing their frying song in a skillet filled with oil or shortening. Yes, the dish is delicious, but a complete disaster in terms of nutritional value. 
It will vary based on the recipe, of course. But just to give you an idea. Let's look at this healthiest traditional hush puppies recipe I was able to find.
The snacks are baked, not fried. But still, 1 piece has 134 calories. There are also 20g of carbs in this one hush puppy ball. Also, 4g of fats and 4g of proteins. Not the best keto food, to say the least. 

How to make hush puppies keto-friendly?
Even though butter is too high in fats to cause insulin spikes, it still can cause insulin resistance. Therefore you have to swap it for something else. E.g., coconut oil. 
And yes, coconut oil is not the healthiest of all. It has quite some saturated fats, which might pose the risks of heart diseases. However, it lowers insulin resistance, it's completely keto-friendly and has many other advantages.

Substitute the cornmeal with your favorite keto flour (I love flaxseed, almond, and sunflower). Stick with baking, rather than deep-frying (or maybe you want to do air fryer keto hush puppies version). And you get yourself a pretty lovely keto-approved low carb, high fats meal. But if you want more direction, check my recipe. 

Keto hush puppies recipe
These vegan keto hush puppies are soft, buttery, won't take long to make and will make you awe because of how good they are
Serving Size
2 hush puppies
Prep Time
1 hour, 10 minutes
Total Time
1 hour, 40 minutes
Notes
Each serving is two hush puppies. And it has 228 calories, including 13.8g of net carbs.

Ingredients
1 tbsp of flax meal
2 tbsp of lukewarm water
1 cup of fine sunflower flour
1 1/4 cups of fine almond flour
1/4 tsp of cayenne pepper
1/4 tsp of baking powder
1/4 tsp of cayenne pepper
pink Himalayan salt to taste
1/2 tsp of onion powder
¾ cup of coconut cream
2 tbsp of almond meal (coarse) (you can just grind the nuts in the food processor yourself)
2 tbsp of peanut meal (coarse)
Instructions
1. Prepare a flaxseed "egg" by mixing warm water and flax meal and setting it aside.
2. Combine fine almond and sunflower flowers. 3. Add in baking powder, cayenne pepper, salt and mix well.
4. In a separate mixing bowl, mix the coconut milk (you have to shake it well first), onion powder, and flax egg from step one. Blend all the ingredients well together.
5. Pour coconut mixture into the bowl with all the dry ingredients and work on the batter till it gets thick and a bit sticky.
6. Transfer the dough into the fridge for one hour. It will be easier to work with once it's cold enough.
7. Preheat your oven to 400F/200C line the baking sheet with parchment paper.
8. Mix together coarse almond and peanut meals. Sprinkle it with some salt and pepper. That will be the "coating".
9. Roll 16 balls from the batter and dip each of them in the coating mixture till fully covered.
10. Place the balls into the baking sheet and bake for 8 minutes. Then turn them over and leave it in an oven for another 5-7 minutes till golden.
11. Leave them to cool and then eat right away with your favorite keto sauce. (How about trying it with my keto mayo recipe?).
Nutrition Facts
Keto hush puppies | Recipe card
Serves: 8
Amount Per Serving:

2 hush puppies

Calories

228

% Daily Value*
Total Fat

9.8g

13.8%
Saturated Fat

5.2g

25%
Trans Fat

0mg

Cholesterol

0mg

0
Sodium

76mg

3.2%
Total Carbohydrate

17.4g

5.7%
Dietary Fiber

3.6g

12%
Sugars

1.1g

Protein

21.6g
Vitamin A

0mg

Vitamin C

0mg

Calcium

68mg

Iron

4mg
* Percent Daily Values are based on a 2,000 calorie diet. Your daily values may be higher or lower depending on your calorie needs.

Thanks for the graphics: Canva.com
Disclosure: At vegketodiet.com I only mention the products that I researched and considered worthy. But it's important to note that we are a participant of several affiliate programs, including but not limited to VigLink and Amazon Services LLC Associates Program. As an Amazon Associate, this website earns from qualifying purchases. Also please note that I am not a doctor. As such readers are strongly recommended to make decisions that might affect their health by doing their own research. At vegketodiet.com I only document and describe thoughts, researches and ideas that proved to be working for me.