Best Keto Tamales Recipe with Cauliflower & Jackfruit (Vegan-friendly too)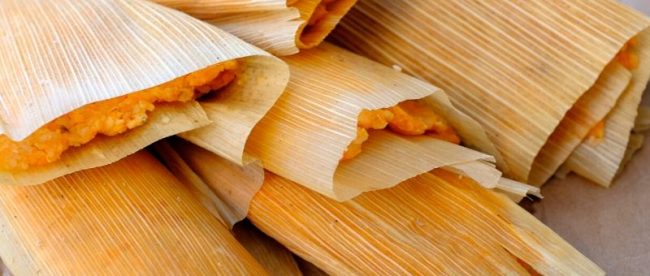 The first tamales were made as early as 7,000 B.C. and for thousands of years it was an important ritual food. But nowadays it's just a big hit amongst foodies. Ground beef or pork (or any other sweet or savory fillings), lard, baking powder, processed corn, husk wrappers and you got yourself a great treat. But are there keto tamales for those of us who are doing clean keto (and vegan like myself?). 
In this post I am trying to figure out how keto-friendly your traditional tamales are and how to cook the best possible version of this dish that will keep you in ketosis. 
Are you interested in a particular question about keto tamales? Then use the table of contents below to jump to the most relevant section. And you can always go back by clicking on the arrow in the right bottom corner of the page. Also, please note that some of the links in this article may be affiliate links. For more details, check the Disclosure section at the bottom of the page. 
Interesting facts about tamales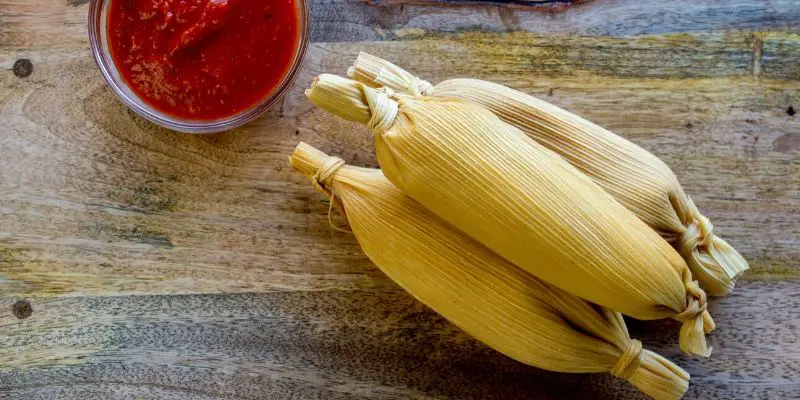 This dish has been around for so long – even before traditional corn existed. The Aztec and Maya civilizations used tamales as easy to carry food for hunting trips. Tamales also played a large part in their rituals and festivals and were considered sacred food of the gods.
Some of the typical tamale fillings in pre-Columbian included

rabbit, flamingo, frog, axolotl, pocket gopher, etc.

 
Longest tamale in the world was 50.05 m (164 ft 2.47 in) long and created by H. Ayuntamiento de Centro Villahermosa (Mexico) on 25 November 2018.
Making traditional tamales is very labor-intensive, and some recipes include more than 120 discrete steps. That's why it's common to cook it by large groups of people and in large quantities too. 

Are tamales healthy?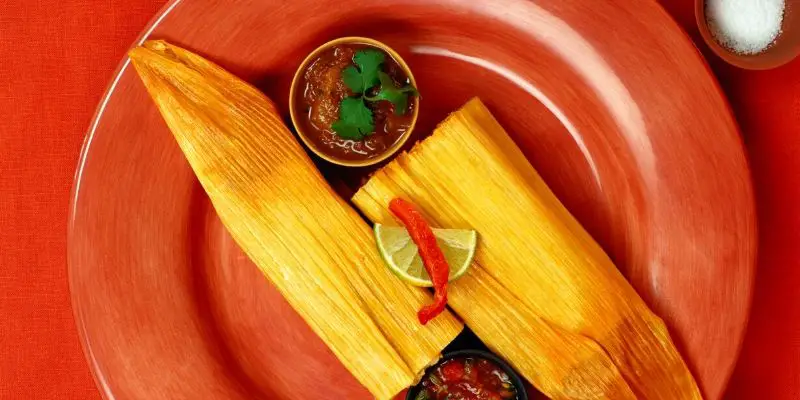 As I've mentioned above, there are certain ingredients in tamales that might not be as great for any kind of diet – e.g., lard. Also, as some of my friends once noted, if you know how they cooked it, you will never eat it… And that is so true.
Traditional "homemade" variations are often a family-owned business. And you can't possibly guarantee that all the necessary sanitary norms were followed during the manufacturing process. So sometimes it makes sense to make tamales at home to make sure that you are using the healthiest ingredients. 

But let's say that safety is not an issue and have a look at your typical homemade tamale nutrition facts. 
E.g., this red chili pork recipe is made with corn, water, lime, pork, chili water, flour, lard, cornstarch, etc. It has 230 calories per 1 tamale (~100g), 7g of protein, and 12g of fat (3g of saturated fats).
There are also 24g of carbs in this recipe, including 6g of fiber (so it's 18g of net carbs per tamale). This recipe is also high both in sodium (440mg per 1) and cholesterol (15mg). So overall, I wouldn't call it healthy. 

Are tamales keto?
If traditional tamales might have anywhere from 15 to 40g of net carbs per 100g of product (depending on the recipe), it can hardly be called keto.
And given that the most traditional and permanent part of the dish is the masa or dough (starchy, and usually corn-based) I'd definitely recommend looking for substitutes.
As starch and corn can kick you out of ketosis in no time. But thankfully, there are some options for making keto-friendly tamales that won't disappoint. Read on for one great (and delicious! And healthy!) suggestion. 

How long are tamales good for in the fridge?
It's safe to keep tamales in the refrigerator for up to a week, just wrap them well. However, they are also safe to freeze. In that case, place tamales in a plastic container. And store in the freezer for up to 4-6 months, depending on the recipe. 

Keto tamales recipe
Low carb cauliflower tamales 
Healthy tamale recipe that will work well for any keto vegan
Cook Time
1 hour, 20 minutes
Total Time
3 hours, 20 minutes
Notes
This recipe variation only has 4.4g of net carbs per tamale.
You can store those in an airtight container in a fridge for up to 7 days. Or keep it in the freezer for up to 3 months.
Since this recipe is quite time consuming sometimes, it makes sense to make the filling ahead of time. It can survive a few days in a fridge and actually will be marinated better this way.
Since there's no lard used in the recipe, your "dough" might be a bit sticky. But once the cooked dish is cooled and reheated again, it shouldn't be a problem.

Ingredients
2 lbs of Cauliflower (fresh or frozen)
4 tbsp of flax meal
8 tbsp of water
1/3 yellow onion, chopped
1/3 large bell pepper, chopped
1 tsp of adobo seasoning
Lime juice from 2 lime wedges
1 tbsp of refined coconut oil
1 (20oz) can of young green jackfruit
2/3 tbsp of chili powder
2/3 tsp of onion powder
1 tsp of garlic powder
1 tsp of ground paprika
1 tbsp of ground cumin
2/3 tsp of dried oregano
2/3 tsp of pink Himalayan salt, or more to taste
Instructions
1. Put corn husks in hot water and soak for 2 hours before cooking.
2. Prepare 4 flax eggs by mixing flax meal with 8 tablespoons of lukewarm water. And put the mixture aside to set for 5 minutes.
3. Make cauliflower "rice" (boil your cauliflower and crumble to the short rice consistency).
4. Put the "rice" into a cheesecloth and drain it thoroughly.
5. Mix it with adobo seasoning and flax eggs - that's your masa.
6. Now let's take care of the filling. First rinse, drain and dry the jackfruit. It has to be young and green to be keto and get that "meaty" texture.
7. Shred it in a food processor.
8. Put the jackfruit in a bowl and mix it with the rest of the seasoning. Leave it to marinate.
8. Meanwhile, sauté pepper and onions on coconut oil until soft.
9. Preheat your oven to 400F/200C
10. Line your sauteed veggies and jackfruit into a baking sheet and bake it for 25 minutes. Steer it 2-3 times during the process.
11. Get your soaked and dried corn husks and spread a thin layer of cauliflower dough over each leaf.
12. Put a 1-1 ½ tablespoon of jackfruit filling in the center of the husk and fold it tight and use a corn husk strip to tie the tamale closed. Repeat the process for all nine leaves.
13. Steam it for 25 minutes, and you can enjoy your keto vegan tamales.
Nutrition Facts
Low carb cauliflower tamales | Recipe card
Serves: 9
Amount Per Serving:

1 tamale

Calories

72

% Daily Value*
Total Fat

3.1g

4.6%
Saturated Fat

1.5g

5%
Trans Fat

0mg

Cholesterol

0mg

0
Sodium

89mg

3.7%
Total Carbohydrate

10g

3.3%
Dietary Fiber

5.6g

20%
Sugars

3.1g

Protein

3.3g
Vitamin A

0mg

Vitamin C

0mg

Calcium

39mg

Iron

2mg
* Percent Daily Values are based on a 2,000 calorie diet. Your daily values may be higher or lower depending on your calorie needs.

Thanks for the graphics: Canva.com
Disclosure: At vegketodiet.com I only mention the products that I researched and considered worthy. But it's important to note that we are a participant of several affiliate programs, including but not limited to VigLink and Amazon Services LLC Associates Program. As an Amazon Associate, this website earns from qualifying purchases. Also please note that I am not a doctor. As such readers are strongly recommended to make decisions that might affect their health by doing their own research. At vegketodiet.com I only document and describe thoughts, researches and ideas that proved to be working for me.