Cauliflower Scallion Pancakes: Keto Vegan Breakfast to Die For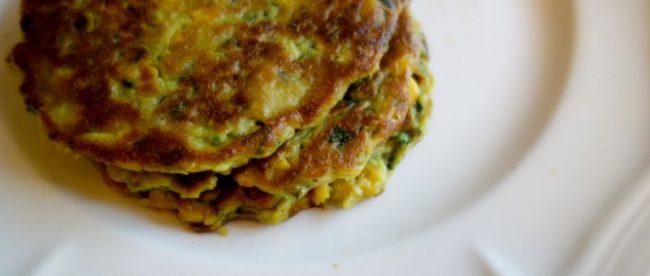 Scallion pancake, also known as Cōng yóu bǐng is a traditional Chinese savory, flatbread folded minced green onions. It's a very versatile food that you can purchase both from a street food vendor or a posh restaurant. And its popularity is growing thanks to unusual chewy texture and flavors. 
So, cauliflower scallion pancakes are a great alternative to traditional high in carbs recipes for those foodies following a ketogenic diet and determined not to miss out on new food trends. 
In this article, I'll break down the traditional recipe, and its macros and offer duperliciously tasty keto vegan alternatives. 
Do you have a particular question about cauliflower scallion pancakes? Then use the table of contents below to jump to the most relevant section. And you can always go back by clicking on the arrow in the right bottom corner of the page. Also, please note that some of the links in this article may be affiliate links. For more details, check the Disclosure section at the bottom of the page. 
What to eat with scallion pancakes?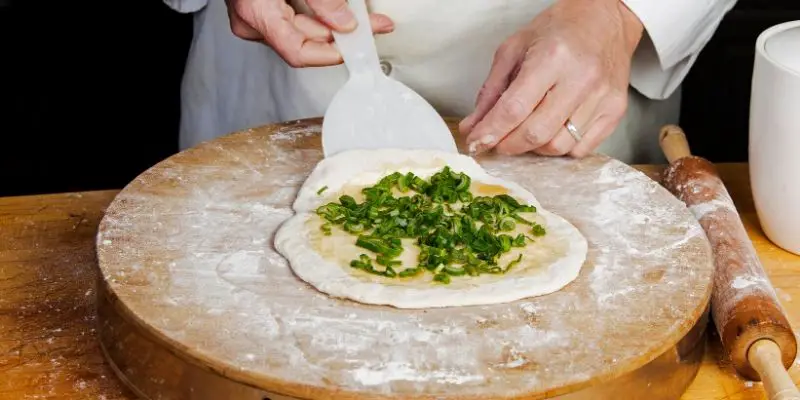 Depending on the recipe apart from chopped scallion, these pancakes might include more ingredients. E.g., fennel, sesame seeds, garlic chives. In North America, this dish is often served with hot chili sauce, soy sauce, or Vietnamese dipping sauce. But you can basically combine it with anything that you feel like. 

Are scallion pancakes healthy?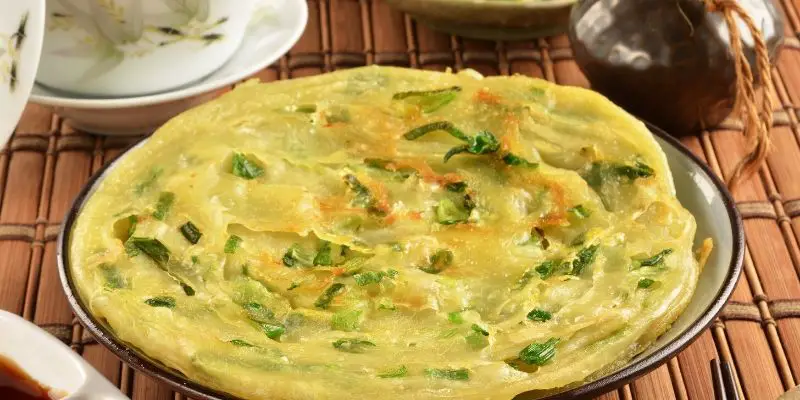 The standard recipe for scallion pancakes includes all-purpose flour, vegetable cooking oil, chopped scallions, water, and spices. It is also a fried pan dish. 
While it's not the worst dish in the world, and definitely not as bad as tons of processed food we tend to eat nowadays, fried food is still never good. As well as all-purpose flour might not be the best ingredient. Especially if you are on a keto diet. 

Scallion pancake calories and nutrition
The nutritional value of scallion pancakes may vary, of course. But let's take this product as an example. Those are an authentic Cōng yóu bǐng and have 275 calories per serving (120g). Including 7.5g of fat, 45.5g of carbs (1.5g from fiber), and 6.5g of protein. 

Are scallion pancakes keto-friendly? 
Since this dish is quite high on carbs (around 30-40% of its nutritional value comes from carbohydrates), it's not keto-approved. However, that's only fair for traditional recipes. And there's always a way to come up with low-carb alternatives practically for any dish, scallion pancakes included. 

Keto scallion pancakes
Cauliflower scallion pancakes
These cauliflower rice pancakes are way lower in carbs, bursting in flavors and taste practically like the real thing
Notes
This recipe only has 2.8g of net carbs per serving.
Since you are not dealing with a real dough, you have to treat these pancakes with care when flipping it and moving it around.
Keep an eye on your dish when you are pan-frying it. Cauliflower "batter" has a tendency to burn quickly (or be undercooked). That's why the smallest pan gets handy.

Instructions
1. Microwave your cauliflower rice (whether it's a frozen or a freshly blended one) for 1 - 2 minutes or till it's softer. And set it to cool.
2. Mix the rest of the ingredients (except for the oil) together and put aside to set for 5-10 minutes.
3. Squeeze out the liquid content of your cauliflower rice using a cheesecloth or clean towel.
4. Mix it with the rest of the batter.
5. Preheat a nonstick pan on low. You better use the smallest one you have.
6. Grease the pan with oil evenly and pour in the batter, gently spreading it across the pan surface.
7. Fry it on low for around 5 minutes or until the edges turn golden. Then carefully flip it and fry for another 3 minutes. Gently move the pan while cooking, so that your pancake won't stick.
8. Repeat the process until you are out of batter.
9. Cool it to the room temperature on a wire rack, so that your pancakes won't get mushy. Cut to wedges and serve it immediately with your favorite sauce.
Nutrition Facts
Cauliflower scallion pancakes | Recipe card
Serves: 6
Amount Per Serving:

1 wedge

Calories

45

% Daily Value*
Total Fat

1.8g

1.5%
Saturated Fat

0g

0
Trans Fat

0g

Cholesterol

0mg

0
Sodium

90mg

3.8%
Total Carbohydrate

5.7g

1.7%
Dietary Fiber

2.9g

8%
Sugars

1.5g

Protein

2.5g
Vitamin A

0mg

Vitamin C

0mg

Calcium

27mg

Iron

1mg
* Percent Daily Values are based on a 2,000 calorie diet. Your daily values may be higher or lower depending on your calorie needs.
Thanks for the graphics: Canva.com
Disclosure: At vegketodiet.com I only mention the products that I researched and considered worthy. But it's important to note that we are a participant of several affiliate programs, including but not limited to VigLink and Amazon Services LLC Associates Program. As an Amazon Associate, this website earns from qualifying purchases. Also please note that I am not a doctor. As such readers are strongly recommended to make decisions that might affect their health by doing their own research. At vegketodiet.com I only document and describe thoughts, researches and ideas that proved to be working for me.