How to Make Vegan Keto Rice Pudding? What Are the Best Rice Subs?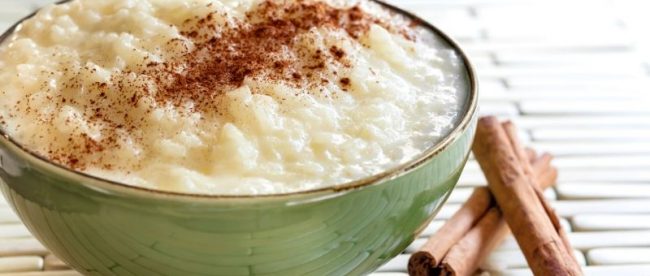 From Buddhist Sutras to literature of the Victorian and Edwardian eras: rice pudding is a frequent culinary hero across many countries and centuries. Whether it will be your last meal before enlightenment or something plain and boring, this dish is probably too typical to set it aside once you've signed up for keto.
The classic recipe calls for rice mixed with water or milk, cinnamon, and raisins. And that sounds really carby. But don't worry, I found the best keto rice pudding option for you to try if you still feel like enjoying similar taste and texture once in a while. 
Do you have a particular question about keto rice pudding? Then use the table of contents below to jump to the most relevant section. And you can always go back by clicking on the arrow in the right bottom corner of the page. Also, please note that some of the links in this article may be affiliate links. For more details, check the Disclosure section at the bottom of the page. 
Why we love rice pudding?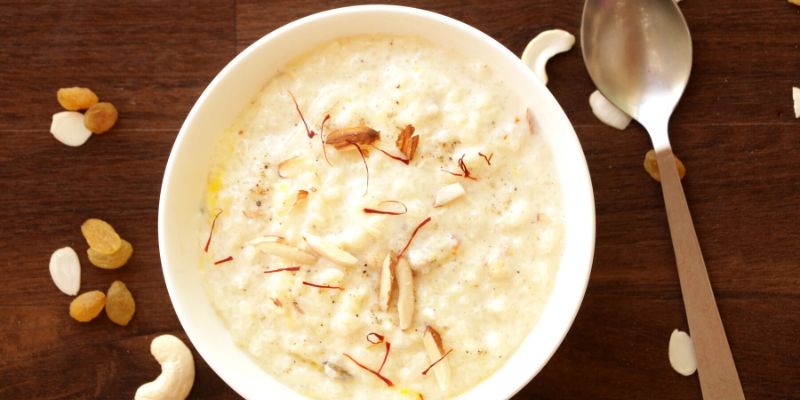 Rice pudding doesn't leave you indifferent – you whether love it or hate it. But most of the people are tend to be in the first bucket. That's why you can come across the local variety of this dish practically in any area of the world.
In Asia, they call it sweet rice porridge and make it from rice, water, milk, and sweetener. In Spain, they call Arroz con Leche. Which is basically milky rice is typically spiced with lemon zest and cinnamon. In India, they have a dish called payasam. And it's made of rice boiled with sugar and nuts.  

Creamy, syrupy, satisfying, and warming, rice pudding might be the best way to eat rice. And I guess that's the reason why so many people love it. 

Carbs in rice pudding
A typical rice pudding made of milk, sugar, rice, and cinnamon might have around 150 calories per ½-cup meal. And it will have about 27 grams of carbohydrates and 1 gram of fiber. 
But, of course, the exact number will vary from recipe to recipe. 
For instance, this product, made of milk, whey, rice, and sugar, has 198 calories per serving. This rice pudding also has 33g of carbs, 6.4g of proteins, and 4.4g of fats. 

Is rice pudding keto?
While rice pudding recipes might include different ingredients, the bottom line remains the same:
high carb base – rice, whether it's short-grain, long-grain, jasmine, basmati or brown rice
sweetener, also high in carbs – sugar, honey, date, syrups, condensed milk, etc. 
and some spices, e.g., nutmeg, cardamom, cinnamon, ginger, etc.
That leaves us with a firm no. Traditional rice pudding is not keto. 

How to make keto rice pudding? 
For any yummy non-keto recipe, there's always a low-carb alternative. You can easily pick a keto substitute for rice and switch from insulinogenic dairy to coconut milk and from high-carb sugar to zero carbs keto-friendly sweetener. You can easily reduce the number of net carbs in your recipe and enjoy rice pudding on keto. 
E.g., one of the rice subs can be shirataki rice from a sea vegetable, which provides a high amount of fiber without calories, soy, or sugar. Or my choice would be a cauliflower rice version. It does have some carbs, but it has tons of minerals too. 
Cauliflower rice pudding recipe
This simple Keto Rice Pudding is a sweet and delicious dessert. It's made using cauliflower rice substitute. But you won't feel any cauliflower business
Notes
1 serving (it's around ½ cups) of this keto rice pudding has only 6.6g of net carbs. Yum!
You can store the leftovers in the fridge for up to 3 days. It also tastes quite good when it's cold.


Instructions
1. Preheat a saucepan over medium heat.
2. Mix coconut and almond milk, erythritol and vanilla in a saucepan.
3. Bring to simmer and pour in drained and bloated cauliflower rice. Let it cook uncovered for another 10 minutes.
4. In a small bowl, mix flax meal and water and set it aside for 5 minutes.
5. Add a few tablespoons of the pudding into the "eggs" and mix it well.
6. Pour the eggy mixture back into a saucepan with the rest of the pudding, whisk well, and simmer for another 5 minutes while stirring occasionally.
7. Switch off the heat, sprinkle the pudding with cinnamon, and serve it as soon as it's warm enough to eat safely.
Nutrition Facts
Cauliflower rice pudding recipe | Recipe card
Serves: 4
Amount Per Serving:

1/2 cup

Calories

164

% Daily Value*
Total Fat

12.1g

18.5%
Saturated Fat

7.1g

35%
Trans Fat

0g

Cholesterol

0mg

0
Sodium

147mg

6.1%
Total Carbohydrate

9.7g

3%
Dietary Fiber

3.1g

12%
Sugars

3.5g

Protein

3.5g
Vitamin A

0mg

Vitamin C

0mg

Calcium

121mg

Iron

1mg
* Percent Daily Values are based on a 2,000 calorie diet. Your daily values may be higher or lower depending on your calorie needs.

Thanks for the graphics: Canva.com
Disclosure: At vegketodiet.com I only mention the products that I researched and considered worthy. But it's important to note that we are a participant of several affiliate programs, including but not limited to VigLink and Amazon Services LLC Associates Program. As an Amazon Associate, this website earns from qualifying purchases. Also please note that I am not a doctor. As such readers are strongly recommended to make decisions that might affect their health by doing their own research. At vegketodiet.com I only document and describe thoughts, researches and ideas that proved to be working for me.